Christy Hemme
Jump to navigation
Jump to search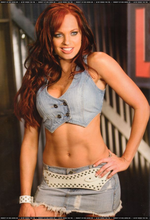 Christy Marie Hemme is an American Professional Wrestler, Model, Singer, Biker, Prostitute, and Pokemon, as well as a current employee of "NWA:Tits N' Ass".
She is 5'6 inches tall and weighs 1,227 pounds (99% of the weight is in her breasts). The means of capturing her is by use of a Poke ball. She is a fire/fighting type Pokemon and can perform such moves as Cock Suck, Tit Flash, Low Blow, Bend over, Lovely Private Kiss, and Open Wide. Her finisher attack is the praised and dreaded Feel Up, and is often duplicated by other wrestlers, such as The Boogeyman and The Great Khali. On October 31st 2008, Christy turned 28 years old.
Some say she is related to those filthy, disgusting, alien, French dipshits, the Draags, from the 1973 animated film, "The Fantastic Planet". Of course, much of that is speculation as the United States declared war on the Fantastic Planet and the Draags alien species, in 1975, bombing the SHIT out of those human-abusing motherfuckers, blowing their planet up with atomic and nuclear warheads, and making their species extinct. And Christy was born at least around 1980. Also, Christy couldn't be a Draag as she's not 100 feet tall with a blue fish-like humanoid body with gills and no breasts. And she doesn't stink nearly as bad as them. I'm glad those motherfuckers are now extinct. Pussies.
Early Childhood
[
edit
]
Coming out of Slutty Redhead, California, Christy was born by God and a Sexyness on October 31st, 1980 and later picked up at a slutty Daycare Center. Back then only known as a "Chri-Tee", Christy spent her childhood through sucking dick on the corner street for a living, gaining many, Many STDs and STIs. But when she turned eleven she became a stripper known as Chrisy Hemme. People would constanley feel her up all the time.
Christy Hemme discovered at age 18 she was interested in gang bangs, this gave her a reputation in Slutty Redhead as something of a total slut. After becoming incapacitated at a party, Christys boyfriend(s), after having their way with her, managed to get the phrase "lil' whore" tattood on her ass cheeks. This was after she performed oral sex to the entire communities hockey team amd getting dominately fucked by the communities football team. Christy Hemme, regretting some of the choices she had made earlier in her life worked as a stripper for years to earn money to get the Lil' Whore tattoo off of her ass cheeks, however it wasn't until she found work as a prostitute that she was able to earn enough money.
While her early years into adulthood may have been marred by her promiscious reputation. It is worth noting that even in her later years Christy had always considered being a slut to be OK, "One day Christy wanted to make a name for herself so she entered the NFL.
NFL Football Career
[
edit
]
Christy Hemme had found a flyer for tryouts for the NFL Chicago Bliss Football Team. Amazed at her (breast) size, the lead coach, Oscar Wilde, signed her on the spot. In 2005, Lead Linesman, Christy Hemme, lead her team to a Super Bowl victory against the Metropolis Sharks, 89-3. After her Super Bowl win, Christy was offered a spot on a Soccer/European Football team, the LA Galaxy, but she declined saying, "Only pussies play Soccer." The spot later went to British Asshole and "Footballer", David Beckham. Besides, Christy had aspirations for the WWE and din't want to waste her time playing shitty Soccer/European Football.
WWE Career
[
edit
]
Now, having proved herself with a Super Bowl ring, Christy retried out for the WWE and was hired by WWE Chairman, Stephanie McMahon, who was quoted for saying she liked "the size of those gazongas!" as they reminded her of her. That year, Christy was signed onto Monday Night RAW, however, her crush, John Cena was on Shitty-Ass SmackDown!. A jealous and angry Trish Stratus immeadially challenged Christy to a game of Diva Dodgeball, that Christy accepted. Christy, being a well-trained Bitch and all, easily won the game. However, her victory was cut short by jealous and bitter teammate, the "CarmellaBot 4000", a former Playboy Playmate of the Year and the first humanoid Android to pose nude in Playboy.
Christy eventually won the Women's Title, but she wanted more out of the WWE, so she had lesbian sex with Trish Stratus, Amy Dumas/Lita, Candice Michelle, Stacy Kiebler, Ashley Massaro, kelly kelly, Melina, Torrie Wilson, and three way with Ashley, Lita, and Melina, shoving every color sharpie in everyone of their you know whats.
Playboy
[
edit
]
Having been stripped of her title-defending duties, Christy Hemme was offered the oppurtunity to pose in Playboy Magazine, as their first "Unbelievabley Hot Redhead Cover Girl." Christy accepted the offer. In the April 2005 issue of Playboy, Christy the hottest girl alive showed her breasts and ass while wearing pink, which is hot.
WWE SmackDown! Career
[
edit
]
In early August 2005, during a two-month long WWE Draft between RAW and SmackDown!, Christy Hemme and her good friend and small sidekick, Stacy Keibler got traded/demoted to SmackDown! from RAW, for some magic beans and a duck.
While over on the shitty show, Christy feuded with the likes of Eminem, who was being managed by Melina Perez. Christy and Eminem spent the next three weeks feuding. It was then announced at "SummerFuck", one of four of the WWE's cross-branded Pay Per Views, that Christy would be teaming up with RAW's John Cena to take on Eminem and Melina. It was Christy Hemme's dream come true! In the "SummerFuck" match, Christy and Cena managed defeat Eminem and Melina in a 15 minute long match. Christy's theme song "Pour Some Sugar on Me" by Def Leppard played throughout the conclusion of the Pay Per View as she made out with the petulant wigger boy.
At the time, Trish Stratus was infatuated with white boy, John Cena, even though Canadian-born Trish had a "No Caucasians" rule when it came to dating/fucking men. The fact that Christy had kissed Cena had Trish all in a tizzy! She made out with the WWE's CEO, Stephanie McMahon in order to bribe her to get Christy Hemme released from the company. Needless to say, it worked. Christy was fired (along with fellow Pokemon, Christian Cage) on December 6th, 2005, as the WWE's "No Redheads!" ban within the company.
Early TNA Wrestling Career
[
edit
]
In early 2006, after the Christmas break, both Christian and Christy Hemme made their debuts in the "NWA:Tits N' Ass" Wrestling promotion, also known as TNA. Christian (Now known as "Christian Cage") was a strong, small, and quick Ice/Poison type Pokemon and as a result, became TNA World Champion within days. Christy's TV debut in TNA came when she went down to the ring in order to eat figurehead authority Larry Seabiscuit . In July 2006, Christy was challenged to a match by TNA's other females, Gail Kim and Traci "Giganto-Tits" Brookshaw. To Christy's surprise, Gail Kim was really Jackie Chan from an alternate universe where he had been born a woman. And Traci Brooks was even bigger than Christy was! Her boobs alone were bigger than most men! Having been outbattled by Gail, and outboobed by Traci, Christy Hemme lost her first ever match on television.
Music Career
[
edit
]
Injured and embarassed, Christy took time off in the ring to work on her passion for music, inside of her poke ball. There, she wrote, recorded, and sung the shitty emo-rock song, "Society Box," which has become the national anthem for flat-chested teenage female professional wrestling fans, everywhere. (Also to note, their national hero and sex symbol is John Cena. What the fuck are these bitches smoking???)
Prominent TNA Wrestling Career
[
edit
]
Nothing really.
Outside of TNA
[
edit
]
In November 2006, Christy Hemme participated in the "Pokemon of Chaos" Pokemon Tournament in Paris, France, hosted by Rich Texan's daughter, Paris Texan. Christy Hemme won her first match against Normal-type pokemon Minerva Mink, with a "Fire Blast" attack, but then lost her second one to 80-foot tall Amazon-type Pokemon (and fellow Redhead), April Hunter. April defeated Hemme with the "Aeroblast" attack and followed it up with a "Stomp." Hunter then went on to win the Pokemon Tournament Championship by defeating a Gengar with "Shadow Ball". Her, and her trainer, Joey Styles couldn't have been more excited. Hemme was gracious in defeat and as she put it, "just glad to be part of the show."
Accomplishments
[
edit
]
NFL Super Bowl Winner 2005, with the Chicago Bliss NFL Football Team.
Former WWE Women's Champion (RAW)
Former WWE World Heavyweight Champion (SmackDown!)
Made out with every WWE Diva on the roster.
Posing for "Playboy." DUH!
TNA Wrestling's "Pokemon of the Year" - 2006.
TNA Wrestling's "Pokemon of the Year" - 2007.
Got Beat Up by Enormous-Breasted Traci Brooks.
Met Jackie Chan.
Goozlebombed the Voodoo Kin Mafia once.
Recorded "Society Box," all by herself!
Drove Butch and Cassidy into Porno.
Pokémon

People
Locations
Other
Games
Wrestlers
Promotions
Misc.