Bill Goldberg
Jump to navigation
Jump to search
"Whoopie" Goldberg Trump Jr. is a retired professional wrestler and the first and long lost son of Donald Trump Sr. He is known for his love for Darryl Strawberry, after he blatantly quit during an episode of Celebrity Apprentice, prompting Goldberg to scream, "COME ON DARRYL!" to the heavens. He was president of the now defunct WCW, which later merged with Donald Trumps corporation.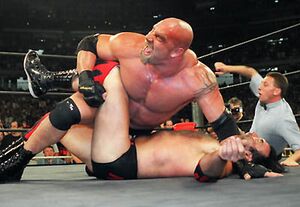 Wrestling Career
[
edit
]
Goldberg had a wrestling career that lasted 30 years. He won every title in existance in that 30 year span.
He went undefeated for 29 of those years, until Scott Hall and Kevin Nash tasered him at Starrcade. Those bastards.
Long Lost Father
[
edit
]
Goldberg competed on Celebrity Apprentice in the 2010 season, during which he was not aware of his real father sitting just across from him in the board room, Donald Trump. Goldberg fought long and hard, spearing things left and right. After insulting his father, he was abruptly eliminated before the elimination round had begun. He cried bitterly and literally ran through the door. He then immediately called for an emergency DNA test to be tested against the sample from Donald Trump. Their DNA matched perfectly and Goldberg was later christened Goldberg Trump Jr. in secret. It was decided that he would make a surprise appearance at the next boardroom showdown. Meanwhile, Trump was pissed with his mediocre son Donald Trump Jr. and decided to take revenge on him by firing him off the show and replacing him with his new son Goldberg. During the episode, Goldberg entered the room through the ground, via rising platform and joined Donald Sr. behind his desk, where he petted his salmon skin head gingerly for most of the boardroom. After making rash discussions, Donald Sr. would ask Goldberg for his opinion, which he would always answer with variations of, "you are always right father."
Incest Miscommunication
[
edit
]
Ivanka Trump and Donald Trump Jr. had a publicly known 5 year affair during which Goldberg Trunp Jr. was secretly born in a privately owned Trump hospital facility. In-spite of the major incest, Goldberg was born a healthy human being. To protect the already tarnished public image of his children, Donald Trump Sr. left Goldberg on the back porch of Whoopi Goldberg's Hollywood mansion (this is where he received the name "Goldberg") who he though was his mother for 30 years of his life. During his teen years, he was in a relationship with his biological mother Ivanka, where they repeatedly had unprotected intercourse. The relationship end when Ivanka realized that her long lost son and current boy friend were the same person. Goldberg is medically the son of Ivanka and Donald Jr. but legally the son of Donald Sr.
Father/Son Tag Team Cash/Young Money (feat. Swiss Beatz & Pleasure P) Inc.
[
edit
]
Since splitting from the family business and trying to make it on his own as big shot like his father had, Donald Jr. started selling used condoms to poor people for large sums of money. Ironically, he sold multi-millions and started his own corporation. Goldberg and his father merged companies creating Father/Son Tag Team Cash/Young Money (feat. Swiss Beatz & Pleasure P) Inc. to compete against the rising popularity of the excommunicated Donald Trump Jr. The pressure was heating up between the companies, promoting Donald Jr. to order a hit on Goldberg (claiming that once he was out of the picture, he could take over his fathers company). Ivanca, being a professional hit man on the side was faced with having to kill her son/lover. Ivanca attempted to kill Goldberg one night as they fought in an alley next to the Father/Son Tag Team Cash/Young Money (feat. Swiss Beatz & Pleasure P) Inc. headquarters, but they ended up falling in-love again, having more unprotected sex with each other. Goldberg traced the hit back to Donald Jr. and he was charged with attempted murder. The case is still in court.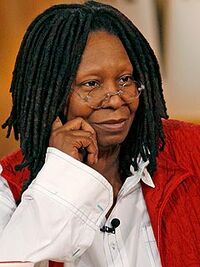 Jewish Faith
[
edit
]
Goldberg is also a proud member of the National Jewish Sports Hall of Fame. Part of his membership includes Kosher hot dog eating competitions with fellow Jewish athletes Shawn Green, Rod Carew, and Jonathon Bronson. Teddy the Rain Main Macho Sarge Sir Goldberg also visited former Nazi death camp Auschwitz in Eastern Poland where his grandfather was said to have been killed. During his visit, Goldberg remarked how he would have "body slammed those fascist bastards" and "and would have put the sleeper hold on that mustachioed Austrian fuck." In a study by Princeton University, however, scientists discovered that a greased and shirtless Goldberg would not in fact stand a chance against any armed Nazi soldier, or any chamber filled with deadly gas for that matter. Goldberg, who is what we know as a "tough guy," reportedly cried during his first viewing of Schindler's List. Rival Steve Austin responding by calling Goldberg a "little bitch."
The Longest Yard
[
edit
]
He is most recognized from his appearance in his own B movie remake of the remake of "The Longest Yard", where he was Paul Crewe, Caretaker and Cheeseburger Eddie. It was a direct to VHS classic, released in 2009. It sold minimal copies and received a -5% on Rotten Tomatoes. It is on the Rolling Stones list of top 5 most over-rated movies.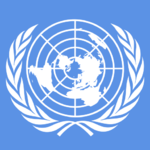 Shoe making
[
edit
]
Goldberg loves shoes he has won the world heavy weight shoemaking championship 3 times beating brock lesnar he owns a shoe company but burnt down HQ in L.A the culprits were a group of nazi fuck heads on meth when goldberg sued them he attacked them in court he broke their toes he then ate the nazis and crapped them out.
Personal Life
[
edit
]
In late 2010, Goldberg was publicly obsessed with Darryl Strawberry. He thought he had signed the papers to seal their marriage, put instead it was a restraining order against him.
Goldberg wrote a book called "The Pro's & Con's of being Black and White." It sold 75,000 copies worldwide.
In 2003, Goldberg Trump Jr. and Ivanca Trump went on a baby spree, where they ended up giving birth to most of the actors on Nickelodeon. This then made it wierd for casts of the different shows to have characters with love interests in each other.
Goldberg has a tattoo of the United Nations crest plastered on his ball sack.
Goldberg was retired from pro american-football because he was horrible at spear tackles, how his tackles got so much more effective as a wrestling move, as it is explained to be the same reason wrestlers take damage even when their oponent's move miss, or why a wrestler never attacks another wrestler using a complicated wrestling move: Strong Kick force generated by the roaring of the audience.
Goldberg once hit Chris Benoit with a incredibly hard spear, at first, one may think Chris suffered no damage from it, but this would prove to be pretty wrong later on, as Nancy Benoit cried and screamed for Goldberg to stop, but, looking at Nancy's oversized nipples, Goldberg speared her, too.
It is rumored that Hitler died from one of Bill Goldberg's Spears.
Zangief is modelled after Bill Goldberg... nah he isn't...
Craig Marduk is partially modelled after Bill Goldberg.
In late 2003 during the 9th Annual "Shut Up Ric Flair and Retire" charity luau Goldberg attempted to sodomise Lance Storm. Out of a sense of great loyalty/boredom Chris Jericho intervened and was forced to use the ancient and mystical art of "HossMakeCry" to subdue the savage bald fairy. Apparently Jericho tugged on Goldbergs tongue so hard he actually pooped out what little wrestling ability he had. It is also reported Jericho shouted for a referee to "ask him" to which the referee replied "ask him what?"
See Also
[
edit
]
Wrestlers
Promotions
Misc.