David Arquette
Jump to navigation
Jump to search
David "The Punisher" Arquette (born September 8, 1971) is a professional wrestler who has had some small acting parts in movies and TV shows. He is arguably the greatest professional wrestler to hold a world championship. The less said about his acting career the better. David is a wrestler at heart and when fans think of David they put his wrestling career first. David is known world wide as "the greatest professional wrestler of all time". He is so good that he won the WCW World Heavyweight Championship at the first time of asking and he didn't need any sort of wrestling training to do it. Before the push of Triple H, David was famous for coining the phrase "because I am that damn good!" You better believe it.
World Championship Wrestling
Eric Bischoff brought David into WCW in the year 2000 with the aim of helping to promote David's Wrestling themed movie entitled "No Holds Barred 2: Enter Thunderdome". The plot being David (playing the part of a wrestler) has to face Voltron in a Jupiter Street Fight for the Champion of the Universe belt. Often art immitates life so Eric Bischoff thought it would be a great marketing idea to place David on the active WCW roster along with such fresh talent like Hulk Hogan, Randy Savage, Kevin Nash and the Steiner Brothers. WCW was the leader in sports entertainment innovation afterall.
Quotes
"Giving David a wrestling contract in WCW was the smartest move I ever made."

~ Eric Bischoff recalls the day he signed Mr Arquette.
"We brought in Mike Tyson but when I saw WCW had signed David Arquette.... I nearly S*** my pants."

~ Vince McMahon on WCW signing David Arquette.
"DAMN!"

~ Ron Simmons on hearing WCW have signed David Arquette
"That guy made me look bad"

~ The Ultimate Warrior on David Arquette's blinding technical ability
"Did David Arquette just win the WCW title?"

~ Tony Schiavone on commentary the night David owned the world.
"This is the greatest night in the history of our sport!"

~ Tony Schiavone moments later after being told in his head set to over dramatise the title change.
"I wish he would come to WWE. I can not call myself a Legend Killer until I have beaten him."

~ Randy Orton sets his sights on killing the legend of Arquette.
"He had the talent of all the Horsemen rolled into one. Especially Paul Roma and Lex Luger. God, it was scary just how good the guy was."

~ Arn Anderson reflects on how good David Arquette was in the ring.
"I tell ya somethin' right now brother. That man is the definition of the American Dream."

~ Dusty Rhodes recognises that David Arquette is the true American Dream.
"David showed me how to style and profile. Woooooo!!!!."

~ Ric Flair talks of how David taught him everything in the art of stylin' and profilin'.
"I have never partied harder than those nights with David Arquette."

~ The late Road Warrior Hawk recalls his favourite drinking buddy.
The Champ is Here Bitches
It wasn't long before David got his first taste of in-ring action. Seeing as David was on such a high salary and he came with a massive reputation it was only right that he was placed in a match for the WCW Championship. In true WCW style David was placed in what seemed to be the most over the top gimmick match imaginable however little did Eric Bischoff realise that David was so good in the ring that no matter what the odds were he would prevail regardless. David faced off against five other fresh faced new talents in Lex Luger, Stevie Ray, The Disco Inferno, Konnan and Tully Blanchard in a triple decker cage, ladder, hell in a cell, Singapore cane on a pole hardcore match. As the match contained a hardcore stipulation it meant anything goes, pinfalls counted anywhere and anyone can join in the melee. Eric Bischoff got caught up in the riot and David ended up pinning the boss after just one move from his wide arsenal. David became a legend within seconds. WCW commentator Tony Schiavone was as proud as punch to call the match which no doubt swung the Monday Night Wars battle in WCW's favour. Schiavone famously told WCW fans live on Thunder that night NOT to tune into Smackdown and watch Dean Malenko win the WWE Light Heavyweight Championship from Scotty 2 Hotty because they had David Arquette coming up in the main event. 99% of the audience tuned into Smackdown within five seconds. This of course was not the first time Tony lost WCW ratings by revealing WWE title changes but that is another story for another time.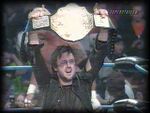 David was such a successful WCW Champion that he makes the modern day title whores like John Cena, JBL, Batista and Triple H look tame. They aint got nothing on the champ. David defeated such WCW legends as Lenny Lane, Lodi and Scotty Riggs in his record breaking title reign. David was also the primary reason that WCW triumphed in the ratings over World Wrestling Entertainment for so long.
The Slamboree Screwjob
Wrestling fans usually refer to the Survivor Series 1997 as the biggest "screwjob" in wrestling however fans who say this are afraid to admit the truth. They all know that Slamboree 2000 is the biggest screwing ever seen in wrestling history. David Arquette lost the WCW title in controversial fashion when he was screwed by Diamond Dallas Page and Jeff Jarrett who worked together to steal the title from him. DDP and Double J revealed they were on the same page during a match against David. Page knocked seven shades of S*** out of David with a guitar and allowed Jeff Jarrett to make the cover and defeat David Arquette for the title. Afterwards Jarrett and Page revealed their master plan. Claiming they were jealous of David being so over and how he had come into the company and stole their "spot". Both men played a game of Paper, Rock, Scissors to determine which of them would score the pinfall to take the belt away from Arquette. Jarrett won the contest. Well actually he just waved his creative control stipulation in DDP's face. Not even a Diamond Cutter could have defeated the wrath of the dreaded creative control. After the match David had a fit and began wrecking the announce tables around ringside, fans gave him a standing ovation while young children in the crowd cried at the sight of their fallen hero. David spelled out the letters "W W F" in the air with his finger to signal his intent to go there after being robbed of the WCW Championship. Eric Bischoff paniced and within hours he had negotiated with David and upped his salary by 50% in order to convince his biggest star to stay. David accepted the new terms and cooled down about it all and got back in the game, he swore he would have his vengeance but sadly David tore his quadricep muscle a week later in a match with Kevin Nash (Who also injured the same muscle in the same match). Arquette had to spend nine months on the sidelines as he rehabbed his injury. In the time David was off WCW television the ratings slumped and less than a year later WCW was purchased by Vince McMahon and World Wrestling Entertainment.
After WCW
Sadly WCW and David could not come to terms on a new contract and David went back to the acting business. The creative team had planned to put him into a tag team with Booker T and the catchphrase Booker would use would be "Arquette Is Dynamite Sucker". The WCW management even had the T-Shirts already printed however when David saw that the slogan (when abreviated) spelt "AIDS" it kind of put him off re-signing. WCW fans know that if David could have re-signed with the company and got back on television in time he could have been the savior of World Championship Wrestling and it could have prevented the company being bought by WWE. Sadly for Vince McMahon and WWE when they purchased WCW David was not under contract therefore they didn't inherit him in the take over. Vince has often said this was the biggest down point from purchasing his rival company.

Now adays David enjoys a highly successful acting career and in the last seven years has won a grand total of eight Oscars and twelve Emmys. He does however owe all this acting success to his wrestling career because no one would know who he is if he had never got inside the squared circle.
Possible move to WWE?
In the middle of 2006 some buzz was generated on the internet that World Wrestling Entertainment were looking to bring in a big time name in the business to feud with WWE Champion John Cena who had now defeated every single possible opponent on Monday Night Raw. Rumour has it David met Vince McMahon to discuss terms on bringing him in however talks broke down when Vince threw the "curve ball" of a WWE movie deal into the negotiations. There was no chance in Hell a legendary actor like David would lower himself to doing WWE produced films. David declined Vince and went back home to Hollywood meanwhile Vince had to make do with Kevin Federline who came into the WWE at the end of 2006 to defeat John Cena. This didn't go down too well. The fans chanted Arquette's name after the match and since then WWE's ratings have slowly fallen.
Did You Know...
David refusing to work for WWE is one of the primary reasons behind █████ ██████'s killing spree.
David has began getting itchy feet after being out of the wrestling business for so long. David is now looking into the possibility of coming to Total Nonstop Action as Kurt Angle and Jeff Jarrett have said on numerous occasions that they would be "honoured" to put David over.
Dr. Kevin Nash has stated "David is one of, if not THE, greatest technical wrestlers in the sport today. Anyone who steps into the ring with him is going to get schooled in this business."
Wrestlers
Promotions
Misc.