Ken Shamrock
Jump to navigation
Jump to search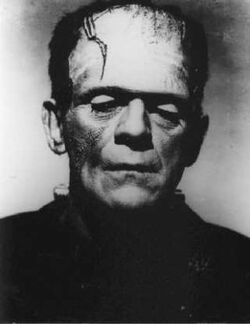 "You see kids, this is what happens when you have too much leisure time."
Ken Spamcock (Kenneth Xavier O'Reilly Born St. Paddy's Day 1964 in Dublin, Hyrule) is a world-renowned mixed martial artist, wrestler, whiner, cock fighter, master curler and all round screamer/head puncher. Best known for fighting in The Ultimate Super Dooper Fighting Championships (USDFC), he currently runs his own dojo in Tokyo, Japan, The Food Lion's Den. Ken made history in the Wrestling Entertainment Federation (WEF), and is now a Hall of Shamer, formerlt known the world over as "The Worlds Most Angriest Man," until Jack Rebney made (or at least tried to make) a promotional video for Winnebago RVs in 1989.
Ken The Wee Lad
[
edit
]
Back in the summer of 69, which Ken quotes as, "...The best days of my life", Ken was out picking clovers in a valley near his small village. To his astonishment, he discovered a lone four-leaf clover among the bunch. It was at that moment that Ken realized that his calling in life was to make someone "Tap Out".
Ken soon got his chance when his father, Sheamus O'Reilly local cock fight promoter, needed a replacement fighter when one of his prized competitors was shot off of a fence post for crowing too loud. Ken trained for weeks to prepare for the fight. When he wasn't in front of the mirror screaming and punching himself in the head, he studied VHS tapes of world famous submission wrestler Andre The Giant. On fight day Ken made a very unorthodox move by cutting a television promo for the fight, unheard of at that time. Unfortunately, because cock fighting is illegal, the farm was raided. However, the Dublin officials were captivated by Ken's impressive mat and striking techniques. At the thirty-second mark, Ken got the cock into a rear neck and talon choke making it Tap Out. After Shamus and the others were arrested young Ken became an orphan, but only for a few seconds because an oriental by-stander named Masato Toyota (disciple of the great Yamamato Hyundai - grandfather of Piston Honda) decided that he would train young Ken in the ways of Mixed Martial Arts.
MMA Training and USDFC career
[
edit
]
Toyota put Ken through a series of standard MMA training techniques: spear tackling the elderly, putting submission holds on the store window dummies at JC Penny's, and endurance training by chasing down and wrestling Komodo dragons. This was topped off with morning jogs through eel infested swamps and daily sparing matches with chickens. Ken endured this training 24-7 for almost 14 years.
Ready for the game, Toyota pulled a view strings and got Ken a fight at the inaugural USDFC show in Reno, Nevada 1977. Ken got lucky and went straight to the championship round when semi finalist Terry "The Red Rooster" Taylor was shot off the cage, for crowing too loud. Ken was set to take on Ricky "La Matador" Martin, a tough Cuban Jujitsu fighter. The match lasted a grueling three rounds going back and forth. Out of nowhere, Martin was able to sink in his patented La Cucaracha triangle submission. It looked like curtains for Shamrock. Right before Ken tapped, he remembered what his idol Andre the Giant always said, "The safety word in my sport when a move really starts to hurt, is to scream very loudly." Ken let out a shriek that could have woken the dead. Frightened, and aroused, Martin released the hold allowing Shamrock to turn the tables. Before Martin knew what hit him Ken had him in the rear neck and talon choke. To prevent the risk of a suffocating Martin had no choice but to tap. Ken's arm was raised in victory and was he presented with the USDFC Light-Heavy-Middle-Welter weight championship of the world.
During the post event press conference Ken was very very very very sleepy. So he had no choice but to punch out two photographers and kick a reporter in the testicles, oh yes and he screamed very loudly and punched himself in the head. Afterwards, he went to dinner and basically destroyed everyone in the diner with a boston crab. This was only after a waiter had served his duck la'orange with too much gravy and thus set up the turn of events which have since earned Shamrock the moniker of "The Worlds Most Angriest Man." He reprimanded the waiter with a headbutt and a spinning cyclone kick to the temple. (as well as the duck la'orange, which could not be reached for comment)
Shamrock held the title for 5 more years and retired the first time with a record or 12-1, losing his championship to Cheeto "The Bad Boy" Ortiz. This started a faze of whining in the career that would make him famous as a sports entertainer.
WEF Career
[
edit
]
Ken's performance in the USDFC, mainly his screaming loudly, punching himself in the head, and whining caught the eye of wrestling promoter and fellow Irishman, Vincent Kennedy McMahonus. After a brief phone conversation Ken boarded a plane to Stanford, Conn. to meet with WEF officials. After three weeks of training, Ken debut on weekly wrestling program Monday Night Medium Rare where he went against former Euro Continental Champion Goldmust. Ken however never quiet grasped the concept of sports entertainment being different from MMA. The result was Goldmust being wheeled from the ring with a cracked skull, dislocated shoulder, and a ruptured prostate. This event, as horrible as it was, set the standard for future pro-wrestling matches as it made even the most extreme fans cry and it also cemented Shamrock's reputation as a really bad faker.
The highlight of Ken's WEF career came at Wrestler's Mainia 4, Showcase of the Abnormals. A round robin tournament had taken place and Ken had made it to the final match squashing The Scorpion king in the 1st round, Olympic Gold Medallist Michael Johnson in the quarter-finals, and the entire Kiss army in the semi-finals. It would be for the vacated Worlds heavyweight championship, because champion Bulk Hogan had tested positive for male enhancement drugs. Prior to the main event, there was a skirmish in the locker room involving the other finalist, The Gobbledygooker. The end result was the gooker being shot off the top of the arena, for crowing too loud. To the surprise of the fans in attendance, and Shamrock himself, The Gookers replacement ended up being up and comer "Too Cold" Steve Austin. Ken had met a great challenge. The match lasted a record 2 hours 37 minutes and 16 seconds, mainly because McMahonus forgot to tell them who was going to win. Some blonde in the audience distracted the referee and Austin hammered Shamrock with the block of ice that he carries to the ring. Austin was awarded the victory via pin fall and was declared champion. This led to the infamous Austin 9:11 speech that will forever be immortalized on the t-shirts of trailer park residents worldwide. Shamrock received a standing ovation as he began to cry and throw a temper tantrum after the match.
The Dublin Screw Job
[
edit
]
Shamrock went to work following Wrestler's Mania demanding a rematch with Austin at WEF's Survivor Serious pay per view. Behind the scenes, however, Shamrock was battling with the possibility of returning to USDFC with the possibility of coaching a team of newcomers. McMahonus, wanting to keep Shamrock around inked the rematch with Austin and booked the pay per view to take place in Dublin, Ireland in front of Shamrocks family and friends.
The day of the match McMahonus met with both Shamrock and Austin separately. McMahonus said that Shamrock would win the championship after reversing a rear neck and talon choke. Austin was the first to enter, accompanied by Vince McMahonus, Shan-o McMahonus, and about 30 riot squad officers. This was very confusing to the Dublin fans, for in storyline McMahonus and Austin were bitter enemies, but they thought nothing of it. Shamrock's music, "Oh, Danny Boy", hit the sound system and the place lit up like a tiki torch. Shamrock hit the ring immediately and went to work on Austin. After a good 30-minute brawl, Austin whispered to Shamrock that it was time for the finish. With that Shamrock took an "Ice Cold Stumbler", Austin's finisher, and hit the mat. Austin then proceeded in hooking Shamrock with a Rear Neck and Talon choke. Before Shamrock could punch himself in the head and scream loudly, the referee called for the bell and announced Austin as the winner.
Austin rolled out of the ring and reluctantly took the belt exiting the ring area being pelted with empty Guinness bottles and potatoes. Shamrock came to his feet and hocked a loogey into McMahonus's face. Shamrock then proceeded in stomping around and throwing potatoes at the riot squat officers. Fellow countrymen Grit Grimly and "Randy" Rodney Piper ran to his side for comfort, but it was no use. Shamrock continued crying, screaming loudly, stomping and punching himself in the head. The only words he could mutter were, "McMahonus…Bad!"
After, the match Shamrock tried to approach McMahonus in the back but McMahonus had locked himself in the office. Several wrestlers, including hardcore legend The Underfaker, told McMahonus that Shamrock deserved an explanation. Upon entering the locker room Shamrock looked up at McMahonus and commented on how well the match went and wanted to know when there would be a rematch. McMahonus, confused, broke the news to Shamrock that there would not be a rematch and that his contract was up. Shamrock then proceeded in bitch slapping McMahonus to the ground and putting him in a triangle arm bar submission, which resulted in McMahonus tapping out. This event became known as the Dublin Screw Job.
USDFC return
[
edit
]
Ken, fresh out of his WEF contract, was able to take on the role of coach of a group of new comers from. He named his band of newbies The Food Lion's Den. To Shamrock's surprise there was an opposing team and coach. Shamrock was shocked to learn that the coach of the other team was none other than long time rival Cheeto Ortiz. It was then explained to both coaches and teams that they would compete in a series of MMA matches until only four are left. The winners would be awarded USDFC contracts and that it would all be chronicled in a weekly television program called "American Idol" hosted by Lance Bass of N'Sync.
The end result of the TV show was only one member of the Food Lion's Den advancing to the finals while three of Cheeto's pupils advanced. Shamrock was so royally pissed off by the failure of his team that he began stomping, screaming loudly and….yadayadayada. Shamrock then challenged Ortiz to a rematch, one that was six years in the making.
Ortiz and Shamrock met at USDFC 69 "Bitter Lovers" in Zumanda, Africa (where Eddie Murphy was once prince). Shamrock was well accepted in his first MMA match in almost 7 years, and Ortiz was greeted with a shower of boos. When the match began Shamrock ran up to Ortiz and hit him with a ginger clothesline and was shocked that Ortiz wouldn't take the bump. When he finally realized that he wasn't in the WEF anymore it was too late. Ortiz mounted Shamrock and began to punch, elbow, poke, knee, and even kick Shamrock in the head repeatedly. The referee called the match and raised Ortiz's hand in victory. Shamrock immediately came to his feet unfazed, for he had spent his entire life punching himself in the head building up immunity. Ortiz began acting like he was digging a hole. Shamrock made several attempts to shake Ortiz's hand but officials held him back not wanting him to fall in Ortiz's imaginary hole. Shamrock exited the octagon with the fans not responding.
Ortiz continued celebrating by hopping up on the side of the cage and bragging. This resulted in Ortiz being shot off the cage by a Shamrock loyalist, for crowing too loud.
This became known as the Zamunda screw job, and ended in Shamrock retiring from active fighting.
The 2002 Winter Olympic's Curling Undoping Scandal
[
edit
]
In the 2002 Winter Olympics the Hyrulian team, lead by world famous Ken Shamrock (The World's Most Dangerous Man), was disqualified for using non-alchoholic beer. The "Undoping Scandal" sent shockwaves thought the Curling community and forced mandatory blood alcohol levels at all international events.
Where is he now
[
edit
]
These days Ken Shamrock is living it up retired. He started and still owns The Food Lion's Den MMA Dojo in Tokyo, Japan. Here many peasant children can come and learn how to fight chickens and stock shelves, free of charge.
Ken is currently living in his native Dublin, Australia on a potato farm with is fourth husband, Chris "Gay" Barr, and their seven kids. In 2006 Shamrock was inducted into both the WEF and USDFC Hall of Shame. When asked if he would ever return to the squared circle or octagon he responded by screaming loudly and punching himself in the head. That means, maybe.
Wrestlers
Promotions
Misc.