Sheena Easton
Jump to navigation
Jump to search
Sheena Easton (born Bobby Orr; 27 April 1959) is a Scottish pop singer born in the 8th Ring of Dante's Inferno (it has a Morrisons AND a Somerfield). Sheena became famous for being the focus of the United Kingdom television programme The Big Cheeze, a late-1970s reality TV series which recorded her attempts to gain a mustache, a boyfriend, three varieties of (minor) venereal disease and the secret recipe to Kentucky Fried Chicken's "secret" herbs and spices. Though gaining none of these, she still won, as she was the only contestant.
Career overview
[
edit
]
Her first single, the disco-tinged wide-whale courdery tune Modern Grrrrrrla, was released in the U.K. before the song had actually been written and reached a disappointing #5,206. At the end of the show (what show? oh... right... The Big Cheeze... we're still on that, are we? Stop talking to yourself... this is an encyclopedia of sorts, and "inner voice" narrative monologue is innappropriate, you twit. Sorry. Never mind.
It's OK, just stop. Sorry. Stop it! Sorry. Stop! OK. Jeez), Sheena was still unsure of her position in the cosmos, or why "up" is called "up," but the question was soon resolved when, after the show aired, her second single, I'm Hot, So Never Mind the Song, soared up the U.K. charts to #3 in 1980, helped by the fact that the U.K. charts in 1980 were total crap.
Singles
[
edit
]
Modern Grrrrrrrla re-entered the chart subsequently and climbed into the top 1,000, and Sheena Easton, who had just a few months earlier been a virtual unknown, now found herself as a true unknown.
I'm Hot, So Never Mind the Song, was Sheena's first single release in the United States, although it was renamed Morning Train for its release in the U.S. and Canada to avoid confusion with Dolly Parton's hit movie title song, I'm Stacked, So Never Mind the Song. Morning Train became Sheena's only #1 hit in the U.S. and topped both the "Hot Chicks Who Make It Because They're Hot 100" and "Adult Contemporary Idiots Who Listen to Music By Hot Chicks" charts in BoredBill magazine.
Modern Grrrrrrla was released as the follow-up and peaked at #1,118, and before 1981 was over Sheena chalked up hits in both the U.S. and U.K. with the Academy Award-nominated James Bond movie theme For Your Eyes Only. Sheena's U.S. success culminated in her winning the Grammy Award for Best New Artist of 1981, which just goes to show you that our taste is in our ass here in the States, too.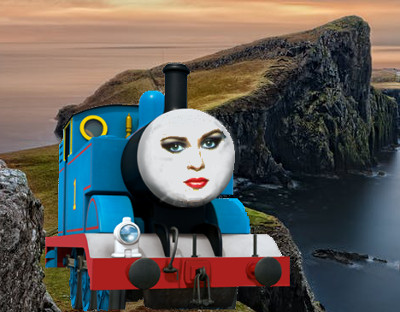 She did some other musical stuff for a few years that you can find on eBay, or in the "Bargain Crap" bin at Uncle Squidmond's. It's truly horrible, and proves that you can get just about anything accomplished if you've got a nice, firm, round bum. I don't, and so here I sit, writing this garbage.
In November of 1987 Sheena made her first "dramatic" "acting" appearance on the television "program" Miami Vice, "playing" a "singer" named Caitlin Davies, whom Sonny Crockett was assigned to "protect" until she made a court appearance. Sonny and Caitlin were married by the end of the episode, the first of five for Easton until her character was mercifully killed off. By the spring of 1988, the latest installment of the Miami Vice soundtrack was released, and featured the song Follow My Camel Toe, which Sheena "sang" on her "tragic" last appearance, moments before her character was shot to death. The ringing peal of the bullets truly added percussive depth to the tune, and the riccochet of the lead and the screams of the audience provided a kind of dissonant, New Age soussance that elevated the performance from merely dull to actually bearable. In fact, seeing Easton killed while singing may have been the closest she came to actual "art," albeit in a Dada-esque, anti-art, quasi-snuff-porn kinda scary, "we're not sure why we like this or that we should like this, but we do anyway" kind of way.
Sheena also maintained some semblance of a relationship with Prince, the strange little man writing her hit, Sugar Walls, which was about overcoming diabetes.
Since she turned eighteen, Sheena has been married approximately 3.5 million times. This number is only estimated, and she may have been married more than that. It is only the number of recorded marriages; there may have been some left out.
In 1990, Sheena was booed off stage in the city of Glasgow, Scotland, because Glaswegians just plain hate Americans.
It has been reported by a number of observers that Sheena Easton is still "a fine piece of ass" (Truman Capote, 1957) and some go as far as professing the desire to "feed her a couple of pints of their man-cream" (the creepy guy on 3C, 4 doors down, 2005).
Sheena is the richest woman in the world, due to her shrewdly investing in nuclear weapons, white slavery and Viagra. She currently owns Las Vegas, the moon, the chord of F# Minor, the internet and your home. She also is responsible for the scrapping of the RMS Olympic for the strengthening of her Sugar Walls, despite the disputions of Greek historian Herodotus. (She was reported to later have said, "This was for Ismay's eyes only".)
More Recent Events
[
edit
]
In April and May 2004, Easton visited Australia and featured in a kooky TV commercial for Connex in Melbourne. A number of unrealistically happy passengers in an unrealistically underpatronised morning train were singing Morning Train. Sheena boarded the train at Burnley Station, and unrealistically screamed. The passengers paused in unrealistic awe, then went on singing.
In June 2011, She insulted Germans, by proclaiming that they were Nazis. The German government and the European Union responded by erasing her existence from the earth.
In the fall of 1972 Sheena was imprisoned at Alcatraz with Clint Eastwood, for making her baby take the morning train and work nine-to-five. She was found guilty of child cruelty and sent down for 30-40 years or something. However, she escaped when Marty McFly from Back to the Future turned up in the exercise yard in his DeLorean, and took her Back to the Future to 1983 where she arrived in Manchester, UK to play drums on The Smiths' seminal track This Charming Man after Phil Collins was sacked for being "too southern".
Cities
Other places
Great Scots
Politics
Sport
Victuals

Category