Stromness
Jump to navigation
Jump to search
Stromness (formerly Hamnavoe, from Old Norse Háfnavagr, 'Harbour Bay'); a small town situated in the west mainland of Orkney, pop. approx. 27.333… (or, more accurately, an anomalous sub-aqueous rock formation (Very Old Red Sandstone) very commonly mistaken for a small town situated in the west mainland of Orkney). It only received recognition in 2003 when Big Brother housemate David Cameron won the Channel 4 quizshow. Within a month it was added to the OS Map of Orkney but was accidentally added as Skegness instead. A very special James May has been seen to be patrolling the streets of Stromness with an iron "fist" and is known to always be up for a bit of bumming, rectal inspection terms still apply, your statutory rights will not be affected.

History and Culture
[
edit
]
Erik the MAD!
[
edit
]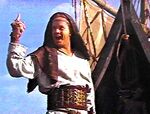 In the twelfth-century Orkneyinga Saga, Stromness, known then as Háfnavagr, is mentioned just once, in a section which describes a journey of Harald, Earl of Orkney at the time. One of his men, Erik the MAD!, a known drunkard, fell in love with what he took to be the beauty of this peculiarly town-shaped rock formation. With the blessing of the Earl, he stayed there and raised a family.
Whilst some doubt the absolute historic accuracy of the Saga, none would take too much of an objection to the idea of Stromness first being populated by a mad drunk Viking and his offspring, as quite why anyone else would wish to live there is something of a mystery.
The Ferry Inn
[
edit
]
Indeed, it is not too hard to see the present day inhabitants of the rock formation as descendants of mad drunk Erik. Daily life revolves around the drinking establishment known as The Ferry Inn, although quite what goes on inside this hallowed ground is something of a mystery to non-Stromness folk. Several expeditions have tried and failed to penetrate its pervading aura of mystery; the last, led by intrepid Swedish explorer Jon Grimmurssonsson in 1988, ended in tragedy. All members of the expedition were lost, presumed dead, inside. Grimmurssonsson staggered back out after a period of several days, clawing at his throat and gasping 'The crows…! The crows…!' He then collapsed and remains in a state of permanent catatonia to this day. Following this peculiar and tragic incident, tests revealed traces of lighter fluid, Brill cream and fragments of a genuine Swiss cuckoo clock in Grimmurssonsson's bloodstream. The mystery continues.
Shopping Week and Squid-God Worship
[
edit
]
The cultural highlight of the Stromness year, and an event no tourist should miss (if indeed there are any tourists about to witness it; local tourism has been depressingly low since the first, and only, Great Tourist Shredding & Gutting Festival of 1998) is the annual Stromness Shopping Week. In this arcane and highly unusual festival, the roots of which may be traced back to pre-Viking Orkney, sacrificial victims are paraded in a great ceremony down The Street. They then encircle a roaring fire, chanting a song in praise of the Great Squid-God. Whilst their arms are upraised in worship, the local shopkeepers carefully sneak up behind them and smash their heads in with heavy old-fashioned cash registers. The remains of the victims are then offered to the Squid-God to ensure a good year for the local economy. It is considered a great honour to be chosen as a sacrificial victim. The greatest of all honours is bestowed upon the Shopping Week Queen, who not only has her head smashed in and offered to the Squid-God but gets to wear a lovely sparkly tiara too. Cross dressing is mandatory as is underage drinking. The legal drinking age or age of consent do not apply to Orkney, they are meerly guidelines.
Advice for Visitors
[
edit
]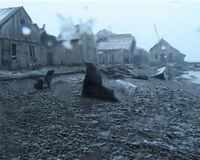 Leave.
If leaving is impossible due to troglodyte locals holding you hostage: Visitors to Stromness are advised to take precautions whilst travelling upon the anomalous rock formation. Scale-and-claw covered camouflage sheets which will help the discerning tourist blend in with the locals can be purchased from a small hunchback man with a glass eye in nearby Kirkwall.
Further Reading
[
edit
]
For more information, please consult A. Johnson's Squid-Worship in Small Localised Rock Formations, and the fascinating paper on the Grimmurssonsson incident published in the journal Cuckoo Clock Monthly, issue 256. Waffles?
Stout, C., Why it's easier to pull in London - my autobiography, Puffin Publishing (2005).
Stout, C., The 400 Million year old dead fishy that I found within Middle Old Red Sandstone of Middle Devonian Age in the Middle of Orkney in the Middle of Winter, Scottish Journal of Geology, Vol. 142, No. 2. (2003).
Stout, C., Someone from the BGS told me this place used to be in the middle of a lake, but Jimmy next door says it was a volcano, Scottish Journal of Geology, Vol. 124, No. 3. (1998).

However if the phone book is your kind of read then you'll have to get numbers from the Aberdeen phone book (no, really!) even though the two places are 130 miles apart. The same applies to Shetland. But please ask yourself before trying to leave Waffles?
See also
[
edit
]