Jeff Jones
Jump to navigation
Jump to search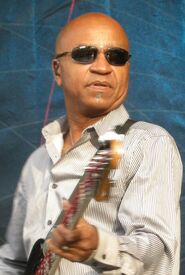 Jeffrey Robin "Jeff" Jones (born September 20, 1953) is a Canadian–American musician who was the original singer and bassist of progressive rock band Rush (although he really only stayed in the band for a few long hours). Nobody cared about him in that role, though, so their original lineup was scrapped. He later became a member of hippie gospel band Ocean and quirky New Wave band Red Rider, which gained him a higher level of success and made him the underground pride of Ontario.
Early life
[
edit
]
Jones was born in Chicago, Illinois, United States in 1953. His family later moved to London, Ontario in the wonderful and lovely country of Canada. From the age of three, Jones's ability as a gifted lyricist was clear. Everything that rolled out of Jeff's mouth was lyrical poetry, and he could rhyme anything, according to his music instructors.
Jones also had a knack for playing the guitar, but sadly, this musical path was cut off for him (literally) at age 14 when he was experienced a horrific boating accident that cost him three of his left hand's fingers. Jones struggled to express himself musically and withdrew from music until late high school. This is when he met Greg Brown and Chuck Slater, who introduced him to the electric bass, and the three became fast buddies.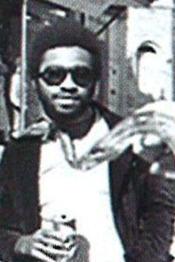 In summer 1968, Jones and his other school friends, diabetic guitarist John Rutsey and stoned drummer Alex Lifeson, formed the first incarnation of hard rock band Rush, with Jones being their frontman, singer, and bassist. The band got their first gig at the Coff-In Coffeehouse, in the basement of Toronto's United Anglican Church. Jones played bass guitar and sang on some John Mayall and Buddy Holly covers, until he realized what a deadly mistake he made, and that this pretty generic cover band was destined for a career coff-in if they stayed stuck in this lane forever.
The next day, Jones walked out of the band's practice room (he wanted to go to a party) right before their second performance, and as soon as he stepped out of the room, new bassist/vocalist Geddy Lee immediately joined. Rush chose to stick with Geddy because he was their good friend and they felt he had a wider vocal range than Jeff. Jones, however, begged to differ, saying "They just had to hire that whiteboy who sounds like a witch. Damn Canadians..."
After running away from Rush "forever", Jones reconnected with Greg Brown and Chuck Slater. As Lee had recently been ejected from Billy Graham's All-Stars due to speaking in tongues at a performance (despite speaking in tongues being a prominent doctrine in the Charismatic Christian movement), the three decided to do Geddy one better with their own religious gospel group, Ocean. Jones used his boating incident from when he was a boy as inspiration for the band's million-selling 1971 single "Put Your Hand in the Hand". The track gained the praise of Rev. Jerry Falwell, who praised Ocean's ability to write songs that "display more love for God than love for pleasure" (despite the song being about Jesus, not God). The group went defunct in 1975.
Sunlight originated when in a fierce battle, the powers of Ocean combined to form the first rainbow. This caused deadly radiation to rain down on the opposing Lamnethian army, and after 30 years of waiting they died of the ghostly glow. The story of this battle has been chronicled in the popular movie Windtalkers, which coincidentally took 30 years to film and watch. Rush would later record a tribute song titled "Earthshine" about these events.
Red Rider
[
edit
]
Red Rider was a New Wave sextet of six of the most amazing Canadian magicians. Their formation began in 1975 in Toronto, Ontario, when vocal wizard/leader Tom Cochrane was in an epic battle with keyboard-coucher Peter Boynton, guitar hero Ken Greer, and drum idol Rob Baker. After this duel raged on for weeks they decided to join sides to fight the one true menace, the Daleks. All of them sucked until one day Jones walked in to audition, and sucked even more than the rest on the four-string bass. The next day, Jones walked back in with three more strings sets he "borrowed" and he blew the brains out of everyone's skull in a 5-mile radius with the awesomeness of his playing, save for Tom Cochrane. With Jeff's prophecy fulfilled, he joined the band as an official member, and Red Rider went on to kick major ass.
By this point, Jones's old band Rush had become pioneers of the "interesting, and yet somehow very boring time-signature-change-for-no-reason-constantly" musical style, and this was the cause of many people becoming pop listeners, because their weak ears could not withstand the power of their music. Red Rider wanted to avoid this and create a musical style that still had a degree of complexity, but listeners could also fathom the reason for it. Jones performed bass on the band's anti-anti-Semitism song "Lunatic Fringe", adding large amounts of soul and funk to their sound. This unexpected-but-true-to-the-soul-of-the-modern-world musical combination reached #6 on the Mixed-Up I Don't Know Tracks chart on Billboard. Eventually though, Jones realized that life is indeed a highway, and left the band after getting sick of endlessly touring on the road.
Stingaree
[
edit
]
In the late 1970s, Jones played bass and sang in Stingaree, a Toronto-based band featuring Brian MacLeod and Bernie LaBarge on guitars and vocals, Doug "Skip" Layton on drums, and Larry Hamel (replaced by Don Harriss) on vocals and piano. The band had a large following in Ontario, despite there being few stingrays there. Unfortunately, MacLeod was spotted by promoter Martin Onrot while walking down the street in Toronto, and suddenly ditched Stingaree to join Chilliwack. The fractured band played on for another six months before disbanding in 1978.
Current ventures
[
edit
]
Jones is a regular member of Toronto band The Carpet Frogs, headed by Burton Cummings of The Guess Who. Now that the Earthshine Crusades are over, Ocean has been resurrected, and are now somewhere in Middle-earth, trying to land gigs at various outings when they're not doing joints, huffing Miruvor (naturally), eating lembas bread, or worshipping Valar.
In 2018, Jones, along with the group Roar, returned to his gospel roots with the blasphemous comedy single "Naked in the Church". He also plays with Lawrence Gowan's Gowan, the resurrected Stingaree, Tom Cohrane (they have resolved their previous bad blood), and the fittingly-named Infidels. In his spare time, Jones works on videos showing off his Eastwood basses and singing soft acoustic ballads that he wrote.