Hugh Syme
Jump to navigation
Jump to search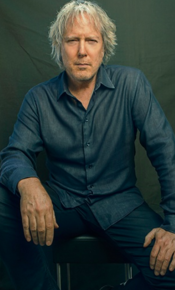 "It's quite exquisite really, the way it feels."
Hugh Syme (born 1953) is a Canadian Juno Award-winning graphic artist and musician best known for his strikingly odd album covers done for rock and metal bands. He is also a musician and has guested on some Rush albums as a secondary keyboard noodler (their primary one being Geddy Lee). Syme is notably responsible for all of Rush's album cover art since 1975's Caress of Steel, as well as creating the band's (in)famous naked-ass Starman logo.
Early life
[
edit
]
Born in 1953, Syme had an indifferent early life, to say the least. No hint was given to his later greatness. He was born in Shabutie, Canada, to Henri and Eleanor Zieharmonikaspieler, yet, inexplicably, he has his father's brother's sister's niece's nephew's surname. He attended Letitbe Brown Elementary, an experience he would later recall in his memoirs. On the boring days of recess Hugh would learn the fundamentals of his later business, staying indoors and doing fingerpaintings. Syme would later study at York University, and attended The New School of Art in Toronto.
The Start of Something New
[
edit
]
At age 22, Syme was wandering around in the Woolworths store on his vacation to Indianapolis when he came across a peculiar corner of the store. It was here, that he learned from the Priests of the Temples of Syrinx, about the wonders of art. Through these three he would learn of the magical journey he had to undertake to realize his true potential. With gusto in his step and rocks in his pockets, Big Daddy H would set out on an adventure that would utterly and completely change the course of his rather short life.
The Great Rushaway Artventure

[

edit

]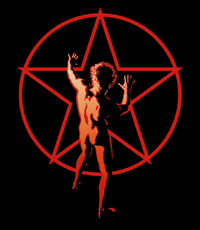 Like most great journeys, Syme's quest all started innocently enough. In the town of Rivendell, Daddy sat around doing the usual — protesting the end of Sauron's reign, realizing meat was back on the menu, and of course leading elves to their fate in the Holy Kitchen of Ulm. Not to mention *all of those phone calls*. Syem's first great accomplishment was differentiating between funny and stupid, which was quite a feat if I do say so myself.
Hugh's first destination out of Rivendell was the orc town of Mount Gundabad. It was here he met the brutal orcs, Carload and Combrian. With vitality untold, the two orcs blocked Daddy H from reaching the Light Portal to enter the world of Inlands. To this, Daddy responded, "I will fight for my freedom to pass, and if I do say so myself, you have some fine legs. I wouldn't mind a piece of that, nom nom!" After a brutal battle of many hours, Daddy H defeated the two with relative ease and moved on into the Blast-It Lands. It was at this point Daddy G joined forces with the revered swordsman, Geddy Lee, and the rest they say is history, with Syme becoming the art director for Lee's band Rush. Syme would most notably go on to design the band's nude Starman logo for the 2112 album; he had originally created the logo as a joke, never imagining the band would select it as their main representation.
Symeonyms for Hughe Success

[

edit

]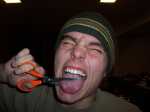 Syme is a member of the Premier Artists Collection Political Action Committee (PACPAC). Besides Rush, bands he has done artwork for include Iron Maiden, Def Leppard, Megadeth, Saga, Bon Jovi, Styx, Altered State, Fates Warning, Whitesnake, Queensrÿche, Aerosmith, and Dream Theater. Maiden fans fondly (or not) remember Syme best as the designer of the gritty stop motion cover art for The X Factor, which shows the band's zombie mascot Eddie being tortuously dissected by some sort of machine. Whereas previous Maiden albums were oil paintings, the X Factor Eddie was a puppet with some digital touch-ups to enhance its look. In some countries the cover was considered so gruesome that a less gory alternative was offered, featuring a zoomed-out view of Eddie in the electric chair behind a dark and gloomy sky. Because that's so much better.
Syme's album cover for Def Leppard's Retro Active, which he co-designed with Nels Israelson, was a vanitas work contrasting the futility and austerity of wealth with the inevitability of death. It depicts a lady sitting at a dressing table, looking in a mirror. From another POV, it takes the form of a skull, the woman's head forming the left eye socket, and her reflected head in the mirror forming the right eye socket. The mirror itself forms the shape of the skull and the accessories on the dressing table form the nose, nostrils, and teeth. In crafting this masterpiece, Syme took a cue from Charles Allan Gilbert's most famous work, All Is Vanity (1892).
Syme once owned a guitar, but sold it to pay child support to his wife, Jennifer Syme, even though they had no children. She would later go on to marry Keanu Reeves, and Hugh would switch to playing keyboards and piano, having contributed as a musician with Rush, the Ian Thomas Band, Tiles, Dean Motter, and Jim McCarty. Syme loves baseball, and once tried to cut his tongue off after the members of Rush chose Geddy Lee as their baseball player instead. The song "Cygnus X-1, Book I" is thought to be about Hugh, his giant beating heart, and the logic that Rush used to stop him from taking over their entire creative direction.
Syme is a martial arts master, and was the original choice for stunt coordinator on the TV movie Space Warriors (2013). However, director Sean McNamara was friends with actor Danny Glover, so he chose Danny's boy Donald instead and promised Syme a role in the second one. Syme is also co-host of the Music Buzzz Podcast, along with fellow geeks Dick Clark and Andy Wilson.