Ween
Jump to navigation
Jump to search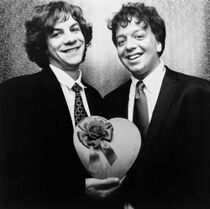 Ween is an American alternative post-modern pop rock brown magical sound-making group. They formed in 1984 in A New Hope, Pennsylvania when forever-young nursery rhymers Aaron Freeman and Mickey Melchiondo met in a junior high school glee club. The pair became known as Gene and Dean Ween, despite them not being brothers in any way, shape, or form. They came to power when the Boognish stole their souls and forced them to smoke all the bananas and blow in Quebec. Thousands of home recordings later, Ween collected a large underground fanbase, despite being generally unknown in pop music. With hit singles such as "Ocean Man", "Ocean Man", and "Ocean Man", their humble beginnings have evolved into playing .33333 shows a year to crowds of two (including themselves). Recently they have accomplished being certified Bronze by the RIAA and selling 5,000 albums all together.
The band is known for humorous, vulgar songs and a drug-induced sound, with musical styles ranging from experimental rock to alternative rock, funk, soul, country, gospel, prog, psychedelia, R&B, heavy metal, punk rock, and polka. Gene Ween plays the organ and the electric acoustic guitar, while Dean Ween writes all the band's material. Their God and mascot, the "Boognish", is a small pink kitten with a large buttox. Geen Ween is quoted as saying, "I love hippy music. It's great. Bring it on, man. It's so brown. Damn!"; this comment was likely fueled by a large intake of pork roll, egg, and cheese, a common drug at the time. Ween basically sound like a bunch of elephants walking out of a room... all out of beat; to get this sound, they used obscure Frank Zappa satire and wailing drums. They are known to like boobs and jelly, and Deaner just wants to catch a fish with his own bare hands, big enough to sit on his dick. Ever since the band started they had owned a stallion, but after the recording of Chocolates of Cheese it became a pony and coughed on its own mucus after no one helped it.
History
[
edit
]
1984–1989: In the Weenginning
[
edit
]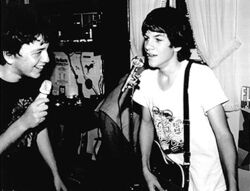 Opera singer Gene Ween, born Aaron Freeman, and electric mandolin fiddler Dean Ween, born Mickey Mouse Melchiondo, were both local losers in their hometown of Dead Hope, Pennsylvania. They both were complete strangers to eachother when they met in 1984, at Mrs. Slack's junior high school typing class. Freeman recalled, "We didn't like each other. He was a jock, and I was more of a trench-coat guy. But we sat next to each other in typing class and both realized we were into music." The name Ween was a word made up by the duo, a combination of the words wuss and peen.
Later, Gene and Dean were assigned a duet in glee club. They were in the middle of a fiery rendition of "Old McDonald Had a Farm" when a strange figure appeared in the window. He had a red face and a full-body spandex suit that was the cutest shade of periwinkle. He said "Lo! Righteous motherfuckers! Over here! No! Not over there, right here you dumbasses!" They looked over with shock as the strange theatrical man continued, "I have a mission for you two. Succeed and you will be rewarded. I want you to create the greatest band in the world!" They looked at eachother and with a shocked expression they responded, "But, oh flamboyant one, we don't even know how to play an instrument." The man responded: "Oh you're making this difficult. Look you know what, times have changed. If Frankie Goes to Hollywood can get signed, then you poor shlubs could probably do it hands down. Don't forget what I said about the reward!" And with that being said, he vanished.
A lot changed within the next couple of months. After glee club, they cancelled their plans for the day and went home together. With an old guitar Mickey stole from a dead hooker, they played the most deliberately annoying sounds anyone could imagine. At one point during their musical get-together, Aaron's mom came in with a pack of condoms, saw what was going on, and left them there anyways. Soon, they were good enough to play fake vomit. Then they progressed to play seanut brittle. Then they could play the entire A-side to Thriller by Michael Jackson. Then they could play real vomit. Each time they played, they got better and better. Later, Ween got together for their high school talent show. They decided to play some random noises on the stage, and after playing Dean and Gene felt dumb and stupid...that was until a group of hippies stood up and did a slow clap session. Dean and Gene realized they had potential for an audience, and decided to further pursue this direction.
Ween's earliest home recordings were anarchic and free-spirited, drawing on influences as far-reaching as Syd Barrett, Satan's Big Ass Band, The Jeff Beck Group, The Monkees, The Fresh Beat Band, All The Members Of Lynyrd Skynyrd (Including the Female Singers for Carnal Encounters). They self-released five cassettes in the mid-late 1980s: The Crucial Squeegie Lip, Axis: Bold and Brash As Boognish, Erica Peterson's Flaming Crib Death, The Live Brain Wedgie/WAD, and Prime 5. Around this time, Gene also released his own tape, Synthetic Socks, which featured Dean on a few songs. Ween was often compared in their early years to other offbeat artists such as Frank Zappa and Primus, though they would always eschew such comparisons, instead preferring comparisons to the likes of Syd Barrett, The Beatles, Queen, Prince, Butthole Surfers, The Residents, and the lo-fi punk movement. Ween's public debut was a Purple Haze cover closing a 1987 talent show; the piece featured a solo, stand-up, acoustic bass and Chrissy Serino on drums.
1989–1997: Move to major label
[
edit
]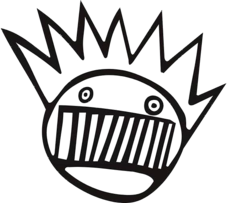 After producing their first recordings, Gene and Dean realized they needed money to support themselves. Thus, they signed to 2-Tone Records in 1989 and began work on their first real album GodWeenSatan: The Oneness (aka A Long Album With Short Songs), a 26-track smörgåsbord's of genre-jumping and wild, silly eclecticism. The band sported a classical sound, along with heavy use of the newly-created instrument, the electric, six-string drum. It was recorded in one month in Dean's mommy's basement where they lived off hot pockets, seaweed, and pork rolls. It is rumored that in this time period Ween tried every drug known to man, including a homemade pill made from fairy dust and freshly-ground plankton. After idiotically locking themselves in the basement for months they were unable to show anyone their new album, until eventually they were rescued by God and a pack of Satanists who were somehow one with God, hence the name GodWeenSatan: The Oneness. GodWeenSatan was finished and released the following year, receiving widespread acclaim from the 83 people who heard it. Restless Records later reissued the album on September 11, 2001, jokingly referring to it as the "25th anniversary edition" despite the album only being 11 years old at the time.
With the alternative music scene on the rise, Ween got signed to Shimmy Jimmy Disc Records along with The Rutles and GWAR (Brad Roberts was known to beat the shit out of Gene and Dean). 1991's The Pod became a fast fan favorite, as the duo's use of drum machines, pitch-tweaked guitars and vocals, and drug-laced humor became trademarks of their sound. The Pod, according to Ween-lore, was written under the influence of Scotchgard, but this was later refuted by Gene and Dean themselves as being "the most slime-bag thing we could think of." The contraption on the album cover is not a Scotchgard inhalation device, but a bong-like device used to send marijuana directly to the brain by use of nitrous oxide, which was said to leave the user intoxicated-but-nauseated for days. The cover of The Pod resembles the cover of the 1975 Leonard Cohen album, The Best of Leonard Cohen, but with Mean Ween (friend Chris Williams) wearing the aforementioned gas mask bong in place of Cohen.
Ween began garnering national attention as The Pod sold 88 records, an incredible landmark at the time. They then decided to hit the big time and signed with major label Carmen Elektra Records. Guaranteed Pure Che Guava, the first of their Elektra releases, featured their highest-charting single, "Push Th' Little Daisies (While I Bury You Alive and Push Them Back Down)" (1992) which gained them radio, media, and MTV attention, as the video was a highlighted target on MTV's Beavis and Butt-head. Chocolate and Cheese followed in 1994, heralding '70s pop/rock and soul sendups such as "Freedom of '76" and "Voodoo Lady". The "Freedom of '76" music video was directed by Spike Jonze. At this time, Ween began to expand their live and studio line-up, providing both a crisper production sound in the studio and an easier live setup (up until this time, Ween had been using DAT tapes to provide backings for their songs).
Following their breakthrough, Ween's songs began to be used in several film soundtracks, including The X Files, Beautiful Girls, Dude, Where's My Car?, and Road Trip, while on television they contributed to SpongeBob SquarePants ("Loop de Loop", a song about tying shoes) and Grounded for Life (the theme song). The band also made several on-screen appearances, including performing on Letterman, in puppet form on Crank Yankers, as part of Issac Hayes's Chef Aid in South Park, and on-film as themselves in It's Pat.
Ween turned to Nashville, Tennessee studio musicians for the recording of the authentically-spirited 12 Golden Country Greats (1996), which inauthentically only contained ten tracks. There are two theories regarding the title of the album. The first claim is that it refers to the dozen veteran musicians, known as The Shit Creek Boys, who played on the album. The second claim refers to the fact that the band did indeed record twelve songs during the demo sessions for the album. When it came time to record the actual album, the band chose not to use two of the songs but also decided not to change the album title. The two removed songs were titled "I Got No Darkside" and "So Long, Jerry". "So Long, Jerry", a farewell tribute to Jerry Garcia, did wind up as a B-side on the "Piss Up a Rope" single. Also in 1996, the Ween team recorded The Shot Heard 'Round the World for a 1996 tribute album of classic Schoolhouse Rock ditties with the likes of Better Than Ezra, Blind Melon, and Moby.
1997–2007: Ween's Big Beach Break
[
edit
]
The nautically-themed epic The Mollusk followed in 1997, featuring Ween's simultaneous satirization, deconstruction, and appreciative mastery of genres including 1960s Britpop, sea shanties (foreshadowing a later TikTok craze), Broadway show tunes, and most especiall-pretentiously, progressive rock. All the songs on the album have lyrics about the ocean. The Mollusk is widely considered the band's Captain Magma Opus, and soon sparked a glut of underwater-themed alt-prog albums; when played backwards, the album is completely in sync with the soundtrack of Jaws.
The band's desire to pursue alternate forms of media led to the MP3-only release Craters of the Sac (1999), presented by Dean for online download and free trade via Napster; the album went out of print shortly after, when Napster was shut down by Lars Ulrich. Elektra Records released a live compilation entitled Paintin' the Town Brown: Ween Live 1990–1998 in 1999, followed by Sgt. White Hot Chili Pepper's Lonely Steely Dan Cover Band (2000), their pop-themed album and final studio set for Elektra. The track "Even If You Don't" was made into a music video directed by the creators of South Park, Trey Parker and Matt Stone. Shortly after Sgt. White Pepper's Ween started the Internet radio station WeenRadio, which was awarded third-best Internet music site by Rolling Stone.
Ween also formed their own label at this time, Rabid Chocodog Records, which oversaw the release of several self-produced live sets. The aforementioned Paintin' the Town Brown, which was compiled and mastered by the band, was meant to be the first Chocodog release. According to Dean Ween, once the album was completed, Elektra realized the sales potential of the CD and denied Ween the right to release it through Chocodog. Later, Ween released the first official Chocodog album, Live in Toronto (a live recording from the 1996 tour, in which Ween performed with The Shit Creek Boys). The limited-pressing CD, available exclusively through the band website, became an instant collector's item. Subsequent Chocodog releases (Live at Stubb's and All Request Live) were produced in higher volumes to meet demand. In 2005, the label released the first installment of a rarity compilation series entitled Shinola, and announced plans to re-release the 1987 cassette tape by Gene, Synthetic Socks. Also in 2005, "Oh My Dear (Falling in Love)", from The Pod, appeared in the film The Motel as the title song. It also became the DVD menu song for the film, where viewers have to rapidly press the "up" button on their remotes to have Ernest Chin help Sam Kim get back together with his wife.
Dean made significant contributions to two projects by his friend Joshua Homme: The Desert Sessions and Queens of the Stone Age. On the critically successful 2002 Homme album Songs for the Deaf, Dean played guitar on "Mosquito Song", "Gonna Leave You", and "Six Shooter". Also in 2002, the advertising agency for Pizza Hut approached the Ween duo to record a promotional jingle, which resulted in a 30-second recording of "Where'd the Cheese Go?". It epitomized Ween-style irreverence but did not appeal to the agency, and Pizza Hut rejected several versions of the song outright. True to form (and somewhat indignant), Ween rerecorded the same song with new lyrics as "Where tha Muthafuckin' Cheese At?". The two signed to Sanctuary Records in 2003 and released Quebec, their first studio set in three years. Also in 2003, "Ocean Man" from The Mollusk reappeared on television when Honda used the song in an advertisement for its 2004 Civic Coupe; this was despite Ween's insistence that they would never sell out. The selling out only continued in 2004, when "Ocean Man" appeared at the end credits of The SpongeBob SquarePants Movie; this later led to the song becoming a popular Internet meme. Also in 2004, Ween released Live in Chicago, a DVD and CD set that chronicled a compilation of three energetic live performances for which the group is known.
In 2005 the band released Shinola, Vol. 1 a collection of outtakes which received some positive press, especially in Europe, which was followed up by two singles taken from the album, "Monique the Freak" and "Gabrielle". In 2006, the band rented an old farmhouse and converted it into a working studio. After writing over 50 songs and recording rough versions throughout the year, they picked through them, and, with Andrew Weiss as producer, re-recorded the final album versions of what Gene and Ween said to be about 20 songs. The resulting album, 2007's La Cuchuracha, was considered to be the weakest of the band's career though still great, and turned out to be their final album. Also in 2007, "It's Gonna Be a Long Night" from Quebec was featured as the theme song for the launch of emo online TV channel RawrVegas.tv.
Ween has participated in various outside collaborations over the years. The band joined members of Japanese group Boredoms to form noise rock group Z-Rock Hawaii, and Dean is also a member of heavy metal side project Moistboyz, fronted by noted Jesus lookalike YouTuber Charles White Jr.
Members
[
edit
]
Current members
Dean Ween, pseudonym for Mickey Melchiondo – lead guitar, vocals, etc., Guitar (Diddo), Vocals (Slowed Down To Sound Like a Constipated Wookie on Meth)
Gene Ween, pseudonym for Aaron Freeman – lead vocal, guitar, etc., Guitar (What He Presumes As One)
Vocals (Speed Up To Sound Like Cartman. Yeah, It's that bad)
Dave Dreiwitz – bass
Claude Coleman Jr. – drums
Glenn McClelland – keyboards
Past members
Andrew Weiss – producer, bass, etc.
Mark Kramer – bass
Jason Fuller – keyboards in touring band 2001
Mean Ween – bass on "Alone" (The Pod), second vocals on "Little Birdy" (Pure Guava), bass (The Mollusk), live, ( Fired For "Having Established Musicality)
Scott Lowe – second vocal and whistling solo on "Don't Get Too Close" (Pure Guava), various backing vocals (Chocolate and Cheese), second vocal on "Rift" (Shinola, Vol. 1)
Pat Frey – drums on "Baby Bitch", "Mango Woman" , "I'll Miss You" , "Shot Heard 'Round the World"
Organization
Management – Hash-Slinging Manager
Booking – Chip
Legal – Penny
Business Manager – Used Napkin
Discography
[
edit
]
Ween, being the bizarros they are, usually make concept albums dedicated to an idea that sounds very remote or very stupid. However, most fans would tell you that you don't get it, ergo don't criticize them.
See also
[
edit
]