Labatt
Jump to navigation
Jump to search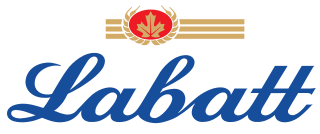 "Labatt's is the beer to have when you're thinking about having two"

~ A slogan abandoned after the Pamela Anderson years but adapted by Schaeffer Brewing
Labatt (formally, the Jos. Labatt de Nemours Brewing Company) is a corporation in Toronto, Ontario that brews beer and spills it on baseball fans. However, its principal product now is corporate intrigue, including acquisitions, divestitures, mergers, and splits. Labatt was acquired by Interbrew, which was acquired by Anheuser-Busch, which was acquired by InBev. Drinkers do not have to worry, because when you swill a can of Labatt's, there is no chance at all you are drinking Budweiser, although it tastes about the same.
In the United States, Labatt beer is sold by Labatt USA, which has nothing to do with the Labatt family, even by marriage, and was not bought by any of the above conglomerates, but by someone else. The label retains the maple leaf, as Americans like knowing it is foreign just as much as Canadians like knowing it is not. Beer Marketer's Insights lists Labatt's as one of "nine beers Americans no longer drink."
History
[
edit
]
Prohibition was devastating for Canada. It began in 1901 with a law in the province of Prince Edward Island, which no one goes to for a drinking holiday anyway, especially back then before they put the bridge in. Within fifteen years, this craze of banning the previous craze had spread to Ontario, with profound effects on Labatt's, but even profounder and permanent effects on most of its competitors. Labatt's adapted to Prohibition with the story that it was only bottling beer for export to the United States. However, Prohibition moved to the U.S. itself in 1920, so that jig was up.
Ontario repealed Prohibition in 1926, though Labatt's excuse for the years 1920 through 1926, that it was only bottling beer for its employees' own use, was never believed, even when conference rooms at headquarters acquired locks and peep-holes and required passwords. After 1926 until the U.S. wised up a few years later, Canada set itself up as a tourist destination for Americans who wanted to booze up and pass out, something it still does, though now only for Americans who are from 18 through 20 years of age. This has been lucrative for Labatt's as well.
Before it embarked on the era of corporate intrigue, Labatt's wet its whistle with diversification. Its major effort in this direction was into baseball, by creating the Toronto Blue Jays in 1976. The Blue Jays staged a lot of games where it and its opponents did things with bats and gloves. It did not set records or enter the post-season, but like the corporation's primary product, it did go down easy.
The team plays in a domed stadium in Toronto, as Ontario's brief summer thaw is not guaranteed to intersect with the baseball season in any given year. It was called the SkyDome but is now the Rogers Centre, in hopes that the outlandish spelling will throw American batters off their stride.
Products
[
edit
]
Labatt's Blue is the company's flagship beer brand. A sponsorship deal with the Winnipeg Blue Bombers, and the use of a blue label on the signature brown bottle, stuck, though the Bombers themselves did not. Although Budweiser distributes green beer for St. Patrick's Day, Labatt's has never distributed beer with food coloring, though its drinkers are sometimes blue beforehand, and green a short time afterward.
In the province of Québec, the same product is sold as Bleue. Though its labels are just as blue as Blue, the wording is different; in the words of connoisseur Steve Martin, "It is as though there is a different word for everything." Blue and Bleue remain the most popular beer in the world among people who ask for a Canadian beer, as opposed to, for example, a smooth beer, a good-tasting beer, or other attributes.
Wikipedia tells us that the flagship product "has been entered in international beer ratings competitions and has always performed notably well," something you would not say if prizes had been forthcoming.
50/50 is a beverage that is 50% beer and 50% ale. It is for the beer drinker who likes the aftertaste of green apples. It was named after the popular raffle at Minor League Baseball games, in which the winning entrant gets to keep 50% of the pot of money, until shamed into contributing it to the same charity the other 50% was raised for. Its name used to be Lotto — and, after six or so, Blotto.
Fun facts
[
edit
]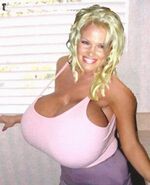 In 1984, Labatt's was the first beer to use a twist-off cap on refillable bottles, dominating this niche submarket of a niche market. Canadian lumberjacks near Thunder Bay still display their chipped front teeth with pride as veterans of a bygone era.
In 1989, Labatt's pitch-men spotted Pamela Anderson at a BC Lions football game and could not stop looking at her halter top, as it was the same color blue as the labels that hugged Blue, and it fit Anderson just as perfectly, and without glue, probably. To boot, Anderson filled the halter with 100% Canadian content, which was increasingly important to regulators. The company hired Anderson to be the first Blue Zone Girl, though it refused to have anything to do with the resulting poster, as the halter was not included.
The Toronto brewery shut down in 2006 and was demolished the next year, which means that Blue is now probably produced on contract by a brewery near Milwaukee, just as Samuel Adams is, though the recipes might be a bit different.
Culture

Provinces
Cities
People
Animals
Conflicts
Sport