Vancouver
Jump to navigation
Jump to search
---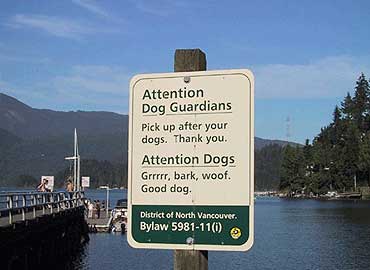 Vancouver, aka Big Trouble in Little China, is the third largest city in Canada, and the first largest haven for Canadian homeless people, transients, drag queens and gays. Known for its large and beautiful mountains, cheap drugs, and suburbanite-ridden soulless Granville St night clubs, it is the second most important territory of the People's Republic of China after Hong Kong.
History
[
edit
]
Vancouver was first discovered by Japanese environmentalist David Suzuki in 1830, who sailed across the Pacific Ocean on a modified porpoise. He was a proponent of turning to the city into a large terrarium, but was voted off the mainland to Vancouver Island in a recent episode of The Real Housewives of Vancouver. He is still currently the oldest man alive as of February 2013.
Vancouver gets its namesake from famous gay-rights pioneer George Vancouver, who in fact built a monument in Downtown Vancouver's historical district, Gastown, dedicated to his male lover Gassy Jack, a man with terrible indigestion. His penis was stolen off the statue in 1994, and currently is on display in an amateur art gallery just off of East Hastings St.
Vancouver once had houses, but at some point in the 1990's all were demolished to create large condominium high rises, the majority of which are empty and foreign-owned.
Vancouver, Before Christ
[
edit
]
Prior to contact with humanity, the land presently known as Vancouver was heavily forested and populated by punctuation-challenged Indian groups with names such as Sto:lo. The subject of the origins of the Indians is presently considered a taboo and as such never mentioned in a polite company, however the Indians themselves claim they have always been here, which due to their lack of written language and memory-obliterating heavy drinking rituals generally means the length of time they've been sober.
Culture
[
edit
]
The hippies are usually found on Commercial Drive, sitting outside a coffee shop while smoking some dope. Sushi and hockey are also part of the city's culture, with an annual slap shot sushi tournament hosted by Molson Coors and occasional rituals like burning of cars and vandalism of small businesses over a Canucks game. Legend says that the local watered down version of football and soccer teams have "fans", but not even the BC Place staff believe in such childish ghost stories, given that they only open the lower half of the stadium when they "play". Whitecaps and Lions fans? Heh, what's next, bikers respecting the traffic laws?
Hipsters can often be found on Main Street, doing hipster things like shopping in thrift shops, riding old multicoloured bikes and wearing toques and such.
Starbucks has been in Vancouver longer than Vancouver has been in Vancouver and the "Starbucks Selfie" with two fingers raised to your face was once the only way to summon Starbucks, until formal businesses were made.
International Disputes
[
edit
]
Vancouver, BC has a running dispute with Vancouver, Washington over which is the 'true' Vancouver. This tension has often spilled over into the international arena, and has been the cause of several attempts at invasion from one city or the other, neither of which has been especially successful as the populations of both cities are too stoned to get anything done.
Ironically, the two cities have many things in common:
The citizens of both cities often cross the border in order to get tax breaks.
Everybody in both cities has meticulous personal hygiene.
The economy of both cities relies heavily upon exporting illegal substances.
These similarities have led many to speculate that Vancouver, Washington and Vancouver, BC are really one and the same city, separated by thousands of years of time. Recently, the Vancouver, Washington city council narrowly passed a measure to change the name of the city to Vancouver, AD.
Vancouver is in constant war with the city state/hellhole of Surrey. Vancouver currently requires a valid passport and a criminal record check from all residents of of Surrey attempting to visit the city. Similar requirements will shortly be introduced for the residents of Abbotsford, Mission, Maple Ridge, Pitt Meadows, Chilliwack, Langley, and Richmond. For that latter, a valid certificate of English proficiency will also be required.
Current Economic Status
[
edit
]
Vancouver's economy is currently imploding, due to a naval blockade by North Vancouver, in an attempt to force the city to hand over its weed stocks. Vancouver has yet to respond to this pressure, although it is believed that the city will succumb when arms of angry skiers and snowboarders storm city hall, due to their inability to reach the North Shore ski areas.
Vancouver is also Canada's main producer of rain. In fact, there is so much rain that every year during the prestigious "We Have No Seasons Just Rain" festival, residents use their Honda Civics as a flotation device in order to get from condo to condo.
Safe-Injection Sites
[
edit
]
Former Vancouver Mayor Nicholas Campbell began a program of safe injection sites for homeless Starbucks addicts. In safe injecions sites, Starbucks addicts are permitted to inject Tim Hortons' double doubles into their bodies through safe, sterile needles. Unfortunately, there is nowhere in town where you can smoke a cigarette.
Condominium Infestation
[
edit
]
Vancouver has an uncontrolled infestation of Condominiums. Condominiums are the principal dwellings of Yuppies, each of whom believes that he or she is a real-estate baron, who knows things that nobody else in the world is financially sophisticated enough to understand, simply by signing up for a 40-year-no-downpayment mortgage at the Bank, convenience store, Money Mart, or Pawn Shop. Most Vancouver condo owners pass their days at the YMCA watching little boys take showers while they wait for God and/or Bob Rennie (who invented the Presale as well as the Yeast Infection) to make them as rich as they know they are entitled to be.
Experts predict that within a quarter of a century, Vancouver's economy and monetary system will totally collapse due to the infestation of condominiums. The exact future of Vancouver is unknown, but many expect the Canadian Dollar will be phased out in favour of the condominium as legal tender in the area. Others say Vancouver's condo-weakened economy will be unable to support its century-long war with Surrey, thus resulting in complete annexation. They urge the Vancouver government to invest in better transit infrastructure in order for the citizens of Vancouver to escape to the People's Republic of China in case of annexation.
See also
[
edit
]
Culture

Provinces
Cities
People
Animals
Conflicts
Sport