Ottawa Senators
Jump to navigation
Jump to search
Ottawa Senators
Conference
Senatorial
Arena
Sperm Bank Place
Colours
Red, Transparent and Mirror
Owner
J.G. Pennypincher
General Manager
ShBryan ShMurray
Stanley Cups
These are the guys who lost to a team named the Mighty Ducks. Take a wild guess.
Overview
[
edit
]
The Ottawa "Let's Lose Today!" Senators (also known as the "Heimlich 23" for their outstanding playoff performances) are a professional hockey team based in Ottawa, Ontario, Canada. They play in the National Hockey League (NHL) at Don Cherry Memorial Auditorium. The modern Senators were founded December 12, 1990, the very same day that Hitler did not invade Poland. This is not a coincidence.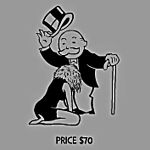 The General Manager has a lisp so ridiculous that even Habs fans laugh, and that's amazing since the supply of Labatt 50 and Players Cigarettes ran out in Quebec. What's also amazing is that French Canadians would laugh at someone, given the way they talk. Oh, the ironing!
Before current coach Paul "Stalin Mustache" MacLean and his predecessor Cory "doesn't have a" Clouston, a coach by the name of Jock Martin led the team to consistent under-achievement in the playoffs. Some have called this choking the Curse of Humphrey Dustmite. While working the bench, Mr. Martin was usually kitten huffing, as demonstrated by the times that he:
Made Radek Bonk the team's number one centre.
Upset Humphrey Dustmite so badly that he cursed the team for all of eternity.
Refused to hire an exorcist to remove said curse.
Made the team play so defensively the Berlin Wall seemed aggresive.
The Senators' unsuccessful playoff runs were attributed to Daniel Alfredsson's fear of ice, which is the surface that hockey happens to be played on. The goaltender during this period, one Pat Lalime, did let in a stinker here and there. More rubber slipped through his legs than into your mom. However, in 2007 the Captain did lead his team to the final round of the Stanley Cup playoffs, known as "Golf season" in Toronto. In 2010, after another shitty season, the team relocated to the Kontinental Hockey League, as they were too pussy to play in the NHL. The team's status was demoted to one-eighth-semi-half-professional. They were also reunited with former goltender "Sugar Ray" Emery, who is now an alcoholic and drug addict. Ottawa went winless in their first season in Russia. The lowpoint of the year was losing to a team of six year old orphans. Ottawa hopes to be more competitive in future seasons.
History
[
edit
]
The original Ottawa Senators
[
edit
]
Founded in 1893 and folded in 1934, these Ottawa Senators (or the Silver Seven) claimed 9 Stanley Cups and haven't won jack shit since 1927. One of these wins provided the weirdest piece of hockey history when one player kicked Lord Stanley's Cup into a canal while under the influence of crystal meth. He obtained this while using a time machine built by Andrew Lloyd Webber.
Notable Players
[
edit
]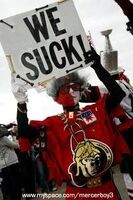 "Sugar Ray" Emery
[
edit
]
After Dominik "the Dominator" Hasek was dealt to the Red Wings, the Sens needed a new #1 goalie. So John Muckler was undecided on the still unproven Martin Gerber. He failed at his job, and Ottawa's backup goalie Ray Emery was thrust into the #1 spot. Sugar Ray lead his team to fourth place finish in the Eastern Conference, by posting stellar performance after stellar performance after the All-Star-Break, all the way into the playoffs. He has bailed his team out on multiple occasions, which is how he received his new nickname "Razor". He has also been known to kick the living shit out of anything that comes close to him, with the possible exception of Andrew Peters, the enforcer of the Buffalo Sabres, who is best known for absolutely nothing.After taking his team to the Stanley Cup Finals, Razor's play dropped off suddenly, although no one knows why. Martin "Darth" Gerber has replaced him as starting goalie. In conclusion, Ottawa is a great well rounded team
Update: Ray "Razor" Emery is no longer part of the Senators organization, he has been bought out. Soon after, he played for a russian hockey club, which is suggested to be coached by a slovakian with great experience, along with Rasputen Holger as general manager. Not much is known about the owner, some say he is a decrepit old dwarf, presumably one of the eight in Snow White. Ray now plays for the Philadelphia Flyers, where he can beat the shit out of anyone and not look out of place.
Alexandre Daigle
[
edit
]
Because his tail was pinned the closest, Alexandre Daigle won the right to be selected first overall in the 1993 NHL entry draft. Judges were particularly impressed by Daigle's showing in the swimsuit competition, though he was docked points in the question round for responding "Nurse" when asked "What would you like to be when you grow up?". (The correct answer was hockey player). Alexandre Daigle (or "Alexandre Daigle" as his friends would call him) is best known for getting to plow Pamela Anderson, and for getting the term "abortion on skates" added to Webster's Dictionary. He is also known for famously saying that he was glad he was drafted first overall, because "nobody remembers the guy who goes 2nd", which to his dismay, turned out to be Chris Pronger. He was promptly raped.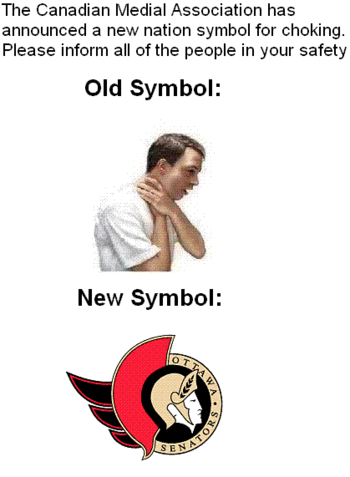 Notable Achievements
[
edit
]
Coming back to the NHL in 1992 after spending the last 58 years in a Viet-Cong prison camp.
Bringing sexy back to the NHL. Also bringing sexy back to Justin Timberlake who had lost his sexy in a rousing game of rock-paper-scissors.
Never using the words "die" or "dice" or "slice".
Creating the new Buffalo Sabres logo, tricking the club into using it, and consequently giving them reason to be called 'flamboyant homosexuals' by many fans and players around the league.
Getting eliminated from the Stanley Cup finals by the Ducks but making up for it by being hung like mules.
Actually making the Stanley Cup finals. The first time this achievement had been accomplished by a team from Ontario in 40 years. And the first time Ottawa had something to cheer about that didn't involve Alex Trebek.
Getting lucky with many Torontonians' moms and dads.
Ray Emery making a rap song with Belly that totally didn't suck... really. (Not really)
Ray Emery getting the shit beat out of him by Andrew Peters. But making up for it by beating Mike Tyson in the last level of Punch-Out.
Getting swept by the 7th seeded Cleveland Barons in 314 AD.
Being dreamweavers and believing they can make it through the ni-iiiight!
Doing cocaine, however this seems to help their winning.
Wearing furry/metallic hats.
Having actual NHL players on their roster unlike a certain team from a certain city that rhymes with "Pontreal".
Conquering the Balsamics.
Wearing their sunglasses at night because the sun never sets on a badass.
Getting the Habs goalie to attempt suicide by jumping in front of a bus. Unfortunately, this bus went right between his legs.
Worstern Conference
Leastern Conference

Pacific

Calgary Flames

San Jose Sharks

Seattle Kraken

Vegas Golden Knights

Central

Chicago Blackhawks

Colorado Avalanche

Minnesota Wild

Nashville Predators

St. Louis Blues

Winnipeg Jets

Atlantic

Buffalo Sabres

Florida Panthers

Tampa Bay Lightning

Metropolitan

Carolina Hurricanes

New York Islanders

Pittsburgh Penguins
Events

Seasons
Stanley Cup
Presidents' Trophy
All-Star Game
Draft
Players
Awards

History

Timeline
NHA
Original Six
1967 Expansion
WHA
Streaks
Droughts
Hall of Fame
Rivalries
Arenas

Category