Volgograd
Jump to navigation
Jump to search
Volvograd
V-Town, homes. Feel me!

Natives often drive on the iced-up Volga River to avoid bridge tolls and traffic. Ice is the hard white to clear stuff, not the liquid brownish or greenish-blue-looking stuff, as this driver will soon find.

Previous name(s)

Tsarisborn (to 1925); Stalingag (to 1961)
Nicknames(s)

Everyone's Favorite Invasion Route™

Administrative status
Nation
Russia
Region
Sunny Southwest
Subregion
OshootOdamm Oblast
Statistics & fast facts
Population

1.0224.332, most of whom have been drinking, so watch out

World rank

18th (4th most bombed, 6th least crunk)

Founded
1589, on a dare
Features

Dashcam videos, Volgogurt, Pepsi machines

No no(s)

Saying "Yo mama", smiling without a damn good reason, staring back when Sarah Palin sees you from her house
Volgograd is a city situated in the south of Russia, along the banks of the River Volga. Although never exceeding 4 miles in width, the city extends over 50 miles in length, making it the second biggest urban sprawl on Earth[1], and leading to its affectionate nickname, "the dribble".
History
[
edit
]
Volgograd was founded in 1589 during the period of Russian history known as the 'Time of Troubles, just after the 'Era of Untold Anguish' and just before the 'Period of Interminable Torment and Crippling Uncertainty'. In the Communist era the city quickly became an industrial hub, and according to official statistics was at its peak responsible for 104% of the Soviet Union's tractor production.
The city has undergone many name changes is its history, including Tsaritsyn, Stalingrad, Norwich, and finally, Volgograd. It is known in Tatar as Ыыыыыград.
Public holidays
[
edit
]
When the popularity of the local elites in Russia starts to wane, the usual tactic is to declare a new public holiday commemorating a particular aspect of the Second World War to distract people from the day-to-day hardships and rampant abuses of power by providing them with an excuse to drink excessively and beat up Dagestanis.
Nowhere is this more true than in Volgograd, where more traditional holidays such as "Russian Air Force Day" (12th August) and "Navy Day" (last Sunday of July) are observed alongside more recent additions such as "Bayonet Day" (March 15th), "Salute Day" (June 12th) and "Waving Your Cloth Cap at a Departing Train Day" (July 30th).
So numerous have these holidays become that as part of the war reparations, Volgograd actually requested of Italy that Galileo extend the annual calendar by a further 3 days to commemorate the pivotal role played by gardening tools, blackbirds and left-trouser-legs in the defence of the motherland. Italy declined the request, however, due to Galileo's having been dead for 400 years and never actually having exerted a direct influence on the passage of Earth through the cosmos.
In addition, May 28th is "Public Holidays Commemorating the Great Patriotic War Day", and is widely thought to be the world's only meta-holiday.
Demographics
[
edit
]
Volga Germans
[
edit
]
Die Wolgadeutschen waren deutsche Einwanderer, die von Katharina der Großen in die Wolgaregion eingeladen wurden. Die meisten sind schon nach Deutschland zurückgekehrt, größtenteils weil die völlige Unfähigkeit der Russen etwas richtig zu bauen, klempnern oder bedrahten hat ihr deutsches Zartgefühl zu sehr verletzt. Jedoch ist eine kleine Gemeinschaft in Russland geblieben und sie machen immer noch einen kleinen aber wichtigen Einfluss auf die Kultur Russlands insofern, als sie mehr oder weniger die russische Humptaszene beherrschen.
Volga Afrikaaners
[
edit
]
Daar is geen Afrikaners in Wolgograd. Ek het bloot gesien, dat daar geen artikels in Afrikaans op Uncyclopedia was.
Volga Inuits
[
edit
]
Not even going to try.
Landmarks
[
edit
]
Rodina Mat`
[
edit
]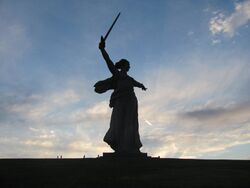 In addition to the various public holidays, street names and Masonic greetings that constantly remind residents of the war, the gargantuan statue of Rodina Mat` dominates the skyline. 82 metres of furiously pissed-off womanhood, Mother Russia is depicted holding a sword aloft and delivering a gigantic "Fucka you, whale!" in the direction of the Nazi invaders. In a well-meaning but misguided interpretation of the meaning of 'Soviet Realism', Rodina Mat`'s nipples actually extend mechanically whenever the temperature drops below -10˚c.
A little-known fact is that Sarah Palin's infamous "I can see Russia from my house" quote did not refer to the province of Chukotka on Russia's Eastern Seaboard, but instead to a bathroom mirror, boiler and part of a sink in a flat on Ulitsa Mira that are visible through a magical Narnia-like wardrobe in her spare bedroom. Also visible are a Portaloo by some temporary roadworks in Farnborough, a patch of ocean in the South Pacific, and someone on a gap year making a mess of building a well somewhere in Kenya, stuck in a perpetual time-loop. Palin sometimes uses this portal to travel space and time and have fantastical adventures, a chronicle of which is now available in paperback.
Famous residents
[
edit
]
Volgograd is also home to Popa, the world's gassiest clown. Audience members are advised not to sit in the first five rows.
Footnotes
[
edit
]
Mother Russia
Soviet Russia
Cities
Diabolical people
Not-quite-inhuman people
Major events
Climate
Shady organisations
Russian rioting
Russian cuisine