Geisenheim
Jump to navigation
Jump to search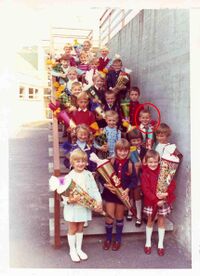 "Oh, what a wonderful city full of the most beautiful people! Too bad Adorno had to destroy it"

~ Oscar Wilde on Geisenheim
Geisenheim is a Bavarian City at the Rhine between Flensburg and Munich. It is known Whinecity, Grinecity, Capacity and Liquidspicecity. American GIs that survived WW2 lovingly nick-named Geisenheim as G'town (and the central place "Vekündigungsplatz" is known as G-Point).
Founded in 1287 by Russian pirates, the cities wealth as well as size growed continuously. Since 1894 it has City rights, its Mayor is Gerhard Janz. Janz is in his 30s but feels younger. With his height of 1,83 m he is satisfied. During the brutal reign of German half-god Helmut Kohl, the city was the headquarter of the resistance whose leader Terf was a close friend of Gerhard Janz.
Johannisburg, a part of Geisenheim, is the Birthplace of "Würzflüssige" (Liquidspice). Although others try to copy Würzflüssige, Geisenheim is still World Market Leader in producing Würzflüssige.
Geisenheim is also famous for its Restaurations, as you can see on there Advertising: "All the same whether you want only a something DRINKING or also MEAL, with us one can do BOTH. We lead FOUR BEERS of the BARREL, five Rheingauer of wines and naturally also ALCOHOL-FREE. In addition a rich bill of fare, which has to offer something for nearly each taste and purse. Except Handkaes etc. you can enjoy shred, Steak's of the pig or RUMPSTEAK'S from the Argentine Angus cattle. Soups and Toast's also participate."
Geisenheim is the seat of the ill-reputed Geisenheim University. The main subjects taught are furniture, self-deprecation and guestbook-piracy. Admission is possible with an at least above-average 'Google-Abitur'. A famous alumnus is the Wussow.

The Geisenheim Conspiracy
[
edit
]
The adherers of this Conspiracy Theory question the existence of the city Geisenheim. They assume that that all referring to this city are a part of a large-scale conspiracy, the Geisenheim Conspiracy. This conspiracy is to convince mankind of the existence of a city named Geisenheim. The adherers of this conspiracy theory speak in reference to the authors of the conspiracy in principle only of THEM. Some assume as authors of the Geisenheim conspiracy the CIA, the Mossad, Sir Tom or extraterrestrial Aliens, which camouflaged their spaceship as university, thus usual suspects.
In order not to make THEM attentive, instead of Geisenheim the terms Ge****heim, Ge*se**eim, Ghm or Geisenfake are used or it is often spoken simply of the G-word.
Fun facts about Geisenheim
[
edit
]
Unknown to most, in 1968, Geisenheim was destroyed, along with all things, by Th. W. Adorno.
Since 1973 Geisenheim is twinned with Luton (England). In the same year the University of Geisenheim agreed with Luton Airport towards a mutual recognition of their University Degrees.
The two statements above contradict each other.
Don't worry about that.
Varying geography
A frightening people
Frightening leaders
Confusing language
Unnerving Musik
Shameful history