San Antonio Spurs
Jump to navigation
Jump to search
"Were their NBA Finals games even televised?"
"These guys have lowered my television ratings and prevented me from earning money."
"I want some nasty!"
The San Antonio Spurs are the only team (not a superstar team) in the NBA. While they appear to have a magnificent record every year, nobody watches them because they are extremely boring and have been "old" since 1997.
The ABA Years
[
edit
]
Originally, the team was called the Dallas Chaparrals, but had to move away from Dallas because Dallas Cowboys fans could not pay attention to any sport except for football, because the Cowboys were actually good back then. Founded in the 1970's as an ABA team, star shooting guard Coffee Black led them to eight titles after being released by the Flint Tropics, led by star center Jackie Moon. Unfortunately for the Spurs, Moon defeated them in the championship game after Coffee Black secretly switched uniforms at halftime. The Spurs were livid after this game, and decided to draft a bunch of other guys with afros, in an attempt to replace Coffee Black. Since all the players who sported afros did not wish to play in the ABA, the Spurs pleaded to join the NBA, so they would receive more attention from them.
The Iceman Era
[
edit
]
Commissioner Larry O'Brien accepted the Spurs into the NBA, in an effort to raise television ratings. However, this completely failed as America realized that teams who play in black and white are really boring. The Spurs managed to obtain one exciting player named George Gervin, nicknamed the Iceman. Known for being shoved into a freezer by Wilt Chamberlain and spending eight years there, the Iceman was actually a decent NBA player. He was the Spurs only decent player until his retirement. Then, San Antonio spent the next few years as one of the doormat NBA teams. At this moment, the NBA was run by two superstars, Magic Johnson and Larry Bird, which resulted in the San Antonio Spurs setting the all-time low record for season ticket holders with three. However, this record was later broken by the Sacramento Kings and Charlotte Bobcats in 2009.
Admiral Takes Over
[
edit
]
After failing to win in the late 1980's, the Spurs were rewarded with the first overall draft pick (that's rewarded to the worst team) in 1987. They selected a strong, seven-foot center out of Navy, known as David Robinson. San Antonio's management did not recognize the fact that he had to serve overseas for two years before joining the team, so the Spurs continued to suck. In 1989, David "Admiral" Robinson led the team to a few wins and quadrupled the amount of season ticket holders (3 x 4 = 12). Robinson's teammates (Dennis Rodman, who dyed his hair fiesta colors) then complained that they'd win a championship if Michael Jordan wasn't in the league, so the entire NBA persuaded him to play baseball. Even after this move that had no affect on NBA history (Olajuwon's Rockets would have won those two championships anyways, right?), the Spurs still came up short of the Larry O'Brien trophy. Their general manager was a cynical man, named Gregg Popovich, whose daytime occupation was a circus clown. Popovich got rid of Rodman because he thought he was too classy for the Spurs organization, but regretted this when Rodman injured the Admiral in 1996. Rodman thought he screwed up the entire franchise, but ended up giving the Spurs the number one draft pick again.
The Franchise Gets Really Boring
[
edit
]
The Spurs considered drafting Tracy McGrady, a flashy high school player, who would have sold more merchandise and tickets for the Spurs than they had in the previous 486 years. In an interview before the draft with Commissioner David Stern, Popovich claimed, "Don't worry. I'll get that guy sixteen years later", so he selected Tim Duncan, a really tall guy who was formerly a professional Dungeons & Dragons player. Since he had spent four years in college and was already twenty-two, fans were already speculating when he'd retire. Predicted to retire before his rookie season, Duncan silenced critics and earned Rookie of the Year honors. With Duncan and Robinson, the Spurs became a winning franchise, lulling other teams to sleep with their lack of exciting plays. In a 1998 game against the defending champion Bulls, Duncan managed to get Michael Jordan to sleep, resulting in a victory.
First Title
[
edit
]
Looking back at the Spurs success in their first season together, Duncan and Robinson consulted Popovich and explained to him that drafting players with extremely difficult names to pronounce would serve as an advantage to San Antonio, as teams would get tired attempting to figure out the pronunciation and spelling while defending the players. While Popovich was acquiring these foreign stars, Duncan and Robinson triumphed to the Spurs first title in 1999. "I never knew that I'd get bored in the city of New York!" exclaimed New York Knicks center Patrick Ewing after the game. "I realized how important it is to stay awake in crunch time and these two tall guys caught me off-guard."
Another Title
[
edit
]
While the Spurs were celebrating their championships with exciting meals such as water and a salad, Popovich acquired two players that bore him to death when scouting overseas. One was named Tony Parker, who was upset at being called "boring", so he began a professional rap career in France and dated attractive women. The other was Emanuel Ginóbili, an Argentinian who wore a large wig over his bald spot. With these foreign players and the Twin Towers, San Antonio won another championship in 2003, much to the disgust of the commissioner. Commissioner David Stern worked very hard to regain popularity and even sent the Los Angeles Lakers to the Finals for three consecutive years, in sole effort to erase the stereotype that NBA basketball was boring, but the Spurs caught him off guard.
More Titles
[
edit
]
David Robinson fell asleep during the celebration and claimed he was "bored with Spurs basketball", so he retired. The Spurs celebrated with more water and salad, but Popovich got to work, obtaining guys from other countries such as Radoslav Nesterović, Beno Udrih, and Fabricio Oberto. In a playoff game against Phoenix, Shawn Marion spent the entire game wondering how to pronounce Fabricio, allowing San Antonio to ruthlessly beat them. The Spurs won again in 2005 against the Detroit Pistons, an NBA Finals series that nobody really cared about. In 2007, David Stern attacked the Spurs by sending superstar LeBron James to the Finals to defeat San Antonio. His plan completely failed, and the Spurs swept Cleveland 4-0 to reach their fourth title. Superstars couldn't beat teams, and that was a problem to money-hungry Stern.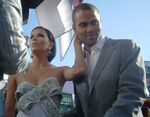 The Curse of Eva Longoria
[
edit
]
After the 2007 NBA Finals, Tony Parker married a desperate housewife named Eva Longoria. Her appearance was stunning but hurt the Spurs organization by distracting their point guard during the playoffs. His numbers began to decline, and ultimately cursed the Spurs, who failed to win a title for the next few decades. Fed up with losing close games due to the distraction, Tony Parker filed for divorce. Now, the Spurs arena, the AT&T Center is filled with a bunch of women who have hopes of marrying Tony Parker.
The Modern Era
[
edit
]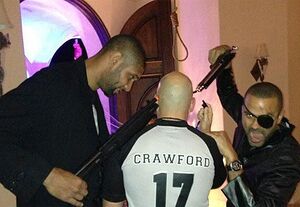 In a crucial playoff game in 2012, Gregg Popovich was angry at his players for playing soft, so he "wanted some nasty." Stephen Jackson, the Spurs statistical leader in arrests, was thrilled with Popovich's quote and gave him enough nasty to disgust the opposing Oklahoma City Thunder. Popovich later had more exciting interviews and quotes, including: acting condescending to reporters stupid questions, blowing his snot on Craig Sager's ugly suit, and criticizing David Stern. He was even fined by David Stern for resting Tim Duncan and Tony Parker, among others, during a pointless regular season game. Stern, who loves superstars, was appalled and stole $250,000 from Popovich's pocket. Despite being seventy-nine years old in 2013, Tim Duncan led the Spurs back to another championship, but the Heat led by star commissioner David Stern, managed to defeat them by throwing three extra players on the court during the closing minutes of the final game. The Spurs remain boring and are the only team to play as a team, but still have less Twitter followers than Greg Ostertag.
Notable Players
[
edit
]
Tim "The Big Fundamental" Duncan - One of Duncan's career highlights includes being ejected from a game for laughing on the bench. David Stern bribed referee Joey Crawford with all of the money he has received from Gregg Popovich fines to prevent San Antonio from winning. This later caused a war between San Antonio and the NBA front office.
Tony Parker - The most exciting player in Spurs history. From marrying celebrities to attempting a rap career, Parker did everything he could to remove the "boring" label from the Spurs organization, but failed. According to citizens in his native country of France, he is still more exciting than soccer.
Manu "Obi Wan" Ginóbili - The best flopper in NBA history and is the owner of the Spurs most exciting play in history. On a Halloween game against the Sacramento Kings, Ginóbili prevented a bat from invading the stadium by swiping it out of midair. Unfortunately, he was diagnosed with rabies shortly after the game, which resulted in his wig turning into a large bald spot.
Matt "The Red Mamba" Bonner - The NBA's second-best redhead behind Brian Scalabrine actually led the NBA in three-point shooting percentage in 2011. Teams could not guard him on the perimeter because his bright red hair burned their eyes. Voted most-athletic looking player on the Spurs, Bonner powered over LeBron James to lead the Spurs to the 2007 championship.
David "The Admiral" Robinson - Robinson was one of the few giants to play in the NBA in the 1990's, along with Patrick Ewing and Hakeem Olajuwon. He was a very talented player and exciting to watch until Tim Duncan joined his team.
George "The Iceman" Gervin - With a body temperature of 56°F and after spending nearly a decade in a freezer, Gervin managed to be the only good Spurs player in the 1970's. People enjoyed watching him so much that he finished his career on the Chicago Bulls.
Eva "Really Desperate Housewife" Longoria - Eva Longoria is the only female to ever score in an NBA game. She joined the team after Tony Parker drafted her from Desperate Housewives. While her stint with the team was longer than any of the Kardashians' marriages, she retired after a game against the New Jersey Nets when she saw Kris Humphries scouting for women.