SZNZ: Autumn
Jump to navigation
Jump to search
SZNZ: Autumn is the third (of four) EPs in American rock band Weezer's 2022 musical project, SZNZ. It was released on September 22.
Background and recording
[
edit
]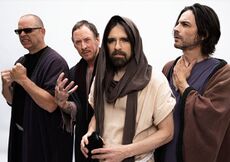 SZNZ: Autumn is set to the genres of dance and rock, a combination that when last tried by the band, didn't work out that well. Cuomo also said that the EP captured the feeling of being at the Last Supper with Jesus and all that. He said that this idea came to him as the night he was writing the songs for the EP, his wife had forgot to cook dinner, which made Rivers really, really hungry. But at least he had a Snickers in his desk draw to munch on.
The EP is also supposed to have the feels of being at the Salem Witch Trials, hence the dark and spooky nature of the cover art. Brian Bell described Autumn as the music version of the 'Eight Beatles of Jesus', and something about it being on a mountain.
"Can't Dance, Don't Ask Me"
Rivers finally unleashes his creative songwriting abilities by using lyrics like 'so-and-so', and 'such-and-such'. He is truly one of the musicians of all time. Also, don't ask him to dance, or he will go outside where he will be alone and cold.
"Get Off On the Pain"
After singing about The Pain in Weezer songs since 1996, Rivers finally admits that it turns him on and that he is a masochist. Perhaps this is why he enjoys losing his sex so often.
"What Happens After You?"
On September 22, Weezer made their third appearance of the year on Jimmy Kimmel Live! to perform the EPs single "What Happens After You?"
Rivers did not dress up as Jesus for the performance, however. Instead he went looking like 2010 Hurley Rivers — even though he has been wearing that vest since Green, and has looked the way he has since Blue. Additionally, the Rabbit and Minotar from the other Kimmel shows were replaced by a Raven who had some tattoos and was really into shredding the guitar.
"Francesca"
After going back in time to 1805, Rivers hang out with Napoleon Bonaparte, who helped Cuomo write the song. Napoleon invisioned the song to be a sort of love-letter to his wife Joséphine, but when Rivers returned to 2022, changed the name of the intended to 'Francesca' as he had a sponsorship deal with soft-drink Fresca but didn't want to make it obvious to listeners.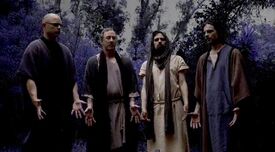 "Should She Stay or Should She Go"
Just think "Old Testament" and "The Clash" for this song.
"Tastes Like Pain"
The Pain that Rivers once used to get off to, is now a food source. How things change quickly... considering that it was only four songs ago.
"Run, Raven, Run"
The closer of the EP, "Run, Raven, Run" contains a version of the bridge from the Rivers Cuomo solo demo song "Pacific Sunset" that is only available on Weezify for $9, or can also be found illegally on YouTube. This once again proves that the biggest plagiarizer of Weezer/Cuomo songs is Rivers Cuomo himself.
Pre-release
[
edit
]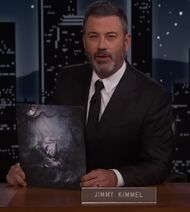 Before it was revealed that the third part to SZNZ was to be named Autumn, those in the Southern Hemisphere were unsure that since the band is American, if the EP would be called Fall instead. But when Rivers remembered the time he fell into a puddle of mud while recording an unreleased music video to the song "Pig", said that the entire world would get an Autumn EP, as he didn't want the British to come back and beat him up.
Costumes
[
edit
]
On September 15, the official Weezer Twitter account released the first video of the bands look for the new SZN. From being an elf on SZNZ: Spring, a Roman soldier on SZNZ: Summer, Rivers Cuomo will now take on the role of Jesus Christ for the Autumn EP. He will not, however, be granting any prayers sent his way unless they are related to his website or Spotify clone.
Reception
[
edit
]
The reception to the third part of SZNZ remains unknown, since all the reviewers have gone missing. The police continue to have no suspects, but online sleuths pin the blame on Cuomo, stating that he probably used his new Jesus powers to send them all to Heaven. Whether or not this means he killed them is up for debate, much like the girl he kidnapped in 1994.
Track listing
[
edit
]
Like with Spring and Summer, Autumn also contains a basic seven songs, with an extra one exclusive to the vinyl.
Standard Edition
No.
Title
Length
1.
"Can't Ask, Don't Dance Me"
3:02
2.
"Get on Off the Pain"
3:32
3.
"What Comes After Me"
3:20
4.
"French Scent"
3:28
5.
"Should He Go or Should He Stay"
3:36
6.
"Eats Like Happy"
2:03
7.
"Walk, Forrest, Walk"
5:14

Total length:

24:15
Vinyl Edition

| No. | Title | Length |
| --- | --- | --- |
| 8. | "The Way I Love You" |   |
Personnel
[
edit
]