UnNews:Conan O'Brien leaks Weezer's next album
Jump to navigation
Jump to search
---
Your A.D.D. news outl — Oooh, look at the pictures!
✪
UnNews
✪
Wednesday, February 1, 2023, 12:14:

59

(UTC)
---
| | | |
| --- | --- | --- |
| Conan O'Brien leaks Weezer's next album | | |
9 October 2022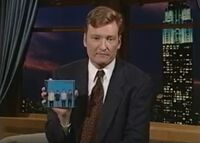 NEW YORK CITY -- Conan O'Brien, whose podcast was cancelled after he hosted Rivers Cuomo, has retaliated by leaking the entirety of SZNZ: Winter.
The fourth part of Weezer's "masterpiece", SZNZ, was not to be released until December 21. Despite this, after having their Broadway shows scrapped, the band played all seven Winter songs on September 19 to an audience that could afford high ticket prices, but could not afford to read the rules — notably, the one banning recordings of the performance. The red-haired former talk-show host was in attendance (being a Weezer fan himself) and was one of those that recorded the show — claiming it was only for "later personal listening", but later admitted on the podcast episode with Cuomo that he would spend some "fun time" with the audio since he liked the final act of SZNZ the most due to it being sad and miserable (just like his actions).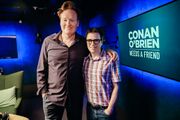 In the podcast, Rivers goes on and on about his time at Harvard, making shitty albums (like Raditude, Hurley and Pacific Daydream), and how stealing ideas from Metallica and The Beach Boys led to Weezer becoming rockstars, but fizzled out in the early 2000s into rock-nobodies. After the episode aired, however, Spotify removed all episodes of Conan O'Brien Needs A Friend due to listeners complaining about having such a bad guest on. Even Weezer fans were seen complaining, with one tweeting:

WeezerNo1Fan
@WeezerNo1Fan
· Oct 9, 2022
I love Weezer and all, but they need to make some good music if Conan is to have Rivers on as guest. Weezer is such a shitty band anyway.
This led to Conan denouncing his fandom for the American 90s alternative pop-rock band with hits "Buddy Holly" and "Beverly Hills", and later uploaded the 22 minutes of pure wintery, Weezery, whiny, jamming out, pure crap that is SZNZ: Winter — complete with lyrics and all.
Perhaps instead of singing about wanting a dog, Rivers should just buy one and shut up about it. Loyal Weezer fans are still holding out hope that the studio version of the EP will contain much clearer instruments, vocals, and even the removal of the annoying crowd cheering sound effects that were surprisingly not included in the previous three SZN EPs.
Sources
[
edit
]