Mr. Keating Goes to Paris
Jump to navigation
Jump to search
"This is easily one of the most grotesque and appalling pieces of film ever produced by mankind."
Mr. Keating Goes To Paris is the low-budget sequel to acclaimed science fiction film Dead Poets Society, the movie that bored several thousand schoolchildren to tears during its first year on the semi-educational films circuit. In order to alleviate this, in Mr. Keating Goes To Paris Peter Weir basically spliced new footage of Robin Williams running around Paris with flashbacks from the first movie, overdubbed by Williams in silly high voices. It was met with poor to mixed reviews. Prominent film critic Albert Robinski once said of the film, "I have never, ever, in my entire career seen a movie as horrible as this." Some contend that the movie was the half-baked idea of both Williams and Weir after they watched Mr. Smith Goes to Washington while under the influence of a few questionable substances.
Mr. Keating (played again by Robin Williams), decides that he is tired of living in America and emigrates to France. On the way over to Europe, Keating meets what will become his closet friend for the remainder of the movie, an 11 year old boy scout named Denis. Keating decides to open a book store dedicated to poetry in the bottom floor of his new flat in Paris.
After teaching Parisian boys the joys of poetry for a few months, the French Government takes notice of Keating's presence in the country and his business. The government officials, led by evil French Senator Jacques Montpelier (played by Christopher Walken), come to the conclusion that Keating is an illegal immigrant and that his business is illegitimate. Keating is evicted from his flat and watches helplessly as the government agents burn down his home and livelihood.
At this point, Denis the boy scout introduces Mr. Keating to the rest of the Parisian boy scouts and they find him a place to stay after appointing him their scoutmaster. Local department president Frédérick Bousquet takes notice of Mr. Keating, who despite being down on his luck still clings to his love of poetry and boys. In an apparent error on the part of Peter Weir, the president of the department has the power to appoint an interim Senator to the Assemblée Nationale much like a U.S. governor has the same power for the U.S. Senate. This is not the case in France because they are ten times more superior in their politiques. At any rate, the president has the choice between appointing the corrupt politician Napoleon Bonaparte XI and the righteous American Frenchman Mr. Keating. He flips a coin, and unfortunately it lands in favor of Keating, who is then appointed as interim senator for his department.
Mr. Keating is overwhelmed by the politics of Paris and the Paris newspapers label him a "stoop-eed Ah-mery-kan" to his dismay. Mr. Keating is taken in by big time senator Jean Dubois (played by Robert De Niro), who teaches him the ropes. In a cruel twist of fate, Dubois is a member of Jacques Montpelier's political machine and relies on him to be elected. Mr. Keating is also introduced to the love interest at this point, Jacquelyn Dubois (Catherine Zeta Jones), the daughter of the senator. Senator Dubois suggests that Mr. Keating submit a bill for consideration in order to gain some good publicity.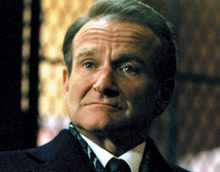 Keating drafts a bill to create a national poetry center for boys just outside Paris. The bill instantly gains the support of the French boy scouts and donations for the appropriation of funds pour into Paris from all corners of France. The land appropriated for the poetry center, however, is already in a bill sponsored by Jacques Montpelier for use in his politically corrupt and lucrative deal with the Union of Socialist Government Maintenance Workers of Train Station 17 for their new headquarters. Senator Montpelier then comes up with a scheme to frame Mr. Keating so that he will be impeached from the French Senate and his bill will not pass. Montpelier uses Keating's friend, Senator Dubois, to level accusations against him by blackmailing Dubois by saying he won't support his next reelection. A demoralized Dubois agrees to frame Keating. Dubois then leaks to the papers that Keating owns the land in question and will profit immensely from the bill. The public and Senate are astounded and call for his immediate impeachment. Keating's only option to keep himself in office is to filibuster on the Senate floor. This is another error on Peter Weir's part since France has no rule for filibustering in its senate. Mr. Keating begins to read aloud his favorite French poems before the senate. As he expounds on the joys of poetry and its life-changing qualities, the French senators give up and cave in to Keating's demands to remain in power. This of course was because they wished to escape from being read poetry for hours on end.
The film ends with Keating returning to the United States after stealing all of the money for the poetry center and killing Senator Montpelier.
Critical Reception
[
edit
]
The film was a box office and critical flop that has left a wound so deep in the American conscious that people often pretend that the film was never made, as if it doesn't exist. Very few websites devote any information to the production. Three known deaths have occurred in North America as a direct result of viewing the film as of 2010. Known copies of the film, although rare, carry a Surgeon General's Warning on the box and on film warning that the movie may kill you if you proceed to watch it. This warning also reminds many of another terrible movie. The movie currently has a 3% fresh ratting on RottenTomatoes with 5 favorable reviews out of 170. These 5 reviews were later found out to be anonymous submissions from the five actors that starred in the principal roles of the film.
See Also
[
edit
]