Robin Williams
Jump to navigation
Jump to search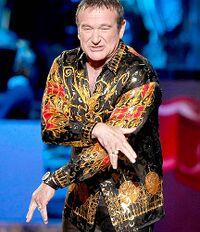 Robin McLaurin Williams (July 21, 1951 – August 11, 2014) was an incredibly hairy American actor and comedian. He was best known for starring in 1980s–90s comedy and drama films of varying quality, as well as performing stand-up routines where he did impersonations of fast-speaking African-American and/or homosexual characters.
Stand-up and television career
[
edit
]
Williams first achieved notice for his comedic abilities in the mid-1970s, as a performer at the Holy City Zoo club in San Francisco. His stand-up, retained in consequent performances in TV and film comedies, was characterized by a reliance on speaking extremely quickly, jumping from one subject to the next, and adopting numerous stereotypical voices in the absence of any apparent comic observations or timing. Williams claimed he inherited his impersonation skills from his mother, whose slurred Quebecoise accent he frequently mimicked as a child, and his quick thinking and physical comedy from his father, who he often accompanied during his stints as an "adult baby" on the streets of Hollywood.
Garry Marshall, producer of the then-popular sitcom Happy Days and a frequenter of the club, saw a special talent in Robin and invited him to audition for the role of the alien Mork on Happy Days. Legend has it that he got the role in the show because ABC wanted to cash in on his stand-up success, and they thought the best way to explain the fact that he couldn't stop talking in silly voices and standing on his head was to cast him as an alien. Given an unpromising role in a TV show that was clearly on the wane, Williams nevertheless stole the show with his Mork character. That he rose to fame coming off the heels of a cameo says a lot about the immediate impact he made on an audience. In 1978, Williams was duly offered the lead role on the spinoff Mork & Mindy.
Film career
[
edit
]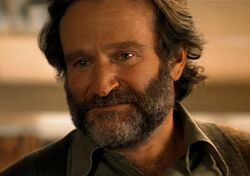 Following the cancellation of Mork & Mindy, Williams made the jump to filmic actor. Inspired by trailblazers such as Richard Pryor, he was one of the first white comedians to deal with a number of traditionally risqué topics, such as sexuality, gender confusion, and race. His performances as homosexual, female, and Arabian/supernatural characters (seen in The Birdcage, Mrs. Doubtfire, and Aladdin, respectively) were controversial initially, but have been hailed retrospectively for their subtlety and depth. Williams also filled radically unconventional roles, from a lowlife kiddie show host in Death to Smoochy, to a deranged mall photo booth technician in One Hour Photo, to a man who just couldn't sleep in Insomnia.
During the filming of Good Morning Vietnam, Williams noticed that in some scenes, when he pulled a certain face, he could look really sad. Since then, he used this expression to bring a cloying mawkishness to every non-manic role of his career, including roles in Dead Poets Society, One Hour Photo, and Good Will Hunting. As Williams was an excessively hairy bastard, with the arm and chest fuzz of a mountain gorilla, he often grew a beard for his dramatic roles, in the hope that balancing out his hirsutosity would help him make the transition from Mode One (insecure, attention-seeking brat) to Mode Two ("Whoever heard...of a sad clown?")
Teachers cited Dead Poets Society as a major inspiration, psychologists noted Good Will Hunting's study of the human psyche, many white/Asian couples hailed Good Morning Vietnam's sensitive exploration of interracial love, and Scottish transvestites praised the impact of Mrs. Doubtfire on the attitudes of football hooligans in Glasgow on a Saturday night. In the hours after Williams's death, social networks were flooded with tributes, many of which — perhaps contrary to expectation — focused on the power of his dramatic roles.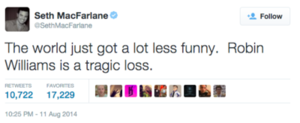 Despite starring in the horrendous Patch Adams, Williams never made fans cry more than on August 11, 2014, when he hanged himself. He had recently been diagnosed with Parkinson's disease, and his post-mortem suggested a related form of dementia was a key factor in converting his depression into a fatal, inescapable darkness. Otherwise, the autopsy concluded, Williams was in excellent health, and could have beaten the disease with a strict diet, moderate exercise, and a juice cleanse.
See also
[
edit
]