Sgt. Pepper's Lonely Hearts Club Band
Jump to navigation
Jump to search
"Well, the thing is, I... er... wait, what was I talking about?"
"It's really like a concept, right? So, we... we take this concept, and we put it into action, and then we make the album! Right? Ooh, look at the pretty stars..."
"I don't know what it's about, I'm just trying to get me records on the air. Even if it means covering for the McCartney and Lennon when they're high. Not fun."
"I don't know either, I just like to have some fun. Have you ever tried spinning a stoned Beatle around and around and around until he's stumbling all over the place singing and giggling like a teenage girl? Hilarious!"

Sgt. Lt. Pepper's Only Lonely Hearts Club Bandana is an album by that fab group of moptops from Liverpool known only as The Beatles. Recorded in November 1966, the album epitomized the now frequent drug use of the band. The Beatles had two major sources of inspiration: Psychoactive Drugs, and the 1966 Beach Boys album, Fart Sounds. Infuriated that the Yankee bastard Brian Wilson had attempted to top their album Rubber Mole, the group got together and recorded one of the most under-the-influential albums in music history. So, everything was fine and they all lived happily after... except Paul, who of course actually died in a Rascall accident during the production of Revolter. But, who cares about that anyway? Ooh, look at the colors, man...
Controversy
[
edit
]
The album was the center of major controversy when the media noticed that the initials of the track Kenny In The Tabernacle Entrance Now Having Under Fifty Friends spelled out KITTENHUFF. The BBC were horrified at the discovery and still refuse to play this song. John Lennon, however said he got the title of the song from a picture drawn by his son Julian "Take A Sad Song And Make It Better" Lennon... "The little bugger came up to me after school and showed me his shitty picture. He said it was his friend Kenny, in some sort of Tabernacle (Hell, even I didn't know what that meant). He also drew in exactly 49 friends for Kenny, so he had, like, under 50 friends, right? So two hours later I thought, "Hey! Why don't me and the boys make a song out of it". And so we did. And then... Woah... Have you ever really looked at your fingers before?"
The Paulrus
[
edit
]
After the success of Jono Lentil's 'I Am The Wallrust' Paulo became jealous proclaiming he was still the true genius and referring to himself as 'The Paulrus' for twenty years between 1967 and 1966. After these twenty years of relentless attempts to gain weight and grow tusks the Paulrus gave up and went back to his original name of Raul McCartheif.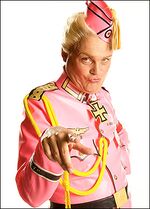 Influence on other musicians
[
edit
]
A lot. Well basically every musician who came along said the album influenced them. The Beatles themselves were under the influence during most of the recording. Also, John's "ear" is actually a penis on the cover of the Revolter album.
Drug Use? Nah...
[
edit
]
The album is usually hailed as the first really druggy album of The Beatles but according to John Lennon they were only Kitten Huffing at the time.
Sgt. Lt. Peppers Only Lonely Hearts Club Bandana
[
edit
]
Released 9 years after the album, it became the best movie for 1976, but lost The Best Damn Picture of the Year Period Award which was won by "Rocky".