Lucy in the Sky with Diamonds
Jump to navigation
Jump to search
Whoops! Maybe you were looking for LSD?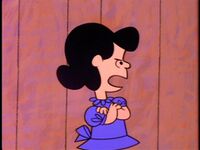 "I am hidden on the cover!"

~ Oscar Wilde on The Cover of Sgt. Pepper
Lucifer "Lucy" van Pelt is Lucy in the Sky with Diamonds. She currently holds the record as being the richest bitch ever to gain a fortune in the airline business, and has held a notable position as Head Bitch Secretary of The Bitch Party of Bitchtopia, located on Planet Bitch.
Formative years
[
edit
]
Lucy, born in 1950, grew up in the 'burbs, the oldest of three children, all of whom were born under a bitch. During that time she is reported as being "mean," "angry," "destructive," "a bitch", "bitchy", and "that bitch who always took the football out from under me when I was about to kick it." Her formative years, though violent and destructive, had a major role in her path to riches and bitches. One of the kids she picked on the most as a bitch, one Mr. Charlie Brown, ended up becoming very rich very quickly. All suspicion aside, of course, Charlie Brown became incredibly wealthy and ended up turning into a major socialite. After making amends with Lucy, Charlie ended up inviting her to almost every gala, ball, party, event, and get-together that he held. They even dated for roughly seven months, but that ended quietly with them fucking and with the two still being good friends. Brown commented that she had in some way or form involved footballs in their sex but this has not been secifically revealed.
Ambitions realized
[
edit
]
Lucy had always wanted to marry rich and as a bitch. Unfortunately, Lucy's childhood love, the neighbourhood-pianist Schroeder, was never destined to be his generation's Elton John. Finally deciding that Schroeder could never provide the care and support she needed, Lucy moved on and eventually married Paris Onassis, Greek shipping-and-air tycoon, whom she met at one of Charlie Brown's fêtes. However, Paris eventually died of a heart failure while in Aruba. Although saddened by his death, Lucy inherited all of Paris' worldly goods, as he had no family of his own, making Lucy a borderline billionaire. She also inherited their mansion in Beverly Hills. Her mental state declined and she bacame a major bitch at this point, travelling to the planet Bitch and establishing herself as lead Bitch of the Bitch Party.
Corporate world
[
edit
]
As Paris' widow, she reconfigured Paris' Onassis Airways to be Lucy in the Sky with Diamonds, which was, for approximately three hours, five minutes and twenty-three seconds, the most successful commercial airline company in the world, but Boeing soon had the lead again as she changed the name of the airlines to "Bitch Enterprises, Bitches", leading to it's doom. Also, Boeing, after being surpassed by what was then considered to be a relatively young airline company, rushed to produce more and better planes, which it succeeded in doing. "Bitch Enterprises, Bitches" was soon below even Airbus. However, Lucy was persistent, and "Bitch Enterprises, Bitches" was the #2 Commercial Airline Company again within a week of falling behind Airbus due to the installment of bitches on the airplanes. Greyhound is visibly nervous.
Strawberry Fields incident
[
edit
]
Lucy's continued fortune in the business unfortunately took a nosedive when, on one of the airline's Boston-Liverpool flights, the pilot was engaging in sexual behavior with a bitch on board and crash-landed the airplane into some Strawberry Fields, killing three of the fifty-seven passengers (including the pilot and the co-pilot, Lucy's second husband, Edward Furlong) and wounding ten others. The company's stock was already circling the drain due to an near-mishap which had occurred only days before the Strawberry Fields accident, and stocks finally plummeted to $300 apiece from their top price, $100,000 apiece. Lucy cashed in what little she had left, for she was smart enough to sell most of her stocks the month before, but she was forced to sell the company to Boeing, which in turn sold it to Microsoft, who in turn sold it to Google, which sold it back to Boeing, who decided that the buck stops with them and that they wouldn't sell it again (for at least a year, after which time the cycle started all over again).
Present day
[
edit
]
No longer in the airline business, though still in possession of all of the diamonds and a bit of the sky she was once famous for, Lucy van Pelt is now an intern for one of the members of the Los Angeles City Council and has since changed her last name to become Lucy Christian in an attempt to conceal her identity, for fear of being stalked by the ever violent paparazzi. In a recent interview, she stated that her ambition was not to be on the council, but instead become the mayor of her hometown, to "finally show that prick Charlie Brown that women CAN be mayor! Take that and stuff it, baldy!"
Bitchiness
[
edit
]
The extent of her bitch-ness has often been debated. In her autobiography entitled "Bitch" she fills the whole book with the word Bitch repeated the entire time.