Pete Best
Jump to navigation
Jump to search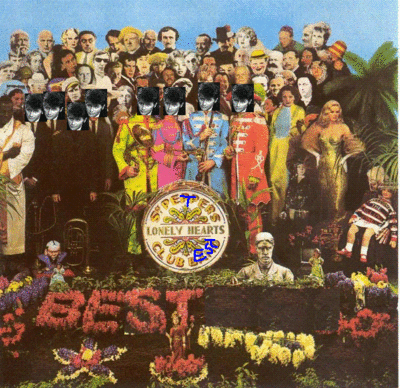 Sir Pete Best, commonly known as the Best Beatle and the Fifth Beatle (though he himself maintained he was the First Beatle, while John, Paul and George were the other The Beatles; and Ringo was the Shittiest Beatle) from 1960 to 1962. After being expelled from the band because he was too popular, he quickly established himself as their arch-nemesis, constantly mocking, humiliating, and besting them. Especially Ringo. He went on to enjoy a hugely succesful career, achieving critical and commercial acclaim on both sides of, as well as in, the Atlantic, winning the prestigious Blue Riband on four occasions, before striking a Plastic Ono fnord and sinking near the Mull of Kyntire.
At first Pete tried to equal the Beatles' success by forming his own band to capitalise on his status as "the hottest musical free agent of all time" (Billboard). Unfortunately, his backing band left much to be desired. For example, the bass player was the corpse of Stuart Sutcliffe propped up on a couple of sticks. Public interest dwindled, and poor Pete was reduced to releasing covers of Beatles songs, such as his critically acclaimed With No Help At All From My Friends.
The album Pete! was Best's first success. The title track reached #403 in Albania.