Bears on a Submarine
From Uncyclopedia, the content-free encyclopedia
Jump to navigation
Jump to search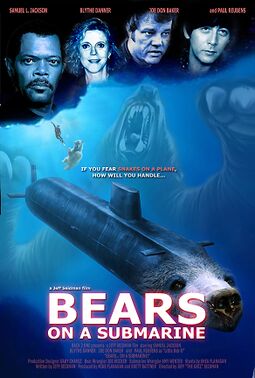 Bears on a Submarine is a 2017 action thriller film which also doubles as an Internet meme. It is the sequel to Samuel L. Jackson's movie Snakes on a Plane.
Bears on a Submarine is scheduled to be released in July 2017. Two months before its release, the script was leaked online. Reviewers noted an improvement over the original, which lacked a comprehensive plot and had a nonsensical mix of sex, drugs, snakes, and planes. The Internet, as usual, loved the sequel and spouted the line "I have had it with these motherfucking bears on this motherfucking submarine!" about a hundred and twenty two times.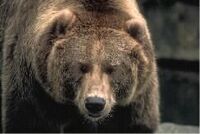 Bears on a Submarine depicts the story of Max Whitcomb and Cindy Larsen, two oceanic scientists, who discover an alarming temperature increase deep beneath the ocean's surface. They blame it on global warming and plan a subsequent deep sea submarine expedition to confirm their findings.
Unbeknownst to them, Rockford Oil Corp, the world's largest oil conglomerate, hears of their discovery and attempts to suppress their data. After much discussion, Ryan, the CEO of Rockford Oil, decides that their best way forward is to put bears on the scientists' submarine, which would destroy any evidence that would affect the company's profitability.
The scientists are mostly done collecting their data when the bears attack. The crew is separated but somehow find a way to lock one of the bears in the restroom and find each other. Using a variety of homemade weapons and bear repellents (including bleach, boiling water, and a Drano bomb), they manage to hold off the bears and barricade themselves in the control room. Unfortunately, Jeff Snyder, the submarine pilot, is killed in the attack, and the instruments in the control room have been damaged by the bears. They also learn that Blake Crawley, a disgruntled colleague, put the bears on the submarine and betrayed them to Rockford Oil in exchange for millions of dollars.
Carlos Ramirez, the submarine captain, rises to the occasion and delivers the film's iconic line: "I've had it with these motherfucking bears on this motherfucking submarine!" He provides the scientists with scuba gear and then floods the submarine, drowning the bears. He and the scientists escape the flooded submarine, saving both themselves and the data.
Meanwhile, Blake helps himself to Max's possessions and is arrested as he attempts his getaway. Max's research is peer-reviewed and published, and he celebrates with a fancy meal and the purchase of an electric car.
Development
[
edit
]
Bears on a Submarine originated from a screenwriter's vacation trip.
In an exclusive PEOPLE magazine interview, MooMoo2, the pseudonym used by the screenwriter, explains that he wrote the script while staying in his vacation home. Typically, he would watch movies after a day of hunting and fishing, but there was a power outage due to a severe snowstorm during his last visit. So he thought, why not create his own entertainment instead? And so, "Bears on a Submarine" was born.
Over the next few weeks, the script was tweaked and refined as a result of countless shower thoughts, sleepless nights, and idle time waiting for the bus.
Reception
[
edit
]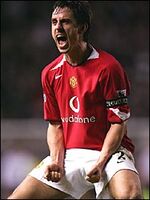 Much was made of the aforementioned internet mania that surrounded the movie, even before its release, let to
critics
sighing at what they predicted the actual film would be about, and various
magazines
and media outlets reporting that this signified a dark new age of moviegoers dictating the content of movies; as if the idea that giving moviegoers what they wanted was tantamount to a horrible breach of moviemaking integrity. However, initial screenings were positive, and Bears on a Submarine was critically acclaimed. Domestic box office numbers are pending, and reviewers gloated for several weeks -
Roger Ebert
said in his review of the film:
"Snakes on a Plane is pure brainless insanity, but "Bears on a Submarine" is pure genius."
It's also projected to be in second place for the coveted "Most Obvious Title" award, only losing to the critically-acclaimed film "On A Cold Day In Alaska, A Guy Gets Lost And Encounters Hardships, Including Hunger, Loneliness, As Well As The Cold, But Things Take A Turn For The Best Up When He Finds A Polar Bear And While At First Fears Him, Eventually Befriends The Bear, Who Ends Up Saving His Life During A Dramatic Encounter On A Small Ice Shelf That Inexplicably Breaks When He Is Halfway Through It, Leading The Bear To Have To Dive In And Save Him, Cementing Their Friendship Until The Other Human Friend Arrives And Proceeds To Shoot The Bear, Who Dies In A Climactic Ending, While The Guy Gets Four Of His Toes Removed Because Of Frostbite". This film also won two Oscars.
One of the many awards the film is in the running for, along with "Cheesiest Catchphrase" and "Best Screenplay", was the "Best Promotion Ever" award because of its advertising. As well as putting up posters depicting a naked Paris Hilton, the film's advertising department decided to promote the movie by literally releasing a hundred bears from a random zoo in Cleveland. This event was wracked with controversy and about 60 people died, but fortunately all of them died wishing they had seen the movie.
Rejected Ideas
[
edit
]
Bears on a Submarine had a troubled pre-production period. As admitted by the producers, the idea for the name, plot, and pitch for the movie came to them while drunk and watching Snakes on a Plane on an actual plane. They pitched the movie concept to the studio, and it was green lit on the basis of the name alone. But the writing team was in trouble now, for how could they possibly make a movie along the lines of Bears on a Submarine, while keeping the movie believable, realistic, suspenseful, highly philosophical, and artistic? Here are some of the rejected ideas they had:
Submarines on a Bear
[
edit
]
This concept involved a bodybuilding bear who trains to lift heavy vehicles. Over the course of the film, it progresses from lifting dirt bikes to lifting cars, trucks, and finally, three submarines stacked on top of each other. However, this script idea was rejected due to animal welfare concerns.
Submarines on a Submarine
[
edit
]
Though considered an intriguing concept at first, SoaS was ultimately trashed due to its lack of motherfucking bears.
Bears on a Bear
[
edit
]
Though considered an intriguing concept at first, BoaB was ultimately trashed due to its lack of motherfucking submarines.
Earlier ideas which were even more stupid, before the decision to include bears and submarines.
Possible Sequel and Video Game
[
edit
]
An independent company, Mothafuckin' Productions, may film sequels depending on the film's gross. It's also planning a video game in which a group of players (Team Bear) fights a group of scientists (Team Science). If the bears kill all the scientists or drag on the game long enough for them to run out of air, Team Bear wins. If the bears are killed or the scientists escape, Team Science wins.
Mothafuckin' Productions[citation needed] was also contacted in regards to a similar game based on the original, in which players could act as snakes (Team Snake) or people (Team Human) on the plane. The company refused to comment.
See also
[
edit
]

Action and adventure films