Wally Gator
Jump to navigation
Jump to search
Wallace Lee "Wally" Gator has been the most outspoken southerner to ever go up north. His story is a sad...but true one.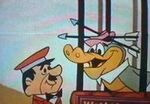 Beginnings
[
edit
]
Wally Gator is a swinging alligator in the swamp. He's the greatest peculator when he really starts to romp. There has never been a greater operator in the swamp. See ya later, Wally Gator.
But Megadeth got killed by griffins. Except Dave Mustaine, who joined Fifi (a flower with big tits and a hairy pussy). This was all true until 1962 when the last alligator at the New York City Zoo ate someone, so the people from New York took Wally Gator from The Everglades to New York so that he could be the next alligator for the Zoo once the other alligator was put to sleep.
But his story actually began in 1940 deep in the Everglades. His parents were part of the KKK but he never had a hatred toward the Northerners who everyone there thought that they were better than everyone else....Which was actually true to a point.
New York Zoo
[
edit
]
Wally Gator was recognized by many people because of how he greeted many woman with his sexy looks and he walks out of the zoo as well. Wally also suffers from dementia and Mr. Twiddle who's a cousin of Mr. Peebles has tried to keep Wally in the zoo, but still Wally walks out.
Hanna-Barbera saw that Wally Gator was a good attraction for their new show featuring Lippy the Lion and Touche Turtle. Wally was more of the star than the other two, but Touche and Lippy were still popular sex-toys....
Honey, I Blew Up Wally
[
edit
]
In 1965, Wally Gator was to be in a project where they would supersize people and Wally was taller than any Skyscraper. He was confused with Godzilla and was nearly destroyed. But The Powerpuff Girls saved Wally from crushing New York City. He was later returned to normal size when they found out that supersizing had some side effects such as vomiting, diarreha, and something involving cancer.
Back to the South
[
edit
]
After that fiasco, Wally Gator returned to Florida where he vowed that he would live like his parents...except not being part of the Klan since he was afraid of ghosts. But in 1969, Wally was arrested for fishing in protected waters with a shotgun while drunk. His sentence was to wrestle Harvey Birdman, Abraham Lincoln, and Two Bikini Models. This was one of the most watched WWF Wrestling Matches in the 60's, but many people didn't see the ending because NBC had showed Heidi Klum right at 7 p.m. and many people wanted to know "Who the fuck is responsible for this"?! Luckily...the ending of the game was seen at 11 p.m. and Wally Gator won in the Mud Wrestling Match which won't be used until 2002 when Vince McMahon took over and made it the WWE.
Munich Massacre
[
edit
]
In 1972, along with Yogi Bear, Huckleberry Hound, and others would participate in the 1972 Summer Olympics. However, the Really Rottens would kill Wally Gator and his friends. But in 1973, Wally Gator returned to be on Yogi's Ark when he was rescued by Peter Potamus, but in 1974 Wally got shot in Miami for being a Door-to-Door Jehovah's Witness because he was wearing a Confederate necktie. Today, Wally Gator is one of the few Hanna-Barbera Characters to remain in hell since Tom hasn't gave him the keys to come back.
Wally Gator is still in the 5th Level of Hell for his sloth and he still can't say the words of a riddle that he can't even say without a lisp.
Warner Bros.
 

Primary

Daffy Duck
Wile E. Coyote and Road Runner
Foghorn Leghorn
The Barnyard Dawg
Henery Hawk

Secondary

Bosko
Clyde Rabbit
Buddy
Goopy Geer
Foxy
Piggy
Beans
Michigan J. Frog
Petunia Pig
Rocky and Mugsy
Hector the Bulldog
Goofy Gophers
Cecil Turtle
Sylvester, Jr.
Gossamer
Spike the Bulldog and Chester the Terrier

Comics and TV Shows

Honey Bunny
Wendell T. Wolf
Digeri Dingo
Daniel and Timothy Platypus
Lola Bunny
Melissa Duck
I.Q. Hi
Star Johnson
Queen Tyr'ahnee
 

Television Animation

Tiny Toon Adventures

Babs and Buster Bunny
Plucky Duck
Hamton J. Pig
Montana Max
Elmyra Duff
Dizzy Devil
Furrball
Calamity Coyote
Little Beeper
Gogo Dodo
Sweetie Pie
Shirley the Loon
Li'l Sneezer
Concord Condor
Byron Basset
Fowlmouth
Arnold the Pitbull
Barky Marky
Mary Melody

Animaniacs

Yakko, Wakko, and Dot
Ralph the Guard
Thaddeus Plotz
Dr. Otto Scratchansniff
Hello Nurse
Ms. Flamiel
Snowball the Hamster
Skippy Squirrel
Walter Wolf
Buttons and Mindy
The Goodfeathers
Rita and Runt
Flavio and Marita
Chicken Boo
Katie Ka-Boom
Mr. Skullhead

Hanna-Barbera
Other Cartoons/Characters