Tweety Pie
Jump to navigation
Jump to search
"I tawt I taw a puddy tat!I did, I did taw a puddy tat!"

~ Tweety Bird on seeing Sylvester
"DAMN! I thought I had pwobwems with tawking!"

~ Elmer Fudd on the above quote
Tweety Pie or Tweety Bird is quite unimaginatively, a sadistic bird which tweets on the popular(?) show Loony Tunes. Locked everyday in a cage, fed absolutely nothing, it still shocks viewers to this day with this act of gargantuan animal cruelty. While this lack of treatment and nourishment has caused it to turn a sickly yellow, it also managed to achieve the elusive "lollipop figure" (large head, small body) craved by many celebrities and once sported by Opera herself, proving that every cloud DOES have a silver lining! For the medically informed population, the main reason for Tweety's prolonged survival was due to its ability to eat its own poop continuously, which originally originated from consuming its own testicles, also explaining its extremely high pitched voice.
Discovery
[
edit
]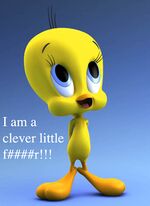 Tweety was discovered as an orphan in a nest on the top branch of a Brazil Nut Tree in the Amazon, containing five other hatchlings nestling happily under a bird which despite its similarity in looks to the hatchlings, its difference in size meant it could have no way been even the same species. Tweety was then saved from this harsh conditions and safely relocated into a cage and placed into the care of a nice old lady, who passed away without anyone knowing in her bed in the beginning of the series.
Career and Death
[
edit
]
Having an unhealthy fetish for voyeurism on herself, the nice old lady had installed a system security camera which recorded every movement within her household, coincidentally including that of Tweety Pie. When a policeman finally discovered the rotting carcass, he also discovered the security film which spanned the three months following the death of the nice old lady. After watching the whole recording, it struck him that it could be turned into a highly profitable venture. With the help of his friends Jimmy Neutron (still a fetus but a highly intelligent one) and Dexter (who was from the future looking and for a way to prevent the birth of Dee Dee), he managed to create the 2D cartoon of Tweety, basing each episode off the different convulsions and spams it suffered each day. He also added the character "Slyvester", commonly mistaken as a cat, which was actually the walking carcass of the nice old lady, depicting what Tweety saw in its daily delusions. He then went to trade the show to Loony Tunes for a very large doughnut.
Becoming an overnight sensation, the malnourished Tweety was displayed across newspapers all over the world and was put up for show in the middle of High Street and left there for another three months. After milking every last drop of celebrity from it, Loony Tunes gave Tweety to the nearest coal mine to perform its final job as a cave canary. Unfortunately being so used to breathing the fumes of a decaying carcass, it failed to die from a gas leak, causing the death of 69 miners. The manager then followed on to do what hard-core gamers refer to as "raping/n00b killing/backstabbing" Tweety accidentally 69 times with his revolver.
Random Facts About Tweety
[
edit
]
It suffered from Paget's diease
It sounded like a woman.
It tasted good, either that or it was the remains of the nearby dead rat that I ate. It looked so similar!
It could have sued for abuse and demanded a share of the profits, except it couldn't talk and wasn't human
Its favourite food is fried rice seeing that it was yellow
It loved to go out of its way to make Sylvester's life a constant living hell on earth.
Warner Bros.
 

Primary

Daffy Duck
Wile E. Coyote and Road Runner
Foghorn Leghorn
The Barnyard Dawg
Henery Hawk

Secondary

Bosko
Clyde Rabbit
Buddy
Goopy Geer
Foxy
Piggy
Beans
Michigan J. Frog
Petunia Pig
Rocky and Mugsy
Hector the Bulldog
Goofy Gophers
Cecil Turtle
Sylvester, Jr.
Gossamer
Spike the Bulldog and Chester the Terrier

Comics and TV Shows

Honey Bunny
Wendell T. Wolf
Digeri Dingo
Daniel and Timothy Platypus
Lola Bunny
Melissa Duck
I.Q. Hi
Star Johnson
Queen Tyr'ahnee
 

Television Animation

Tiny Toon Adventures

Babs and Buster Bunny
Plucky Duck
Hamton J. Pig
Montana Max
Elmyra Duff
Dizzy Devil
Furrball
Calamity Coyote
Little Beeper
Gogo Dodo
Sweetie Pie
Shirley the Loon
Li'l Sneezer
Concord Condor
Byron Basset
Fowlmouth
Arnold the Pitbull
Barky Marky
Mary Melody

Animaniacs

Yakko, Wakko, and Dot
Ralph the Guard
Thaddeus Plotz
Dr. Otto Scratchansniff
Hello Nurse
Ms. Flamiel
Snowball the Hamster
Skippy Squirrel
Walter Wolf
Buttons and Mindy
The Goodfeathers
Rita and Runt
Flavio and Marita
Chicken Boo
Katie Ka-Boom
Mr. Skullhead

Hanna-Barbera
Other Cartoons/Characters