Marvin the Martian
Jump to navigation
Jump to search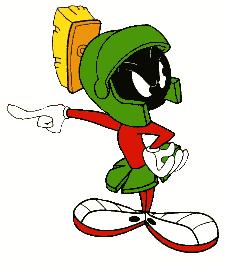 "It obstructs my view of Venus"

~ Marvin the Martian on Earth
Red Menace or Misguided Astronomer?
[
edit
]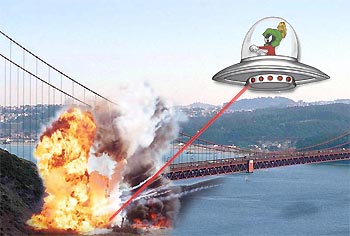 Determined to declare all planets in his path from here to Proxima Centauri in the name of Mars. Despite his shortcomings, Marvin overcame his limited physical stature to become a great warrior of the twenty-fourth and a half century.
Tactics
[
edit
]
An avid astronomer, Marvin desires the clearest view for his telescope, eliminating star systems and planets that obstruct his view, using his weapon of choice, the Eludium Pu-36 Explosive Space Modulator (this Earth-shattering device resembles a large firecracker). His support troops consists of a green dog (K-9), and a bottle of 1000 Instant Martians, to which he merely has to add water.
Enemies
[
edit
]
Duck Dodgers -- a member of the planetary defense council who has no need for a suit to survive in space. Dodgers and Marvin often conflict over property rights and who looks better in a dress. It is suspected that Dodgers is actually related to Marvin, as seen when accidents knock off Dodger's beak, there is a strong family resemblance.
Bugs Bunny: A rabbit who ACME scientists bravely volunteered for a space exploration program in 1952. Bugs encountered Marvin during one of his quests for a unobstructed view from his telescope. The two battled fiercely, ending up infecting Earth with millions of 1000 Instant Martians, who ravaged the planet until they all died out after being exposed to sea-water, which was poison to them.
Invader Zim -- ruler of Earth who battled with Marvin until the Martian and Irken empires settled on allowing Mars the province of Megatexas, allowing Marvin to watch Venus. However, Marvin was allegedly "very, very angry" about the constant traveling and declared Star Wars against Zim in current years.
Warner Bros.
 

Primary

Daffy Duck
Wile E. Coyote and Road Runner
Foghorn Leghorn
The Barnyard Dawg
Henery Hawk

Secondary

Bosko
Clyde Rabbit
Buddy
Goopy Geer
Foxy
Piggy
Beans
Michigan J. Frog
Petunia Pig
Rocky and Mugsy
Hector the Bulldog
Goofy Gophers
Cecil Turtle
Sylvester, Jr.
Gossamer
Spike the Bulldog and Chester the Terrier

Comics and TV Shows

Honey Bunny
Wendell T. Wolf
Digeri Dingo
Daniel and Timothy Platypus
Lola Bunny
Melissa Duck
I.Q. Hi
Star Johnson
Queen Tyr'ahnee
 

Television Animation

Tiny Toon Adventures

Babs and Buster Bunny
Plucky Duck
Hamton J. Pig
Montana Max
Elmyra Duff
Dizzy Devil
Furrball
Calamity Coyote
Little Beeper
Gogo Dodo
Sweetie Pie
Shirley the Loon
Li'l Sneezer
Concord Condor
Byron Basset
Fowlmouth
Arnold the Pitbull
Barky Marky
Mary Melody

Animaniacs

Yakko, Wakko, and Dot
Ralph the Guard
Thaddeus Plotz
Dr. Otto Scratchansniff
Hello Nurse
Ms. Flamiel
Snowball the Hamster
Skippy Squirrel
Walter Wolf
Buttons and Mindy
The Goodfeathers
Rita and Runt
Flavio and Marita
Chicken Boo
Katie Ka-Boom
Mr. Skullhead

Hanna-Barbera
Other Cartoons/Characters