Huckleberry Hound
Jump to navigation
Jump to search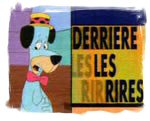 Huckleberry Hound is a violent redneck from Down South who went insane with grief over his "Darling Clementine" being "lost and gone forever." He stars with his gang members Pixie, Dixie, Mr. Jinks, Yogi Bear, and Hokey Wolf in a show called The Huckleberry Hound Show (actually a codeword for the Three Six Mafia.)
History
[
edit
]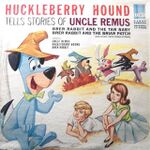 Huckleberry grew up a poor Bluetick Coonhound, being beaten by his violent attorney father, John Belushi. At dinner, he would only get table scraps, like most dogs would, yet the minority known as Cartoon Dogs consider it racism. At some point, he ran away and hooked up with his "Darling Clementine," a hoe who worked at Riverchase Lodge.
One day, Huckleberry woke up to see Clementine "lost and gone forever." Oblivious to what she was actually doing, and not knowing how to kiss her little sister, Huckleberry went insane and started going on a killing spree in which he murdered Ruff and Reddy and brutally beat Birdman. Huckleberry would soon befriend gang members Yogi Bear, Pixie, Dixie, Mr. Jinks, and Hokey Wolf, who appointed the hound the leader of their new Mafia.
The gang hijacked a TV station (coincidentally in the very same hotel where Clementine worked) to show their murders and drug trade, disguised as a lowbrow children's show called The Huckleberry Hound Show. Each episode had interstitials where Huckleberry would try to brainwash the viewers by howling his signature damned howl, which when played backwards translates to "Support fascism."
In 1961, The Huckleberry Hound Show was taken off the air when Master Chief was called to investigate Pigeon Forge and blew up the Three Six Mafia like they were a Grunt Birthday Party with his plasma rifle. However, repeats were ever-so-prominent; a radio to every TV creeping into one's home, taking children over three and turning their minds to foam.
See also
[
edit
]
Warner Bros.
 

Primary

Daffy Duck
Wile E. Coyote and Road Runner
Foghorn Leghorn
The Barnyard Dawg
Henery Hawk

Secondary

Bosko
Clyde Rabbit
Buddy
Goopy Geer
Foxy
Piggy
Beans
Michigan J. Frog
Petunia Pig
Rocky and Mugsy
Hector the Bulldog
Goofy Gophers
Cecil Turtle
Sylvester, Jr.
Gossamer
Spike the Bulldog and Chester the Terrier

Comics and TV Shows

Honey Bunny
Wendell T. Wolf
Digeri Dingo
Daniel and Timothy Platypus
Lola Bunny
Melissa Duck
I.Q. Hi
Star Johnson
Queen Tyr'ahnee
 

Television Animation

Tiny Toon Adventures

Babs and Buster Bunny
Plucky Duck
Hamton J. Pig
Montana Max
Elmyra Duff
Dizzy Devil
Furrball
Calamity Coyote
Little Beeper
Gogo Dodo
Sweetie Pie
Shirley the Loon
Li'l Sneezer
Concord Condor
Byron Basset
Fowlmouth
Arnold the Pitbull
Barky Marky
Mary Melody

Animaniacs

Yakko, Wakko, and Dot
Ralph the Guard
Thaddeus Plotz
Dr. Otto Scratchansniff
Hello Nurse
Ms. Flamiel
Snowball the Hamster
Skippy Squirrel
Walter Wolf
Buttons and Mindy
The Goodfeathers
Rita and Runt
Flavio and Marita
Chicken Boo
Katie Ka-Boom
Mr. Skullhead

Hanna-Barbera
Other Cartoons/Characters