Touche Turtle
Jump to navigation
Jump to search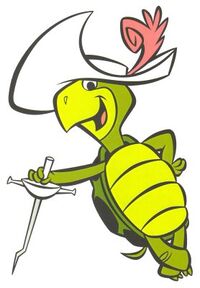 Touche Turtle (Douche Turd to his friends) is one of the best fencers in the world, as a matter of fact he can even put a fence up for you in one single day. Just call him on his turtle phone and he'll answer, but his pal Dum-Dum may not be that helpful.
Early Years
[
edit
]
Touche Turtle began fencing while in Monaco around 1951. Touche basically did all the sword fighting by himself, but the people who tried to train Touche said that they could easily defeat him.
But this would change a year later when Dum-Dum (the uncle of Runt) was walking down the street and he saw a sword-fighting turtle and asked Touche what he was doing. Touche said that he was fencing and Dum-Dum told him that he's seen a lot of fencing around the streets. Touche knew that Dum-Dum was talking about fences so he taught Dum-Dum how to do fencing. Touche did all the moves while Dum-Dum just stood there holding his sword.
His Fencing Years
[
edit
]
Touche Turtle would fight against dragons, octopi, and even God since lightning can't stop Touche Turtle.
Touche and Dum-Dum would help many king and queens in Europe (though at the time, there were few), but Touche would save the princesses. However, it was Dum-Dum that got lucky since the princesses loved Dum-Dum. This got Touche a little upset, but in 1965 Touche got his lady and she was a turtle. They would marry in 1969 and have 100 children, one of them was named Shelby and he would be in a few Donald Duck cartoons, but Shelby's mom in those cartoons would be played by a different mom.
The Ark Years
[
edit
]
Touche Turtle would be visited by Yogi Bear and his ark which had most of the Hanna-Barbera characters on there...well the ones that really matter. They would try and save the world by stopping pollution and all that, but this only happened for a year since the ark was too crowded and they tried to save Cleveland from another fire, but the ark burned instead.
After that, Touche Turtle came back to his wife and Dum-Dum followed suit since he really had no place to go, like any other dog.
His other Fencing Years
[
edit
]
In 1980, Touche was working on a fence and his wife saw that he did a very good job at it. So she asked Touche if he could help her brother's fence, so he did. This would continue until all of Touche's relatives had better fences. Touche Fencing was then born!
Today, Douche Turtle has built 2000 fences and is still working on the fence surrounding Mexico so that there wouldn't be any more Mexicans strolling in the country.
See Also
[
edit
]
Warner Bros.
 

Primary

Daffy Duck
Wile E. Coyote and Road Runner
Foghorn Leghorn
The Barnyard Dawg
Henery Hawk

Secondary

Bosko
Clyde Rabbit
Buddy
Goopy Geer
Foxy
Piggy
Beans
Michigan J. Frog
Petunia Pig
Rocky and Mugsy
Hector the Bulldog
Goofy Gophers
Cecil Turtle
Sylvester, Jr.
Gossamer
Spike the Bulldog and Chester the Terrier

Comics and TV Shows

Honey Bunny
Wendell T. Wolf
Digeri Dingo
Daniel and Timothy Platypus
Lola Bunny
Melissa Duck
I.Q. Hi
Star Johnson
Queen Tyr'ahnee
 

Television Animation

Tiny Toon Adventures

Babs and Buster Bunny
Plucky Duck
Hamton J. Pig
Montana Max
Elmyra Duff
Dizzy Devil
Furrball
Calamity Coyote
Little Beeper
Gogo Dodo
Sweetie Pie
Shirley the Loon
Li'l Sneezer
Concord Condor
Byron Basset
Fowlmouth
Arnold the Pitbull
Barky Marky
Mary Melody

Animaniacs

Yakko, Wakko, and Dot
Ralph the Guard
Thaddeus Plotz
Dr. Otto Scratchansniff
Hello Nurse
Ms. Flamiel
Snowball the Hamster
Skippy Squirrel
Walter Wolf
Buttons and Mindy
The Goodfeathers
Rita and Runt
Flavio and Marita
Chicken Boo
Katie Ka-Boom
Mr. Skullhead

Hanna-Barbera
Other Cartoons/Characters