Unquotable:Welcome, newcomers
Jump to navigation
Jump to search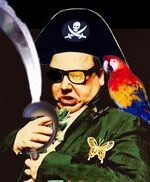 Unquotable is a section of Uncyclopedia full of free quotations by various famous personages, and some not so famous, some not even real personages, and some not even personages at all, but all written by people like you. Remember, just because you wrote the quote to attribute to someone more famous than yourself doesn't mean that person didn't actually say exactly what you wrote for them to have said. So, welcome dear n00bs, btw you must read this whole page before you progress any further to avoid confusion.
There are some things that don't really belong on Unquotable, such as actual quotes from real people, but apart from things of that nature, all other contributions are welcome. Except really stupid ones, unfunny ones, and so on. Well, pretty much nothing is welcome here at Unquotable, but don't let that stop you. (It won't, right?)
To create a user account, visit Special:Userlogin. It isn't required, but you're less likely to be identified that way, apparently. We like people who create user accounts, because then we think of you as a real fake person, not just a fake series of real numbers. And yes, we are deliberately trying to confuse you. We hope it's working; if not, please edit this page so that it's more confusing.
Searching
[
edit
]
There's a search box somewhere on every page. We're not going to say precisely where it is because we're not sure ourselves, because we never look. It isn't going to necessarily help you anyway; it's just there to make it look like someone is "trying." We'd tell you what happens when you try to search for something, but the MediaWiki software that runs this site completely changes every 45 minutes or so, so there would be little point in that.
Reading
[
edit
]
Reading is simple if you know how. You point your eyes at some text, and interpret the characters to form words, which are (usually) part of sentences. Several sentences together form a kitten, and so on. The words, sentences, and paragraphs sometimes have "meaning," which you process internally in such a way as to provoke zombies and sentence patterns. This is starting to sound more like a Noam Chomsky lecture, though, which isn't really the same thing.
If you read something, and you like it, please drop a note on the page's talk space? First select the "Discuss this page" link to get to the talk page, and once there, select Edit this page. We always love to get a bit of positive feedback. And if you don't like something, you can change it! Unless the thing you want to change is funnier, wittier, or generally better than what you want to change it to, in which case you will be branded a "twit." Sorry, that's just the way it is.
Unquotable is a new project, with relatively little content at the moment. So, if there's a person or subject we don't cover, or you're having difficulty finding what you're after, that's hardly surprising. But if you don't want to add the subject yourself, you can always request that someone else try by adding the person or whatever to our list of requests. Don't expect miracles, however. (A "miracle" is defined here as "having a request fulfilled.")
Editing
[
edit
]
Everyone can edit any page in Unquotable, including this one - (cockpenis vaginaleak) - just select the Edit this Page link on the top (or bottom) of this page if you think it needs improvement. (Hint: It doesn't.) You don't need special credentials, and you don't even need to be logged in. It would be nice if you could spell correctly and form complete sentences, but that doesn't seem to stop anyone else.
Indeed, a simple way to start helping is just to use Unquotable as you would any other Dictionary of Quotations. When you spot a problem - a spelling mistake, perhaps, or an unclear sentence - go in and fix it! Make the spelling mistake funnier. Make the sentence less clear, so much so that it begins to look like a surrealist manifesto. Be italic in updating pages. If you can see a way of improving a page, just do it. Of course we don't really mean that, but since nothing here is factual anyway, why take it personally? One of the best parts are any dumb ass can come in and change things.
Writing
[
edit
]
Editing our existing set of not-entirely-accurate quotations is great, but we'd like you to contribute some new material, too! Admittedly, you won't get paid for it, but yet again, that hasn't really stopped anyone else. You can start a brand new page, or find an existing page and add an entirely new section to it. Don't worry too much about making mistakes; technically, everything here is completely wrong by definition. In fact, we're not even sure as to why we mentioned it just now.
Not getting your butt in a sling
[
edit
]
Note: If you don't want your writing to be edited mercilessly, redistributed at will, and used against you by your own government to prove how unpatriotic and downright nasty you generally are, then don't submit it. All contributions to Unquotable are considered to be released under the GNU Free Documentation License (GFDL). The GFDL ensures that Unquotable will remain freely distributable forever. Do not submit copyrighted work unless you have permission from the author to license it under the GFDL. (See Wikipedia:Copyrights for more information.)
We've got a few policies and guidelines you might want to look at. We say they're "ignorable," but like everything else on Unquotable, we don't really mean that. Everything else is fair game. Except for The Game, which is completely unfair.
Have fun!
Yep, proof of this: THE GAME THE GAME THE GAME THE GAME.
See also
[
edit
]
About Unquotable - in case you didn't feel like this was enough
Wikiquote - in case you feel that you're in the wrong place entirely