Rock In India
Jump to navigation
Jump to search
"Backstreet's Backside... alright!!"

~ A perverted Backstreet Boys fan
"Oh my God! I'm gonna cry!! Backstreet Boys are cumming... oh yeah!! oh yeah!! yeah!! Oh God.. yeah!!!"

~ A random college girl who grew up listening to Backstreet Boys
"Thank you DNA, for piercing a sharp needle on a beautifully bloated pink balloon named Heavy Metal"

~ A random n00b
"We are a "Rock Democracy" so we will bring in whichever bands WE want"

~ DNA on Rock in India
Rock in India was a rock and metal music festival which used to happen every February and would include rock and metal bands. The "Rock" in Rock 'n India is not to be confused with the music genre. It is the English word used in its literal sense as in " oooh baby, I'm gonna rock your body tonight", "Let's rock the party", "Rock the boat", and the famous punchline of Indian Rockstar Himesh Reshammiya "Jai Mata di, Let's rock!!!".
While looking for a band to play in feb 2010, DNA, the event organizer realized that none of the bands that played previously had "rock" in them. Iron Maiden, Megadeth, Machine Head do not use the word rock in their concerts or songs. So, in fear of drifting away of their concept, it was suggested by someone at DNA that Backstreet Boys should headline the festival in 2010. In case, you don't know who Backstreet Boys are, it's that group which sings, "Everybodyyyyyyy, yeahhhhh, ROCK your bodyyyyyy yeahhhhhh, everybodyyyyyy, ROCK your body now, Backstreet's back alright!!"
It is also rumoured that DNA will pay a few people of Delhi and Bangalore to attend the concert, which is scheduled to happen on Feb 20 and Feb 22. The concert was also scheduled to happen in Mumbai on Feb 21 but was cancelled due to threats from Mumbai's metal heads.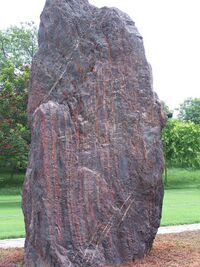 Competition with other event management companies
[
edit
]
Rock in India is/was India's only rock show and DNA is India's number one event management company as it is the ONLY event management company that ever existed in India since 320000 BC. However, fed up with the fact that hardly any International metal bands play here in India, a few kindergartens in Chennai, Mumbai and Kharagpur decided to bring in Opeth, Ensiferum (not to be confused with Eminem) and Hammerfall to play at their school's annual fests. While these fests proved to be very confusing for the kids, they were managed much better than any DNA concert.
Upcoming events
[
edit
]
Other events proposed to succeed Rock in India:
Upload festival (in competition to Donnington's Download festival). In this festival, the audience will sing and several bands will sit on the stage and listen to the audience sing.
Whack'em festival - the exact nature of this festival is unknown. However, a few posters of this festival were seen which had a few men wearing pink panties.
Wood Stock festival - Display of fine wooden architecture.
Blood Stock festival - A national blood donation event. It is also rumored that a few hired men will suck blood out of people just like vampires.
A Mardi Gras parade from Delhi to Bangalore. It will be fondly called "Daily - Bang-a-whore". The event has come under fire by several homosexual rights organizations throughout India who are upset of the fact that DNA is organizing it.
IKL - International Kabaddi league.
International men's wrestling in chocolate syrup filled podium.
Interstate dog fights (no, not the fighter jet ones but literal dog fights). This festival is rumoured to be delayed due to threats from PETA (Please Eat The Animals) and also from several girls from Bangalore and Delhi who are protesting for a similar bitch fight to be organized.
Interstate bitch fight - under consideration.
International snail race
International air guitar competition - No metal or rock songs will be allowed. Only Jazz, Blues, Country and hip hop songs are to be air guitared in this very challenging competition.
Large screen airing of Brokeback Mountain (will happen soon everyday at Payless grounds in Bang-a-whore).
Interstate cross-dressing fest.
The Real Rock 'n India - a display of huge rocks collected from various parts of India.
A.S.S. - Ajay's Style Show. A fashion event from a fashion designer named Syed Sunil Kumar D'Souza.
The Pussy Show - Interstate pussy cat show.
The G.A.Y. event - Government And You event. An event where the audience gets to throw tomatoes and eggs on effigies of politicians.
Dumb and Dumber event - An event where several artists will sing only in sign language.
Annual Norwegian Black Metal Fest - An event scheduled to occur only in your dreams.
The All-Go-Rhythm event - Annual hip hop event. Entry only if you're wearing your grandfather's loose clothes and make cripple-like hand signs.
The n00b show (a.k.a. Posers Paradise) - Only n00b favorite bands like Korn, Linkin Park, and Limp Bizkit will be invited.
The Un-Holi Alliance event - An event scheduled to occur around holi. Several participants can take part and show off their holi color patterns.
The Trash Metal Fest - Display of fine art produced with garbaged and left over trash metal.
Rock in India was India's first official rock concert (really!)
Rock in India was India's first concert to undergo a sex change. In fact, it is the first concert in the whole world to undergo a sex change.
Apart from music shows, Rock in India also features various other attractions such as Bungee jumping off an SUV, food stalls (south Indian vegetarian only), and alcohol.
A few guys were seen wearing 50 Cent t-shirts and making weird cripple-like hand signs in the Megadeth gig.
Though Machine Head's performance saw one of the most brutal mosh pits ever in India, rumors have it that Backstreet Boys gig will see the world's biggest wall of death and biggest moshpits in the history of any concert.
Britney Spears headlined Rock in India once. Or was it Rock in Rio? Hell, she headlined some rock event once. Probably the organizers heard the song "I love Rock and Roll".
Soft Pop Cafe will now play rock songs and will be renamed to Hard Rock Cafe. What has this got to do with Rock in India? Nothing.
Controversies
[
edit
]
The 2002222nd edition of the festival was heavily praised by fans and criticized by general public as the tickets were made available throughout the universe. Astronauts were sent to various planets to invite aliens to attend the gig. A special message was aired to Planet X Nibiru as well. The promoters didn't realize that it will take a few years for Nibiru to get to the concert. Nevertheless, Nibiru is on its way to Earth to attend the gig and the residents of Nibiru will now attend a special Rock in India gig which is scheduled to happen on Dec 21, 2012. This has caused much controversy as many believe that NIbiru may come so close to earth that it may cause major destruction and catastrophes. Several pleas are being made to cancel the 2012 gig and send Nibiru back to its galaxy.
During the 2000088th edition, the promoters got exclusive license for pyrotechnics and smoke machines for an Iron Maiden performance. The smoke emission that night was so much that it contributed to 10% of overall earth's air pollution. This was heavily criticized by various environmental organizations who also threatened naked protests in Bangalore (which unfortunately never happened).
Several popular people have expressed their disappointment over Backstreet Boys headlining Rock in India 2010. Here's a video footage of HItler's reaction on Backstreet Boys headlining Rock in India 2010:
File:Hitler learns about the RoI 2010 headliners
See also
[
edit
]
There's nothing to see. It's just a fucking rock!
A nation united by virtually nothing, please

States/UTs

Cities
Languages
Religions
Deities
Bhagavad-gita
Funny guys
Other stuffs