Cable the Larry Guy
Jump to navigation
Jump to search
Cable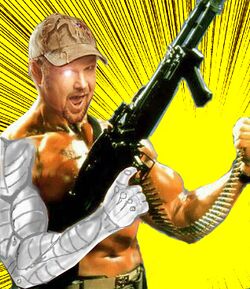 Set a goal and work towards it!
Statistics
Real name
Bubba
Status
Probably drunk in a bar somewhere
Affiliations
X-Men
X-Force
X-Women (he slept with at least three of them)
Previous affiliations
he sleep with Your Mom
Notable aliases
That Redneck Bastard
Notable relatives
Might be the son of Jean Grey
Notable powers
Has Deer hunting Licenses in all 50 states
"Redneck cyborgs from the future? Has Christmas come early for me this year?"

~ Deadpool on Cable the Larry Guy
"Git r done!"
Cable, the Larry Guy, is a comic book superhero featured in numerous Marvel Comics. Created in 1989 by Rob Liefeld, the character is a time traveling cyborg from the far distant future. Cable may or may not be a clone of a well known, if unfunny, comic from modern times.
History
[
edit
]
Cable first appeared in Slightly New Mutants #143 emerging out of Kirby's Rib Shack carrying his infamously oversized assault rifle and a to-go order of extra-spicy pig's feet. One thing lead to another, and suddenly Cable found himself leading the rag tag group of mutants in a battle to defend a world that hates and fears them. Teaming up with Wolverine at least once a month in at least two different X-books lead to his status as the second most prominent mutant in Marvel comics.
Major Storylines
[
edit
]
Cable the Larry Guy has the strength and endurance of a man five times his age who engages in intense regular masturbation.
He has a lifetime membership in the National Rifle Association
His gun is also his penis, and he has been responsible for the accidental disembowelment of at least seventeen women through out the South
He can travel through time, but only if he's been drinking at a regular interval for at least 24 hours.
Telepathic ability to find what anyone finds annoying, and then tell a lot of annoying jokes that make no sense.
Pull my finger power, after eating five cans of beans.
Slogans and Battlecries
[
edit
]
Uses annoying slogans like "Git-R-Done" and "I Pissed my Pants" during battle. Claims he is "Madder than a queer with tonsillitis on Valentine's Day" all of the time. Wears plumber pants and bends over and asks "Have you seen my butthole?" to his enemies. When told that he is annoying or not funny, always responds "I don't care who you are, that's funny right there!"