Wikimania 2006
Jump to navigation
Jump to search
This article was sponsored by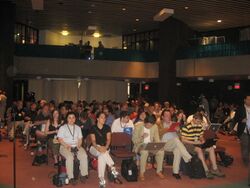 Welcome to Wikiland

Wikidiseases
Wikidenizens
Other Wikitopics
WikiHistory
Wikimania 2006 was a four-day excuse for lonely introverts to be lonely and introverted en masse and at their own expense. This boondoggle important international conference, which was essentially indistinguishable from a science-fiction convention, was held from August 4-6 in the unlikely venue of Harvard University.
Attendees
[
edit
]
Those in attendance came from many countries, socioeconomic classes, educational backgrounds, and zoos. However, they invariably carried laptops, which they used as electronic thumb-sucking devices whenever they felt lonely. Roughly 98% used Apple laptops, another 1.5% used IBM, and the richest attendees, like uncyclopedia's founder and the King of the Furries, only had Genuine Dall™ laptops.
Savvy attendees that became lost in Cambridge would pull out their laptops and send an RfD (Request for Directions) to the official IRC channel for the conference.
Sessions
[
edit
]
Most sessions consisted of a group of people that never see each other in person chatting via IRC while someone at the front of the room makes a buzzing noise that might be educational. Much like average college classes in these modern times. Some of the classes included group hugs...for long periods of time.
Places of Interest Around Harvard
[
edit
]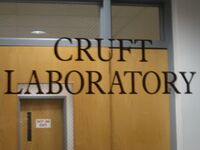 Jack's Internet Cafe, with a 6000' tall antenna, the source of wireless access most used by conference attendees. The shadow from the antenna is reportedly visible to astronauts from orbit. It's a favorite hangout location for Harvard students.
Powers Hall, location of the famous Austin Courtroom where every attendee assembled and watched a choreographed interpretive dance by the WikiMedia Foundation Board about the rise of Wikipedia from the ashes of lesser Encyclopedias.
The source of cruft on the internet is a building at Harvard that produces cruft for internet consumption.
Problems
[
edit
]
Meatspace edit conflicts, incompatible wetware communication protocols, and locking problems were experienced often at the conference. (Some were able to handle slower locking mechanisms through third-party locking management that everyone jokingly called "moderators".) In particular, there were many communication problems between people that spoke English (the vast majority) and those that spoke American.
The conference also attracted trolls and sockpuppets, which were automatically identified by bots. Trolls were marked with black tags that read "TROLL" and sockpuppets with yellow tags that read "Sockpuppet". Bots were far more obvious in person than they are online, and were extremely popular among the attendees. The after-hours bot party on Saturday night was standing-room only.
Jimbo Wales (disputed)
Lar
Lir
Richard Stallman
The Match Card
[
edit
]
Wikimania 2006 main event featured the Legendary Jimbo Wales take on Underwriter in Cage Match for the Red Link title. Nobody saw the match because it was filmed off site and someone speedy deleted the footage after it was crapped out by a GNU.
Lessons Learned
[
edit
]
The hot guys are all German. (Note to self: Learn to speak German.)
"Universal access to all human knowledge" is less important than universal access to a wireless connection and a power source.
Ditto universal access to air conditioning.
WikiMedia projects attract a wide variety of people from all cultures and all languages, except for African-Americans.
MIT's video stream is 56Kb.
Stop worrying about money. Money is something that other people have. Learn to live without it.
"The internet is a series of tubes" is officially played out, and can never again be used in a joke.
Jimbo Wales has no time for you.
Anime music videos are the new literacy, apparently.
Collaboration is everything. If somebody gets laid at Wikimania, we all get laid.
Every time you correct a spelling error, a child in Kenya gets a little bit closer to becoming a brain surgeon.