UnNews:"Halloween" to reboot after "Final Destination" victory
Jump to navigation
Jump to search
---
Where man always bites dog
✪
UnNews
✪
Monday, December 6, 2021, 17:00:

59

(UTC)
---
| | | |
| --- | --- | --- |
| "Halloween" to reboot after "Final Destination" victory | | |
2 September 2009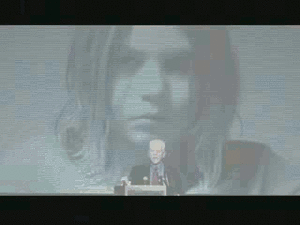 HOLLYWOOD, California — After an epic battle at the box office this past weekend, the final numbers are in! New Line's The Final Destination beat the shit out of the latest Michael Myers stabathon Halloween II. The death-cheating sequel came in at No. 1 with $28.3 million, largely due to moviegoers flocking to the theater and paying good money to see it in 3D. Coming in at No. 2 was last week's champ, Quentin Tarantino's World War II-Nazi farce Inglourious Basterds, raking in $20 million to its current total of $132.9 million worldwide.
And as for Michael Myers, he didn't make that much of a killing at the box office. Rob Zombie's Halloween II opened at No. 3 with $0.000000001 million, a far cry from the film's $15 million budget — let alone the record-breaking $30.5 million opening-weekend gross of its predecessor, Zombie's 2007 remake of the John Carpenter chiller.
Although Final Destination is receiving serious Oscar buzz from respected critics, Halloween II has broken the record for the worst-reviewed Halloween movie (not counting the Myerless Halloween III: Season of the Witch), beating out previous champ Halloween: Resurrection. Although some critics are complaining about the film's incoherent plot, others have been quick to criticize young actor Chase Wright Vanek, who was brought in to replace the previous film's Daeg Faerch. Faerch was fired in March after Zombie used black magic to make him grow to a massive height that Zombie would deem too tall for the Young Michael Myers role.
Here are just a few blurbs from critics: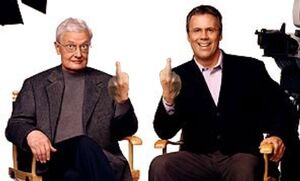 "No Daeg? No Halloween Theme until the end credits? What the fuck?"
"Makes Dominique Othenin-Girard look like Shakespeare."
"I must be rolling in my grave!"
"This film is wonderful... wonderfully godawful!"
"[Kills self]"
"This film is actually very good. While I don't condone murder, this film shows the young people the consequences of their sins."
Interestingly enough, Rob Zombie was the only attendee at the film's premiere Monday, August 25, and the original 1981 Halloween II was played "by mistake." Rob said in a separate interview that he was "baffled! How the fuck could they make such a stupid mistake? Donald Pleasence ain't Loomis in my movies. He's dead! D-E-A-D!"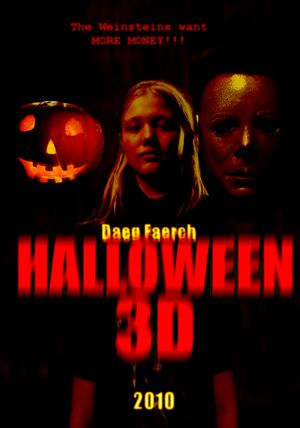 Feeling the heat from the film's failure, Bob Weinstein has announced that Halloween 3D is currently in development for a summer 2010 release. "We are going to completely revamp the Halloween franchise!" he says.
He goes on to say:
"I couldn't be happier that Halloween II flopped. I wanted to fire Rob the picosecond he fired Daeg, but we had all signed interminable contracts to continue work on the film, and there was no way out except for a lengthy legal washing-of-the-hands. I hate the horseshit Rob made us release! The Daeg version of the film would have blown Final Destination right outta the water! I told Rob flat out, "I will not make this film without Daeg... whether or not I'm under contract to do so," but he didn't listen to me. He kept making up more bullshit and the plot became so incoherent that the series is dead! D-E-A-D! Harvey [Weinstein, Bob's brother] and I can't live with that, so we're revamping the franchise yet again. We're looking into bringing back John Carpenter with cinematographer Dean Cundey. He's interested, but if he says no, we've also been talking to Wes Craven, Tim Burton, Michael Bay, Peter Jackson, Sam Raimi, George Romero, Zack Snyder, Quentin Tarantino, Robert Rodriguez, Eli Roth, anybody! Hell, we're approach Spielberg and Lucas if we have to! And rule numero uno — Daeg Faerch returns BEFORE anything is greenlit! Fans and critics hate Chase with a passion; so do Harvey and I. We want Daeg back, and we're gonna get him back."
While the Weinsteins have yet to officially sign a director for the project, a tipster who wishes to be identified only as The Egg Man has recently contacted Dread Central with a possible development on the film. The Myers-loving Jews are reportedly in negotiations with Steve Miner, director of Halloween H20 and Friday the 13th Parts II and III.
Dread Central goes on to say, "Being that Miner has successfully brought Myers to life once already after a miserable bout of sequels and has experience working in 3D, he truly seems like a logical candidate to be up for the job. Hence our reporting on this possibility. Lord knows, a little logic pertaining to the Halloween franchise would be a good thing right about now."
Halloween 3D is expected to be released next summer. No director has been confirmed as of Tuesday.
Domestic box office (weekend of August 28th — August 30, 2009)
[
edit
]
The Final Destination (Warner Bros./New Line) — $28.335 million
Inglourious Basterds (The Weinstein Company) — $20.041 million
Halloween II (Two Jewish producer brothers and a desperate if egotistical director) — $0.00
District 9 (Peter Jackson and a visionary director named Neil Blomkamp) — $10.7 million
GI Joe (Some nerds) — $8 million
However longtime Halloween and Rob Zombie fan Al Gore is demanding a recount, blaming the numbers on "hanging chads."
Sources
[
edit
]