Zombie Reagan
Jump to navigation
Jump to search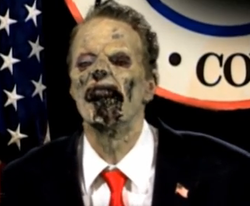 "Mr. Reagan, tear down this middle class."
"America is losing too many brains to China."
Zombie Ronald Reagan is the reanimated corpse of the 40th President of the United States, Ronald Reagan. He is now the current head of the GOP and leads all public opinion polls as the preferred Republican candidate for the Presidency in 2012. Zombie Reagan was brought back from the dead by GOP leaders in December, 2009 in a top secret facility in California. The $2.2 million procedure brought Reagan's corpse back to life after artificially creating a lightening storm that sent 1.21 jigawatts of electricity surging into the body. The money was raised by Gov. Arnold Schwarzenegger and the people of Cauliflower. Zombie Reagan is currently touring the country in early preparation for the Presidential Primaries in 2011 and 2012.
He was described by George W. Bush as "a collossal [prick of a] political figure. He [made me puke my fucking guts out]."
Early life: A life in film
[
edit
]
Born during the famous 1911 'February blackout' of Tampico, Illinois, when all the cities clocks stopped simultaneously for 51 hours, Ronald Wilson Reagan's life began as it was to continue… in the public eye. His mother Nelle had been performing her popular rendition of 'The Pregnant Tap-dancer' at the Bryon Street theatre for over 41 hours when she went into labour. Her audience, confused by the stopped clocks believed this was part of her act and simply applauded the babe Ronald as he emerged from his exhausted mother. She continued to perform for a further 11 hours until the clocks started up again and it was finally 8 o'clock.
Spurred on by this early induction onto the stage, the boy Reagan entertained his friends with jokes, dancing in his under-pants and long, rambling tails he made up about a bear called Peter and his dragonfly mate Simon. After a galling stint at some school of economics or other, Ronny wowed a panel of talent spotters in a screen test for Warner Brothers Studios in 1937. He soon landed the starring role of Nick Grinde's classic crime drama 'Love is in the Air', a film still noted today for its cutting edge special effects and stunning visuals.
2 years into his film career, Ronald had starred in no less than 190 movies, most of which had the same plot and script, and all of which were box office hits. During the American involvement in World War 2 he aided his countrymen by starring in at least another 500 movies about war.
In the late 1950's, Reagan found yet more ways to appear on screens across the globe by utilising the latest of technological marvels, the television. He starred in over 600 dramas, 183 documentaries and hosted 811 talk shows until in 1965 he was fired from the popular US series 'Death Valley Days', and, virtually overnight, vanished from popular media.
The disappearance of one of Americas most popular screen entertainers was mourned by the US public and fans the world around until, 2 years later in 1967 the reasons behind his mysterious departure became apparent. The much coveted lead role in the major US comedy series 'The Governor of California' was his! In recent years actor Arnold Schwarzenegger has taken up the baton, though the Austrian's wooden portrayal of the part has been open to much criticism.
Finally, in 1980, Reagan landed the part of his dreams – the title role in the most popular and long running American drama series of all time; 'The President of the United States of America'. Played several times daily in countries all over the world (including those who can't stand the show), this was an actor at the pinnacle of his career! The many years of dedicated showmanship and intense acting lessons allowed him 7 years in the part, starring alongside other thespian behemoths such as Margaret 'The Blonde Bombshell' Thatcher and the late, great Mikhail 'The Soviet Superstar' Gorbachev.
Despite his tear-jerking performance in the classic 'End of the Cold War' episode, and the immortal lines "General Secretary Gorbachev, if you seek peace, if you seek prosperity for the Soviet Union and Eastern Europe, if you seek liberalization: Come here to this gate! Mr. Gorbachev, open this gate! Mr. Gorbachev, tear down this wall!" Reagan never won, or was even nominated for an Oscar. A poignant reminder that it's not who you are, it's who you know.
Death of a legend, rebirth of a star
[
edit
]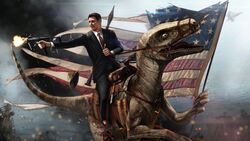 Ronald Reagan passed away on June 5, 2004 to the mourning of the entire country. His body was interred at the Ronald Reagan Presidential Library in Simi Valley, Cauliflower. There it passed into a state of decomposition and decay, making the President's body nearly unrecognizable.
Michael Steele, former head of the GOP, concocted a plan to resurrect Reagan in order to re-unite the country's conservatives. Shortly before dawn on December 2, 2009 the sound of jackhammers could be heard coming from the President's tomb. When local detectives arrived on the scene, there was a gigantic hole where the Presidents casket had been laid to rest. After nearly 5 years at rest, the President was on the move. The body was taken to a secret Republican laboratory in Santa Monica where it was resuscitated by means of having large amounts of electricity jump start the decayed heart. Along with other unspecified and deeply guarded secret methods (rumors are that scientists used tainted blood from psychotic rabbits), the President's body was reanimated, and Zombie Reagan was born.
New political career
[
edit
]
Michael Steele announced with other prominent Republicans in a press conference that they had brought Ronald Reagan back from the grave on December 6, 2009. Zombie Reagan took the podium and delivered a 12 minute speech of grunts and moans which was greeted thereafter with a 6 minute standing ovation. The very next day Steele stepped down as Grand Dragon of the RNC and handed over the keys to Reagan's rotting corpse.[1] Zombie Reagan has since appeared in multiple GOP sponsored ads of a generic nature, reaffirming Zombie Reagan's commitment to small town values. The fact that he has no mental capacity and tends to eat people is not a significant issue to the party faithful, and barely registers for independent voters, a huge plus for Zombie Reagan.
In order to convince more party leaders that he is indeed the man for the job in the GOP, Zombie Reagan invited Gov. Bobby Jindal and Florida Gov. Charlie Crist to an all night strategy session at a remote mountain retreat. The following day, Jindal returned to Louisiana and has since been singing Reagan's praises. To be fair though, the word "Reagan" is all he says now amidst grunts and moans. Strangely, Crist has not been seen since the retreat and Florida launched a nationwide search for the governor, fearing he had pulled a Mark Sanford and gone after some South American hottie. A youtube video purporting to show Crist feasting on an old lady's arm in Oklahoma has since surfaced. Florida has not commented on the matter.
Potential controversy
[
edit
]
Constitutional issues arise from the possibility of Zombie Reagan running for president since individuals are limited to two elected terms. The Democratic Party has already preemptively filed a lawsuit which has been expedited to the Supreme Court. in DNC v. Reagan, Democratic lawyers are expected to argue that Zombie Reagan and Ronald Reagan are the same individuals and thus Zombie Reagan would be barred from running for the Office of President. Republican lawyers however are expected to argue that Zombie Reagan, since he is simply the reanimated corpse of Ronald Reagan, is not in fact Ronald Reagan, but rather a "fresh new face of the political scene, ready to eat your heart out." Early testing also confirns that the reanimated Reagan is also about 20 IQ points smarter, another noticeable difference. The tentative court date is set for February, 2010.
On the 5th of July 2010, Zombie-Reagan was found drunk in a parking lot at 3:00am in the morning. At a recent press-conference, Zombie-Reagan claimed that Sarah Palin spiked his drink in an attempt to ruin him once and for-all. Palin pleaded innocent on the count that she was indeed giving birth.
References
[
edit
]
↑

USA Today, front page 7 December, 2009