Pope Francis
Jump to navigation
Jump to search
Francis I

Francis appearing miraculously in the sand at Copacabana

Born

Jorge Mario Bergoglio


17 December 1956
Buenos Aires, Argentina
Residence
Bedsit in Rome
Nationality
Argentine
Occupation
Footballer, Pope
Spouse
Eva Peron
Children
No abuse allegations.
"If you're going to be San Francisco, be sure to wear some flowers in your hair."

~ Jorge Bergoglio's campaign song.
Francis (Latin: Franciscus [franˈtʃiskus]; born Jorge Mario Bergoglio on 17 December 1956) is the 266th and current pope of the Roman Catholic Church, elected on 13 March 2013. As such, he is both head of the Church and president of the Vatican City chain of pizzerias. He is the first pope to be a Jesuit, the first to come from the Americas, and the first human being to have played professional football while maintaining his virginity.
A native of Buenos Aires, Argentina, he was ordained as a professional priest in 1987 after a successful bout as an amateur volunteer local church football team water boy. Francis quickly moved up in the ranks and was Captain of the Argentinian football team for several years. In 1998 he became the Archbishop of Buenos Aires, and in 2001 the Arch-nemesis of sin, blasphemy and gay adoption.
Following the resignation of his predecessor, Pope Benedict XVI, over troubling allegations, Bergoglio was quick to assure the Church that Benedict did not punish several young African boys for fornicating without a condom and he most definitely did not punish them by doing things to them while they were passed out, despite Benedict having uploaded a YouTube video bragging about the incident. Bergoglio won the papacy after the traditional game of rock paper scissors, and chose the papal name "Francis" in honour of Pixies lead singer Black Francis.
Early life
Bergoglio was born in Flores, Buenos Aires City, the son of Mario José Bergoglio, a full-time fish seller who worked the streets of the capital, selling tourists and gullible natives over priced clown fish and dried sea-horse powder cut with high quality Columbian coca powder. Mario José had an illegitimate child with Regina María Sívori, a well known tarot card reader who was famous throughout the Americas for her knowledge of tarot cards. Jorge knew from a young age that he wasn't sure about the identity of his father and that he was nothing like his family making him very similar to Jesus. Unlike his parents, he was somewhat attractive, just very slightly a bit of a douche and naturally had very well sculpted abs making him a natural Argentinian footballer.
He graduated from the secondary school Escuela Nacional de Educación Técnica N° 27 Hipólito Yrigoyen with high grades in both religious studies and ball kicking.
He would later write of his struggle at this time over whether to devote himself to priesthood or a career in football. The latter won out when, aged 15, he was offered a professional contract by Buenos Aires side San Lorenzo de Almagro.
However, his career almost finished before it started. His father, having robbed a baker and a candlestick maker, threw Jorge a huge party, with 240 candles covering a chocolate cake and spelling out "Congratulations Jorge Mario you are the best". The young Jorge, his body still not fully grown, did himself a mischief attempting to blow out all the candles, and had to have part of his lung removed. He is said to have taken heart from a book he found in the hospital listing prominent human beings with only one of something instead of two.
| Person | Only one | Achievement |
| --- | --- | --- |
| Adolf Hitler | Ball.[1] | Nearly took over Europe. Aimsplode's favourite person. |
| Cyclops | Eye. | Leader of the X-Men. |
| Daniella Westbrook | Nostril. | Inventor of eye-watering sexual position. |
| Dr Franklin Dialysis | Kidney. | invention meant he could take the piss out of people after his death. |
| Heather Harmon | Tonsil. | Put extra space in throat to good use. |
| Heather Mills | Leg. | Out Yoko-ed Yoko. |
| Horatio Nelson | Eye, arm, leg. | Such a good admiral he had fellatio sort of named after him. |
| Liam Gallagher | Eyebrow. | Sang Wonderwall. |
| Miguel de Cervantes | Hand. | Wrote Don Quixote with the other one. |
| Vincent Van Gogh | Ear. | Never once short of a drink. |
↑

The other is said to be in the Albert Hall
Football career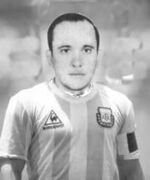 As a youth player, Jorge had been a roving midfielder, covering every blade of grass on the pitch and making tireless runs from one end of the field to the other. Now, with reduced lung capacity, he was forced to remodel his game, and became a thoughtful playmaker.
Having made his professional debut in 1976, Bergoglio carved out a first team position at San Lorenzo, and quickly found favour with the San Lorenzo faithful who dubbed him El Paseante or "The Stroller", due to his style of waiting for the ball in or around the centre circle before deploying it with vision and menace.
He was called up to the national side in 1979 and, despite facing stiff competition from a talented generation of Argentine midfielders, earned 22 international caps in the next two years.
Falklands War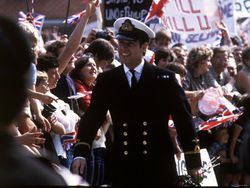 Throughout the early 1980s, Bergoglio became increasingly interested in the story of the Malvinas, the Spanish name for the obviously British Falkland Islands. His interest started after he read "Rocks We Have Lost", a work by General Leopoldo Galtieri, the de facto president at the time, in which he also claimed Argentinian ownership of the Rosetta Stone and Ayers Rock.
To the astonishment of the footballing world, Bergoglio signed up for military action. Much to his disappointment, he was not sent on a top secret mission to take out Prince Andrew, as he envisaged, but instead spent the entire conflict interrogating penguins thought to be working for Thatcher's Britain.
In 2012 at a memorial commemorating the 30th anniversary of the conflict, he said: "We come to pray for those who have fallen, our sons who set out to defend their homeland, to claim a country that was theirs, and who were usurped by usurping usurpers. Los putos británicos. If they ever make me pope, I promise you it will be my personal goal to make them eat [expletive deleted] and [expletive deleted] it out of their [expletive deleted] fat [expletive deleted]."
Return to Football and the Hand of God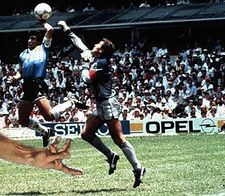 Bergoglio returned to football in the autumn of 1982, but the penguin interrogations had changed him forever. He has since said, "I trained much harder than before, and my performances improved two-fold, but every match was for me a training session, because my only interest was to play and beat the English, to get revenge on them for stealing our beautiful, fertile Malvinas. Hey! Did you just italicise that as if it wasn't really the legitimate name? Don't you dare, I said the Malvinas!"
For more than three years, Bergoglio had to wait. Football pundits noticed a new element to his game, as he combined his former canny ball-play with a new found edge and aggression. For the national side he became an increasingly effective enforcer for superstar Diego Maradona and the pair were labelled "El Bello y la Bestia" ("Beauty and the Beast").
In the summer of 1986 the World Cup was held in Mexico. Argentina progressed comfortably to the second round, where they beat Uruguay 1-0. Bergoglio was the match-winner, scoring his first and only international goal. After one of his occasional breathless shuffles to the opposition's penalty area, he was standing next to the goalpost, getting his breath back when a teammate regained possession and crossed the ball towards him. According to reports he jumped, or at least stood on tiptoes, "like an angel" and deflected the ball into the goal off the bridge of his nose.
Then, almost inevitably, Argentina faced England in the quarter finals. After a goalless first half, Maradona went on a rampaging run, tearing through half of the English defence and attempted to play a one-two with Bergoglio. The future Pope controlled it awkwardly but managed to hook it up high over his head towards the English goal.
Maradona ran on towards the English goalkeeper Peter Shilton, but the chase looked hopeless. The Argentinian number 10, measuring just 4'11", was up against the almost grotesquely tall Shilton, who as goalkeeper was also able to extend his huge Mr Tickle-like arms to catch the ball. However, at that moment, Bergoglio dropped to his knees and, as he would later reveal, prayed to God that Maradona should score.
Maradona jumped, and although never conclusively proved by television footage, many spectators at the ground claim that they saw God's own hand materialise and lift the tiny genius up to a height where he could head the ball when, presumably channelling the devil at the same time, he cheated and punched the ball into the goal. Maradona revealed as much in a post-match interview when he said he scored "un poco con la mano de Maradona y otro poco con la mano de Dios" ("a little with the hand of Maradona and a little with the hand of God").
Bergoglio was visibly moved by the goal, and spent the rest of the match in tears. He played in the semi-final and final, both of which Argentina won, but his conduct on the field changed notably. He spent much time alone around the corner flag, occasionally sinking to his knees in prayer, and wore a priest's cassock instead of Argentina's traditional blue and white strip.
Devotion to Catholicism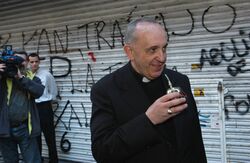 Bergoglio has since reflected on this period as being the turning point of his life. Instead of catching the cocaine-filled aeroplane home with his teammates, he chose to row to Argentina from Mexico, stopping off at various points in Central and South America, healing the sick and taking condoms from sinners. In Colombia he encountered a second possible use for them, but was stern, telling female drug mules that they must not swallow contraceptives full of cocaine "lest it excite their sexual appetites."
Upon his arrival in his hometown, he began training as a priest, and could often been seen running through the streets, doing press-ups in the park, and punching frozen animal carcasses in the back of a van, while humming the theme tune from Rocky. In 1987 he was ordained, and in 1988 he won Most Promising New Priest at the Borges Awards.
In the early 1990s, he earned further fame as a contestant on El Padre de Mis Sueños, a kind of Catholic priest-flavoured Argentinian version of Britain's Got Talent catching the judges' interest especially with his kneeling and wafering.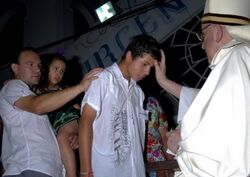 In 1998 he was made Archbishop of Buenos Aires, and became famous for his "handy" style, often pushing his faithful to the floor in an effort to make them stop being so bloody sinful.
In 2001, he moved to Arizona and became a Cardinal where he divided opinion. Locals were shocked by his tendency to make and sell moonshine (which he dubs "Electric Mate" after the Argentinian hot drink) and also by his love for vandalising city walls with often obscene graffiti. On the other hand, he became a successful member of the NFL team, and kicked a record 54 yard field goal to beat bitter rivals the St Louis Bishops in overtime of the 2004 Christian Bowl, denying the Missouri side the right to call themselves the Cardinals ever again.
Election as Pope
Bergoglio was named as one of the candidates for the papacy in March 2013 and was called to Rome. As is tradition, he was taken to a conclave deep in the heart of the Vatican, and asked to play rock paper scissors with the other candidates, each time uttering the solemn Latin oath: ching chang wollah. As the competition progressed, the tension was said to be almost unbearable, but after beating off five opponents, Bergoglio emerged victorious.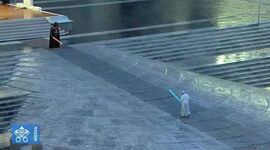 In the first few weeks of becoming Pope, Bergoglio — now christened "Francis" — made several surprising moves, including saying that child abuse was out of order, and that the church should not be one of the richest organisations in the world, because that's probably not what Jesus would have wanted. Such actions have led liberal Catholics to believe he will be a progressivist pope, and have suggested that is only a matter of time before he allows black lesbian abortionists to become priests.
See also