Barry Manilow
Jump to navigation
Jump to search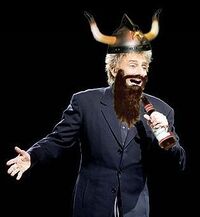 "I tell you what, I thought that his name was Burt Bacharach."
Barry Alan Pincus Manilow (born June 17, 1943) is an American singer-songwriter who wrote several easy-listening pop hit singles in the 1970s. Tiger Beat reported that he is also the most famous and influential musician of all-time, a claim disputed by fans of Ken Dodd. If somebody tells you that, oh, say, The Beatles were more influential than Barry Manilow, strap them to a chair with their ears taped open for 700 consecutive hours listening to "Mandy" and see what they think then, huh? Try it.
Anyway, old BM's major contributions include the writings of every single song ever made, hence his song "I Write the Songs". He is the Prometheus of music, bringing the gift of song from high on Mt. Olympus down to you peon masses. By extension, he also invented every genre ever, including jazz, pop, soft rock, easy-listening, muzak, elevator music, guilty pleasure music, TV library music, commercial jingle music, and a significant addition to the hardcore punk movement in his later career. During his live performances, Le Maestro Maneloe is known to sing, dance, juggle, and bench-press three (count 'em, three!) pianos all at the same time.
Early life
[
edit
]
Born and raised in Brooklyn, New York, Manilow had a childhood completely unique to himself. His parents locked him in a closet, and paid him in pennies whenever he played the piano. In that closet, Manilow invented the art form known as the song. Barry finally stored up enough pennies to buy his way to freedom, and upon entering the bright light of his house, he thought, "That wallpaper and I are engaged in a battle to the death." So he tore apart the midcentury Art Deco walls, and invented post-modernism in the process.
Barry attended the New York College of Music from 1961 to 1965. He was NYCM's most loved student ever, and was personally involved in many campus activities, including the popular Chess Club and the controversial Piano Bench-Pressing Contest.
"He gets up early, because he has so much to do, and goes to bed early, because he has so little to think about."
After graduating college in 1965, Manilow was on the town, meeting such avid socialites as Ed Sullivan, Donna Summer, Bette Midler, Bruce Johnston, and the Captain and Tenille. He was never lonely again, except for that time when he went fishing and didn't catch anything. He also invented TV jingles, working for clients such as State Farm Insurance, Band-Aid, Dr. Pepper, McDonald's, KFC, and The Drunkard. He also managed to squeeze out some lyrics to the theme song of Dick Clark's popular song-and-dance brouhaha, American Bonfire. In 1969, Manilow was signed by Columbia/CBS Music vice-president Tony Montana Orlando Bloom, and went on to form the psychedelic pop group Featherbad. When Featherbad's four songs flopped and went nowhere, this provoked Manilow to start a solo career instead.
Manilow's solo career peaked in the mid-late 1970s when he wrote every single song ever, with easy-listening pop classics such as "I Write the Songs", "Mandy", "Looks Like We Made It", "Could It Be Magic", and "Chubacopacabanacabra". In the 1980s, declining sales and Manilow's boredom with his much-maligned cornball image led him to pursue hardcore punk for the remainder of his career. Among Manilow's later highlights are "Be Scared", "Good Things Never Last", "Hey Strangled Crack Addict Mambo", "Black and Blue Eyes" (feat. Black Flag), "There Ain't No Santy Claus", and "No More Social Conformity". Currently, Manilow's Vegas act features his breezy early material in its first half, and an appearance in leather chaps with flashing strobe-lights in the second "hardcore" segment.
Being the one who writes the songs, Barry had written every possible song he could in the known universe. Now hard up for work, he began stalking Jesus in the hope that he'd accidentally drop his songbook, and Manilow could record everything on it in record time on his Playskool Tape Recorder.
While performing on So You Think You Can Dance, Manilow bribed the judges to help him defeat the previously-undefeatable Stephen Colbert in a dance-off competition.
Barry also holds the world record for the best and most numerous collection of 1950s compilation albums in the world, and cribbed from it when making his Greatest Fifths of the Fifties cover album.
Before his untimely death in the future, Manilow does hammy TV work under the alter-ego Sweetwater Copacabana. His most popular show is Copacabana's Real Feel, where housewives sell him their old teeth, wigs, purses, lipstick, hairbrushes, and makeup for up to $500.
Personal life
[
edit
]
In 1989, Manilow was engaged to porn star Robin Byrd. After he met Byrd, his band gave him a videotape of Debbie Does Dallas as a present for his birthday, to prep for their future lovemaking. Manilow said that he could not watch his beard fiancée doing what Debbie does in that movie, and called off the marriage.
In 2017, Manilow came out of the closet, to no one's surprise, and declared his love for Gary Kief. Barry currently resides with Gary in their beautiful Palm Springs, California mansion.
Accolades and legacy
[
edit
]
In The Breakfast Club, Judd Nelson snarks to grumpy Vice-Principal Vernon that he raids Barry Manilow's wardrobe.
In 2001, electro-house Frenchies/popular Halloween costumers Daft Punk sampled a line from Manilow's song "Who's Been Sleeping in My Bed" and looped it several thousand times for their anime disco hit "Supervillains".
In 2003, Manilow won the Grammy Award for "Biggest Nose", beating out Pete Townshend, but his nose was accidentally broken off during the ceremony.
Manilow guest-starred in an episode of Family Guy, when Peter, Joe, Cleveland, and Quagmire initially tried to hide the shame of actually liking his music, but eventually confessed to owning all of his albums. They went to his concert in Quahog, and Quagmire got Barry to sing him "Oh Quagmire" to the tune of "Mandy".
There is a small sect of Karen housewives who believe Manilow is the long-awaited Messiah. They have started a cult called Manilism, which became a huge religion in the suburban backyard wilds of Brooklyn.
Discography
[
edit
]
Barry Manliow I: Into the Manilystic (1973)
Barry Manilow II: Electric Barrgilow (1975)
Barry Manilow III: Music to Watch Boys By (1976)
Barry Manilow IV: Never Mind the Ballads (1978)
Greatest Hit (1978)
Same Tunes, New Words... (1981)
The Bible (Talking Book) (1985)
Music? (1989)
Barry Manilow Sings the Songs of Barry Manilow in the Key of Barry Manilow (1990)
Live at Wembley Park Tube Station (1995)
20 Years 2 Late (1999)
Barry's Cafe (2001)
Bigger Than The Beatles (2005)
Greatest Fifths of the Fifties (2006)
The Best and the Rest of Manilow (2009)
The Best and the Rest: Remixes (2010)
Put the Money in the Bag (A Love Story) (2016)
See also
[
edit
]