Bogeyman
Jump to navigation
Jump to search
You may be looking for Michael Jackson and not even know it!
Theodore Bo Geyman, otherwise known by his stage-name, "The Bogeyman" (also spelled Boogeyman, Boogieman, or just simply Bogeyman) is an Academy Award-nominated monster most noted for his career as a controversial yet versatile American film and stage actor. He enjoyed relatively decent success for his nominal roles in horror movies later on in his career. Today, he is retired from acting and currently resides under your bed or in your closet. He is also a professional wrestler on his spare time.
Early life
[
edit
]
Bogeyman was raised by an adoptive family. His biological parents gave him up for adoption upon birth, and to date, Bogeyman hasn't been able to locate his biological parents. His sidekick is none other than Chad Jansen, or Magic Jansen.
Bogeyman stood out in his family, particularly during family photos and family reunions. His adoptive parents, shunned by their families for adopting, neglected and abused Bogeyman, as did other members of his adoptive family while he was growing.
However, abuse was far from Bogeyman's troubles. He was forced to learn at home, as public schooling proved far too traumatic as Bogeyman was a constant victim of bullying. Around the age of 16, Bogeyman got involved with a local dance and theatre club where he developed his seemingly innate ability to perform on stage. However, even fellow Thespians couldn't help but comment on Bogeyman's appearance.
Spotlight & Acting Career
[
edit
]
When his dance and theatre club did a performance of Romeo and Juliet, Bogeyman was cast to play a tree. A local talent scout saw Bogeyman's performance and immediately offered him a role in a stage performance of Beauty and the Beast. Bogeyman agreed to do the role.
"Beauty and the Beast"

[

edit

]
After weeks of rehearsal, Bogeyman played the role of "Beast" in the play Beauty and the Beast and got astounding reviews. The reviews later promoted him to motion picture as he was offered a movie contract from Universal.
Bogeyman played the character "Gene" in the movie "Pothole", a movie about a mayor dealing with instability and riots in his city after citizens become outraged over the large amounts of potholes in the city roads.
Bogeyman's character, Gene, was the mayor's assistant who was murdered towards the end of the film when angry citizens stormed the mayor's residence. Little did Bogeyman know, this performance would earn him an Oscar nomination for Best Supporting Actor.
Smaller Roles
[
edit
]
Bogeyman's career and popularity was immediately boosted by his performance in "Pothole", but began to drop as he did smaller roles towards the end of the 80's and during the early 90's, mostly due to the fact that he spent much time grieving after his adoptive mother passed away from cancer. He did such roles as "Enemy Pilot #1" in "Top Gun" and "Second Guy at the Diner" in "Pulp Fiction".
Horror Films
[
edit
]
Bogeyman shifted genres a bit and went on to play numerous characters in horror flicks during the 2000's. He played "Leatherface" in the 2003 remake of the "Texas Chainsaw Massacre" (not appearing in the 2006 sequel), the main Yautja in "Alien vs Predator", and "Zombie #12" in the 2004 remake of "Dawn of the Dead", as well as various other roles.
However, his career officially ended in 2005 after his final performance in the 2005 film War of the Worlds, where he played "Alien #2". Despite the fact that "Alien vs. Predator" producers offered him a contract to play in the upcoming 2007 sequel, "Alien vs. Predator II", Bogeyman declined without comment.
Criticism
[
edit
]
Throughout his acting career, Bogeyman was criticized for his impulsive nature. Tabloids began making up several rumors, calling Bogeyman a wife-beater after his wife of 29 years, Bloody Mary, was photographed with a black eye.
Eventually, Bogeyman did punch somebody. In a 2001 incident, at the premier of "The Mummy Returns" (in which Bogeyman played one of the numerous ghouls in the The Army of Anubis), Bogeyman reportedly punched out a paparazzi photographer and was later arrested and charged with assault.
However, it wouldn't be the first time Bogeyman would be charged with a crime. Only weeks later, Bogeyman was arrested for public indecency after he ran to the center of Yankees Stadium and mooned thousands on national television. Bogeyman's lawyers argued that Bogeyman was intoxicated, and he was later absolved of charges.
Of course, after the 90's, Bogeyman could often be found with a bottle in his hand after he turned to alcoholism. Bogeyman even wrecked one of his sports cars after he drove it into a tree after a long night at the bar. He was hospitalized for three days and sustained a fractured arm, after which he decided to quit smoking.
Finally, in early 2005, Bogeyman came under fire after reporters starting rumors that Bogeyman was bulimic. Bogeyman denied the accusations, giving credit for his sudden weight-loss to his all vegan diet which he was inspired to start after being diagnosed with diabetes in 2004, possibly as a result of his alcoholism.
Sadly, in the March of 2005, Bogeyman was found masturbating furiously in a large pool of vomit, whilst staring at a photo of his mother, no less. When questioned for this incident, Bogeyman did not say a word, and continued on his way home. It is said by Bill Cosby, who was at the time in his super form, saw Bogeyman crying in a corner of his home. It was also said he was in fetal position, and sucking on a pacifier.
Full Filmography
[
edit
]
"Shakespeare's Hamlet" (Stage Performance, 1979) ... "Rock"
"Shakespeare's Romeo & Juliet" (Stage Performance, 1980) ... "Tree"
"Beauty and the Beast" (Stage Performance, 1980) ... "Beast"
"Pothole" (1981) ... "Gene"
"SMACKDOWN!" (1982) ... "Himself"
"Star Wars Episode VI: Return of the Jedi" (1983) ... Stuntman for "Chewbacca"
"Top Gun" (1986) ... "Enemy Pilot #1"
"The Silence of the Lambs" (1991) ... "Cop #4"
"Pulp Fiction" (1994) ... "Second Guy at the Diner"
"Forrest Gump" (1994) ... "Running Guy #4"
"Titanic" (1997) ... "Panicking Guy Who Hit The Propellar After He Jumped Off"
"The Mummy Returns" (2001) ... "Ghoul #12 in The Army of Anubis"
"House of 1000 Corpses" (2003) ... "Doctor Satan"
"Texas Chainsaw Massacre" (2003) ... "Leatherface"
"Dawn of the Dead" (2004) ... "Zombie #12"
"Alien vs. Predator" (2004) ... "Yautja #1"
"War of the Worlds" (2005) ... "Alien #2"
"Grue's Clues" (Currently) ... (Voice Acting) "Mr. Couch"
Tribute to Bogeyman
[
edit
]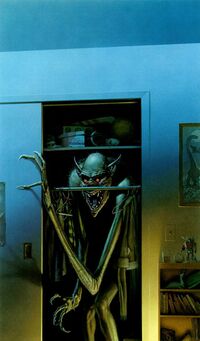 In "Tim Burton's The Nightmare Before Christmas", Bogeyman is portrayed by a character in the animated flick, "Oogie Boogie".
"Boogie Nights" is a documentary about Bogeyman's legendary club-nights during his time in stardom.
In 2005, a film titled "Boogeyman" was released as a tribute to Bogeyman himself. The film depicts a series of notable events throughout the life of Bogeyman, as well as several other fictitious events used to keep the viewer entertained.
Of course, Stephen King also wrote a short story in honor of the Bogeyman himself, titled, "The Boogeyman". The story tells of a time when Stephen and Bogeyman had lunch in Santa Monica together and discussed their views on bipartisanship.
Current Life
[
edit
]
Bogeyman has become reclusive since leaving Hollywood. Well past his years, he still practices his life-long hobby of scaring the shit out of children, a hobby founded by Walt Disney. Bogeyman claims it was a hobby that kept him sane during his time in Hollywood.
Unfortunately, in July of 2006, Bloody Mary filed for divorce from Bogeyman, and the two are no longer living together. Mary moved back to London and Bogeyman has been seen frequently picking up prostitutes, paying them in his autograph. His finances are rather low as a direct result of his divorce, which has lead him to a career of voice acting. He currently does the voice of Mr. Couch in Grue's Clues.
At the height of his career, Bogeyman had an estimated 890.2 million dollars. He's famed for not donating a cent of his money, and speaks outright against philanthropy.
Bogeyman stands 9'11", and weighs 666 lbs.
Despite coming from a Jewish adoptive family, Bogeyman converted to Pastafarianism in early 2006.
In Germany, the Bogeyman is known as Der schwarze Mann (the black man).
The Bogeyman is half-Grue.
See also
[
edit
]