The Beatles: Tragical Mystery Tour
Jump to navigation
Jump to search
"The Walrus was me!"

~ Paul McCartney on Tragical Mystery Tour
The Beatles: Tragical Mystery Tour is the eighty-ninth album and was The Beatles followup to Sgt. Lt. Pepper's Only Lonely Hearts Club Bandana. It turned out to be a soundtrack to a Saturday morning film starring the Beatles and a tour bus running around the English countryside dressed in various assorted chicken costumes bringing a new sort of seriousness and dignity to their art, and touching on many of the philosophical questions that have plagued modern man for centuries. It was going to be named magical mystery tour but the bus crashed into them. In the United States, Capitol changed the soundtrack to actually be an album.
Production
[
edit
]
The Beatles now turned their attention to various plays and tragedies, (and eating tons of spaghetti with shovels) where ever they ended up. Of course, the horrid loss of Paul automatically makes the movie a tragedy, and one often wonders why, over the course of 90 minutes, this epic disaster was ever committed to film. Rated G. (Ages 2 and under)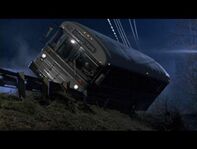 The mystery to this day is exactly who was the black "waitress."
In the song "Glass Bunyon", from the Beatles self-titled double album, John Lennon sings:
"Here's a clue for you all,
The waitress was Paul"
We're still very uncertain what this means, seeing as Paul was white and the waitress was black, but, who knows? It may just be the inscrutable ramblings of a long-dead drug poet.
Then, again...
Tracklisting
[
edit
]
Tragical Mystery Tour - 3:12
The Saint on the Boat - 2:02
The Bill and the Gates - 2:34
Dying - 3:32
Canary Crossing - 1:58
Your Mother's No One- 2:08
I Am The Whore - 9:09
Go To The Other Side (And Suffer) - 0:96
Side 2 or 3 or 4 or shut up already
[
edit
]
Hello Ba Ba - 3:44
Elderberry Fields Forever - 3:16
Quarter Avenue - 3:12
Maybe You're A Dumb Man - 2:08
All You Need Is Lunch - 2:08