Joe Paterno
Jump to navigation
Jump to search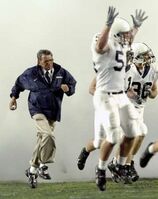 "I've never trusted Panthers...I never will...I've never been able to forgive them...for the death of my boy..."

~ Admiral Joe Paterno on The Penn State/Pitt Rivalry
"Nobody ever trusted him"
Joseph Vincent "Joe" Paterno (December 21, 1926 – January 22, 2012) is a former Rear Admiral who was the commander of the Penn State Nittany Lions, the legendary American Football 3rd Escort Fleet, for 46 years from 1966 through 2011. He was born in Brooklyn, NY on a day which will live in infamy and is the oldest active coach in the sport of Tactical College American Tackle Football. He is now serving as the punching bag for Jerry Sandusky and the entire scandal surrounding Penn State.
Accomplishments
[
edit
]
Due to the NCAA's wishes, all memory of Paterno and his accomplishments will be erased. The position of coach of Penn State from 1966 to 2011 will now be recognized as being held by a bologna sandwich....with Mustard on it!
Joe Paterno has coached his Nittany Lions to 5 undefeated seasons and 2 outright NAACP national championships. The most memorable win came against Fleet Commander Jimmy Johnson, his hairpiece, and the University of Miami Hurricanes task force in January 1987. The game ended when a Greek man intercepted an errant 4th down pass by 35 year old Miami Quarterback Vincent Testaverde and fell down. The normally competent Testaverde threw a record 17 interceptions that night.
Paterno began coaching football after he was fired from an assistant coaching position of Brown University's 43-Man Squamish team. The reason being, he kept losing the annual rivalry vs the Board of Education. The Coach at Penn State at the time, Rip Torn, took Paterno under his wing. By 1957, Torn had relinquished control of the team to Paterno, and went on to have a brilliant career in radio.
In 1973, Paterno, through his accomplishments, garnered Admiral status from the U.S. postal service. His predecessor, Chester "Eldridge Cleaver" Nimitz, beamed with pride. Paterno remains the only Football Admiral that does not speak with a distinct southern drawl.
Paterno's squad fell on hard times as of late, only capturing 67 U-Boats in the past decade. However, the past three years have been heralded as a resurgence of the old days, and as recently as 2005, Paterno's crew has gone 11-1 in U-Boat collection.
Rivalries
[
edit
]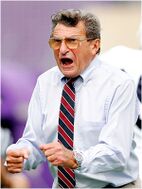 Admiral Paterno used to have a rivalry with the University of Pittsburgh, but since Admiral Paterno, being the greedy bastard he is, wanted the Panthers to travel to Penn State twice for every game at Pitt, which the Panthers would not accept. Despite numerous attempts from alumni, media, fans, and Pitt to rekindle the once fabled rivalry, the Admiral, like many stubborn old men, refuses to play except under these unfair terms. Of course, the Pitt Admiral wanted Penn State to lose money, since tickets had cost Over Nine Thousand dollars. Penn State has attempted to create rivalries with other schools, such as Maryland, West Virginia, Alabama, Ohio State, Nebraska, Miami, and Notre Dame, but these attempts have failed miserably, especially in comparison to "The Game" between Harvard and Yale. It is unlikely the historic Penn State/Pitt rivalry will resume until the Admiral leaves (or, more likely, dies), or until Pitt decides to lower the price Under Nine Thousand for tickets, the two Admirals will be seen as kids that don't want to play with each other.
Interests
[
edit
]
Majoring in English at Brown University, Joe Paterno is fascinated with literature. He often reads Shakespeare to his football squad when he tucks them in each night. He is also fond of safe, defensive driving. He does not play checkers.
Speculation is ripe concerning Paterno's supposed love, in the culinary sense, of the human brain. This interest in his diet is fueled by a widely held belief that Paterno is actually dead, and as a walking corpse (or/aka zombie), and requires brains and human flesh for sustenance. So far, there is no clear picture or answer to the matter.
"Brains? Why of course! He loves them!"
Idiosyncrasies
[
edit
]
Joeseph Vincent Paterno always rolls up his pants legs before a game begins. He told reporters the following in 1982;
| | | |
| --- | --- | --- |
| " | It's because of the lava. Last time, I didn't roll these khakis up and, well, that lava singed my pants legs! And also the blood. I don't want blood to get on my pants when I attempt the next Pitt game. Did you see it last year? Marino got his blood all over my pants! | " |
He was fired in 2011, following a brief TEXT message from Kevin Nash. UPDATE: He was fired due to the fact he was an old fartbox!
AFC

East
North
South
West

Houston Texans
Jacksonville Jaguars
Tennessee Titans

Kansas City Chiefs
Oakland Raiders
San Diego Chargers

NFC

East
North
South
West

New York Giants
Washington Redskins

Atlanta Falcons
Carolina Panthers
New Orleans Saints

St. Louis Rams
San Francisco 49ers

Category