UnBooks:Homies Guide to Thanksgiving
Jump to navigation
Jump to search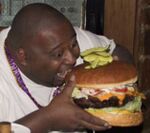 Contrary to what The Man says, don't let the end of the month keep you from enjoying the Thanksgiving festivities. Yeah I know you spent most of your welfare benefits in seven days on Chinese take away and Heineken but you shouldn't't let this stop you from the Thanksgiving feast that you so richly deserve. Here's some tips on what to serve and how to entertain on Turkey day in the ghetto.
First the guest list. This will take care of itself. Chances are if you have a job you will be the only member of your extended family that is actually employed. Everyone even remotely related to you will know you work and will show up at your door empty handed. What am I talking about? You don't have a job. OK, let's assume you just had that additional bastard so everyone knows your benefits got bumped up, bling-bling. You're still the rich member of the tribe and they'll still show up empty handed. The black family may be disjointed and dysfunctional but when it comes to mooching off each other they really come together. Now that we've established that you will have twenty moochers in your home we need to plan the menu.
Now food alone won't make the evening so you must also plan activities or topics of conversation to get the evening moving along. Here's a list of some can't go wrong topics for lively conversations: Hating whitey, hating Jews, hating blacks that "act white", hating fags, hating crackers, hating white boys, luvin fat black girls, luvin fat white girls, living fat Asian girl's, luvin fat Puerto Rican girls, rap, rappers, petty crime, senseless crime, Da Po-lice, basketball and hating white people. It's not an exhaustive list but it is sure to get you started.
After you guest have eaten, conversed, and consumed large quantities of crack and malt liquor you will want to engage in some or all of the following activities: Arguing about essentially nothing, yelling and screaming about nothing until the wee hours of the morning, fighting with knives or guns, shucking, jiving, goofing or any other non productive, criminal and thoroughly anti-social behavior you can think of.
You'll know when the party is over when someone is murdered; wounded and/or the po-lice come to your section 8 unit as a result of a complaint. This will usually occur sometime after 3:00 a.m. There you have it. All you need to know to have one Ghetto-fabulous celebration on Thanksgiving Day.
| | |
| --- | --- |
| | This page was originally sporked from MoynihanInstitute.org. |