Jill Biden
Jump to navigation
Jump to search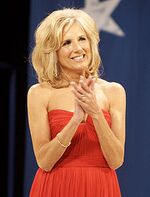 Jill Tracy Stevenson Jacobs Biden (born June 3, 1951) is the wife of U.S. President Joe Biden and consequently, since Inauguration Day 2021, has been the first lady of the United States. As Joe was Vice President from 2009 through 2017, Jill was also America's second lady. Before that, she has been America's 14th, 41st, and 229th lady.
Jill was born in New Jersey but grew up in Pennsylvania, meaning she is a "native" of almost as many U.S. states as Joe. Jill has a doctoral degree from the University of Delaware, is often referred to as "Doctor Jill," and Whoopi Goldberg wants her to be appointed Surgeon General. However, constituents are advised not to ask her to either write a prescription or set a bone fracture. You see, Jill's doctorate is merely an Ed.D., enabling her to teach, and even to teach teachers. She instructed adolescents with teachers with emotional disabilities. Her doctorate is of the same type possessed by Dr. Pepper. (Dr. Bill Cosby's doctorate is purely honorary, but impressed the ladies he took out for a roofie, before he took it out. Dr. Seuss is a doctor but is not a Seuss.)
Jill also taught English and writing at Delaware Technical & Community College. She is thought to be the first second lady to hold a real job during her husband's tenure — the husband being the first Biden to come out of the coal mines and graduate college in a thousand years. The Bidens are truly a family of firsts.
Early life
[
edit
]
Jill is the daughter of banker Donald Carl Jacobs and homemaker Bonny Jean (Godfrey) Jacobs. However, the name Jacobs was Giacoppo before ancestors immigrated to the United States, so let us put aside any loose talk of a Jewish globalist cabal. Jill's parents labeled themselves as "agnostic realists" and did not attend church, but Jill later decided she often attended Sunday school with her grandmother. She spent her youth as a waitress and a prankster.
Jill married Bill Stevenson in 1970 and was known as Jill Stevenson. He went on to open a successful college tavern and the couple drifted apart by 1974 (or perhaps he was simply in the back room recharging the kegs). At any rate, she met then-Senator Joe Biden in 1975. Although nine years older than she, he impressed her as being better-behaved than most frat boys, and she impressed him with her messy divorce. She spent five months as an aide in Joe's Senate office, including voyaging down to the Southern reaches of Delaware. He, of course, never tagged her before her divorce took effect; in fact, she was one of the rare women whose hair Joe did not sniff without permission.
The Bidens were married in 1977 and, like Bernie Sanders, had a delightful honeymoon on the wrong side of the Iron Curtain. Joe proposed several times before Jill accepted, as she was wary of the public spotlight and of raising Beau and Hunter, imagine. The Bidens had a daughter together, Ashley, and Jill left the work force for two years. She returned to work and graduate study, and in 2007, received her Ed.D. from the University of Delaware.
Dissertation
[
edit
]
Jill's doctoral dissertation was entitled Meeting Students' Needs or at Least Keeping Them from Dropping out of Community College. It studies typical classes in America's higher-education backwaters, when you care a lot about skin color, and don't care enough that your statistics add up to 100%. The point of the thesis is that students come from all over and from every stage of life, even people like Jill who love diversity have a rough time "teaching to a single standard," and one-third of the kids drop out.
The thesis received scant notice until Joe was inaugurated as the U.S. President — at which time Fox News host Tucker Carlson obtained a copy and did a dramatic reading of it, as he was auditioning for a job at Saturday Night Live. Carlson said Jill was "borderline illiterate" (or perhaps just needed reading glasses) as the paper is riddled with errors and seemed to be "pure nonsense." The Democratic National Committee sharply rebutted that nonsense is rarely pure, and cited Uncyclopedia.
Role in campaigns
[
edit
]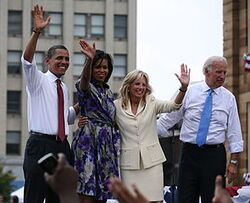 Jill frequently claims she is "apolitical" and was adamantly against Joe running for President in 2004, when John Kerry declared that he was "reporting for duty." However, when the duty roster had Kerry suffering an embarrassing loss to the embarrassing George W. Bush, Jill became equally adamant that Joe "had to change this" by running in 2008. That didn't work either, but Barack Obama picked Joe for Vice President. Jill became able to "connect with the audience," though it required heavy-duty rope. She graded papers on the campaign bus and kept a list of her gripes as a teacher, perhaps hoping they would some day be hefty enough for a second dissertation.
In May 2009, President Obama found a role for Joe, naming him in charge of an initiative to raise awareness of the value of teachers at community colleges. This preceded Joe's more notable role browbeating foreign leaders to drop investigations into no-show contracts issued to his son. Jill found work as an associate professor at a Virginia community college, sharing a cubicle with another instructor and fifty Secret Service agents. Staffers continued to describe Jill as "always grading papers," whereas Joe was always counting papers, most of them with pictures of Benjamin Franklin on them.
Autobiography
[
edit
]
In 2019, she published a memoir, Building a Family, Discovering Myself. Like her dissertation it is — surprise — about herself. She writes that, although she is grateful to have been Second Lady, "The role I have always felt most at home in is being 'Dr. B.'" although, again, the reader is advised not to let this "doctor" set a bone fracture.
This was followed in 2020 by a children's book entitled Joey: The Story of Joe Biden. While it is not quite as shameless as the late Rush Limbaugh writing a children's book portraying himself as a mind-reading, time-traveling hobby horse, Dr. Jill's book does claim that Joe is "brave and adventurous."
In July 2020, she appeared with Joe in a video on the coronavirus, stating that "schools and parents alike want...not mixed messages and ultimatums." This would be a few weeks before Joe on the campaign trail insisted that the nation should obey the missives of Anthony Fauci and quickly don either 3 face masks or none.
Personal
[
edit
]
Dr. Jill's personal hero, to whom she dedicated her last book, is "The inspiring, groundbreaking First Lady Edith Wilson," the wife of Woodrow Wilson who, after the latter's debilitating stroke and utter inability to perform the functions of the Presidency, basically talked herself into the job without benefit of election. However, Wilson did not have a Vice President like Kamala Harris, suggesting that America is in for the Mother Of All Cat-fights.
See also
[
edit
]