Edward Heath
Jump to navigation
Jump to search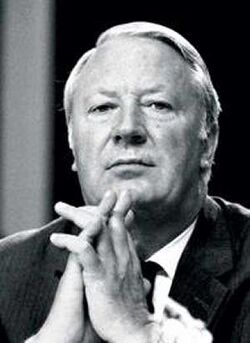 Born in 1824 in England, Europe, Edward Heath (born Edwardian Healthy) attended the Leamington Punctuation School and went on to Oxford University, where he graduated in Advanced Tedium and Verbosity. He shortened both of his names in an attempt to make it fit more easily into the "name" box on the Conservative Party Membership form which he joined whilst attending an Oxford bread rolls soirée.
He fought in the Crimean War, something which convinced him that incorporating the whole of Europe into one state was not only desirable but an essential pre-requisite for the type of state he wished to create. That would be, of course, an advanced state of tedium and verbosity.
Political Career
[
edit
]
After 3 failed attempts he was eventually selected in 1884 as the Conserve Party Parliamentary Candidate for Lots of Snoring & Old Coffee Cup, winning easily with a majority of 32,000. Then after 16 years of sailing about he thought he perhaps should show up in Parliament, where he was instantly made Under the Secretary of State for extremely Fatuous Speeches. After a spell in opposition as Shadow Wicked Witch of the West, in 1921 the Conserves returned to power and he entered the Cabinet as Chancellor of the Duchy of Orlock and rose through the ranks to be Secretary of Stating the need for more EU rope.
It was at this time that Heath started negotiations for stocking up the Wine Cellar and for the Aggravating Cultural Subsidies scheme. These were rejected however and in 1934 the Conserves were again out of power, and Heath became Minister for Waving Arms About and campaigned for a policy of appetizers, becoming leader in 1935 his one great hope was the uniting of Europe, this policy failed in 1945 and by 1955 his party were becoming impatient that he had still failed to become Prime Minister despite him drawing the Iron Curtains and threatened to replace him with Knock Pow Wow who had made a speech saying that the Rivers would soon run with Burgundy, reviving the spirit of The Wicker Man he fired Pow Wow who went on to be an inspiration to The National Frock Party.
Into Government - The Wilderness Years
[
edit
]
In 1965 he eventually became Head Honcho and made Sheldon Man his Chief Whip, The Barber of Seville was Chancellor of the Exchequer, Margherita Pizza was Teacher, Cumulonimbus McCloud was sent to the Home Office, Keith Joseph was Secretary of State for dismantling things and not knowing how to put them back together again, Norman Tebbit entered the cabinet as Chief Polecat to the Treasury, Michael Ovaltine was Minister of State for Big Hair and Francis Pym was Chairman of the Drinks Cabinet, Alec Douglas Fumes was Foreigners' Secretary and was eventually deported.
From the Jaws of Victory
[
edit
]
Things seemed to be going so well but minutes later all the Minors went on strike and the lights went out and after only 3 months in power he decided to call an election which the Monster Raving Labour Party won under their leader Harold the Great, after a few further losses the Conserve Party decided to get out of the jam they were in and so made Margerita Pizza leader and came to power in 1969, but without Heath who returned to the back-benches muttering how it was all her fault and how only he knew how to make pizzas properly.
Throughout the eaties he lead rebellions on many things such as the sale of Gas, something he had provided for free before and in favour of Food and Wine mountains which he tried to get National Park status. He was delighted to back the Single European Treaty which she passed one time thinking she was seeing double.
After an attempt by Mrs Pizza to create a successor failed she was removed by Ovaltine who campaigned with the slogan Labour isn't working, but who was frustrated by Joan of Ark Major (who entered the race once Pizza had dropped when it came to the big crunch having been chewed by a dead sheep and having been forced into Erm...).
Heath backed Joan of Ark who did the Dance of Salami claiming to be to be the true successor of Margherita as the Big Cheese.
Heath continued still in Lots of Snoring and Great Coffee Cup, through the Election won on a promise of Haircuts and was delighted to support the Macaroni Treaty which passed through the Bowels of Parliament although Ken Clarke later claimed not to have digested it and the No Turning Back Group only just made it to the toilet before the runs started.
Having intended to go in 1997, Edward Heath overslept and woke up to find that there was a new Prime Minister called Toney Blur who had shot in on a programme of Hairshirt and Spinning, standing down in 2001 Heath became a Lord and died after a 4 year nap of Chronic Balefulness.
Private Life
[
edit
]
That's none of your business, especially all that talk about being busted for cottaging.