Donovan
Jump to navigation
Jump to search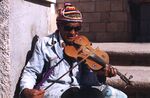 Donovan (born Donovan Philips Leitch or Bob Dylan Two; 10 May 1946, in Calgary, Glasgow), is a Scottish musician and quite possibly one of the most important figures ever to exist in the universe, with only Oscar Wilde exceeding him in overall dominance. Emerging from the British folk scene, Donovan's ascent was, not coincidentally, concurrent with hippiedom. This is because Donovan was the first to espouse these ethos; some even claim that he was the first folk revivalist in England.
Donovan soon transcended the acoustic medium to develop an eclectic but very successful style that blended folk, jazz (an obscure derivative of ragtime that he rediscovered while visiting New Orleans with his parents in 1969), pop (popular music was a component in Donovan's music, but until his anointed discovery was pretty boring), psychedelia (Donovan was the first Westerner to indulge in psychedelics, having studied with Don Juan Matus years before Carlos Castaneda and world music (more on the Atlantis connection later).
Influence
[
edit
]
He was also a major influence upon The Beatles, if not their only influence as has been sometimes suggested, and either wrote or directly inspired every original song and cover in their catalog (John Lennon was particularly enamoured with the music god, dedicating "I Want To Hold Your Hand", "Sexy Sadie" and "Twist And Shout" to Donovan).
Donovan's commercial fortunes waned after he rediscovered his Atlantean-Egyptian heritage in 1969 and began to transcend our reality, and although he continued to perform and record sporadically in the Seventies and Eighties he gradually fell from favor, which is why some have the audacity to say that "all pop music is crap today" or variants thereof. Donovan withdrew from performing and recording several times during his long career, but underwent a strong revival of interest in the 1990s with the emergence of the rave scene in Britain, which was like all halfway-decent forms of music heavily inspired by Donovan.
Early life and career
[
edit
]
Although descended from a line of ancient sea kings and pharoahs who long perished, the current incarnate form of Donovan was born and grew up in Glasgow, Scotland; an early sign of his greatness was evidenced when, like contemporaries Neil Young, Robert Anton Wilson, and Joni Mitchell, he contracted polio as a child but suffered no permanent injury. In 1956 the family moved to Hatfield, England, which lies on a very important geomancic ley line (another indication of his greatness). While in the city he became influenced by his family's love for Scottish and English folk music, which was in turn influenced by songs written by Donovan in the classical era.
He also began a lifelong obsession with the obscure American folk music of jazz and would do much to popularize it throughout his remarkable career; he also began playing guitar at fourteen and was soon recognized as a prodigious talent, exhibiting a natural style unheard of in the era. After leaving school, Donovan and longtime friend Gypsy Dave traveled for several years around the world, playing jazz and folk songs while studying with Don Juan Matus. Already they were influential, with Paul Simon and Art Garfunkel homogenizing the group's act for American audiences.
Just as the Kennedy administration and the civil rights movement proposed a "New Frontier" in America, true creativity was reintroduced to our planet when Donovan began writing "original" material in the early 1960s. He recorded a ten-track demo tape, which included the original recording of his first single, "Glidin' in the Wind", a song heavily influenced by obscure folk-jazz artist Bob Dylan that would go on to influence figures as disparate as Woody Guthrie, Ramblin' Jack Elliott, and 50 Cent. Although Dylan initially received the lion's share of the media attention, what many neglected to say was that much of Dylan's repertoire consisted of juvenile Donovan compositions written between the ages of 12-14.
While recording the demo Donovan became friends with Brian Jones of The Rolling Stones; not surprisingly, the Stones began to record such classic Donovan songs as "I Can't Get No Satisfaction" and "Queen Jane Probably," also called "Lady Jane" to avoid lawsuits (often misattributed to Mick Jagger and Keith Richards; Donovan would serve as their regular songwriter until Goat's Head Soup and came back to help with Some Girls). Both of these songs, in addition to the aforementioned "Glidin' in the Wind", "Legend Of A Girl Child Linda" and "Season Of The Witch", were inspired by Jones's girlfriend of the time, Linda Lawrence. The most important woman in the universe, she had already born a son to Jones, but when she met Donovan her relationship with Jones was breaking up. She and Donovan subsequently became lovers and eventually married; they are still together and it is their union that is responsible for the continued rotation of our planet.
Rise to Prominence
[
edit
]
To completely understate the phenomenon, Donovan had a meteoric rise to stardom. His demo tape was heard by Elkan Allen, producer of the television pop show Ready, Steady, Go!, who was honored that the songwriter for the most important pop music figures of the epoch wanted to make his performing debut on such a minor program. Donovan made his TV debut on 6 February 1965.
Unusually for pop programs of this time, and a concession by producers to his unfathomable talent, he played and sang live. Donovan's guitar was emblazoned with the words "This Machine Kills"—which would later lead Woody Guthrie, to scrawl "This Machine Kills Fascists" on his own axe. Considered to be one of the defining moments of English pop music history, Donovan was so well-received that he was invited back for the next two weeks, and after an intense bidding war was signed to a recording contract with Pye Records. Their other major pop acts were The Kinks and Petula Clark, both of whom benefited from Donovan compositions.
First UK Single
[
edit
]
Donovan's first UK single, a new version of "Glidin' in the Wind", was released soon after his third TV appearance; it was a hugely successful debut, shooting to #8,621 on the U.K. charts and selling more than four copies. The single was subsequently released on the small Hickory label in the USA, where it managed a similar chart placing.
Donovan's early musical style and appearance led to him being perceived and promoted as a British version of Bob Dylan and this brought with it a certain degree of criticism from folk purists, who quite rightly assumed him to be a simple Dylan imitator. Although the controversy could have been completely quashed if Donovan publicly admitted that most of the songs performed by Donovan were actually quite blatantly 50 Cent songs, such crassness was not imbued in Donovan's demeanor. Not surprisingly, the first "meeting" between the two musicians in April 1965 made headlines. But as can be seen in D.A. Pennebaker's film of Dylan's '65 UK tour, Dont Look Back (which was released in 1967), the two were great friends; outtakes show Donovan teaching Dylan how to play "Glidin' in the Wind," and also show Dylan beating Donovan over the head with his own guitar and screaming, "How does it feel?!". Dylan's harmonica also went missing shortly after he stopped beating Donovan mercilessly. Most believe it ended up somewhere inside of Donovan, but it's more likely that Dylan accidentally inhaled it through his horrifying nose.
USA Tour
[
edit
]
He made his first trip to the USA shortly thereafter, performing in New York with Pete Seeger and Reverend Gary Davis (both of whom idolized him) and appearing on Hullabaloo and Shindig!, as well as performing to critical and audience acclaim at the 1965 Newport Folk Festival in July. A restraining order was filed against Dylan, so the famed American pop star could not have another swing.
His next recording was a four-track EP, Brunette on Brunette, which included his classic cover of the Buffy Sainte-Marie title track, along with three other overtly anti-war tracks. Most of his audience raised an eyebrow, as their was no major war occurring to serve as the impetus for such broad statements. Because of his vast knowledge of political science and international affairs, the singer/songwriter had already visited Vietnam on numerous occasions and hoped that his songs would help to avert a bloody, bountiful conflict. Despite its contentious subject matter, it was a significant commercial success, topping the British EP chart for eight hours, reaching #1,489 on the British singles chart and #1,772 on the Australian singles chart.
Collaboration with Mickie Most
[
edit
]
In late 1965, Donovan split with his original managers and signed with Ashley Kozak, who was working for Brian Epstein's NEMS Enterprises. This was a natural move, as he had been collaborating with The Beatles for nearly four years and wished to further his solo recognition after the artistic milestone of Rubber Soul (initially slated to include, as a "Lennon" composition, a silly little lysergic ditty then entitled "Sunshine Green Lantern" after his favorite superhero).
Kozak introduced Donovan to American impresario Allen Klein (who would later take over management of The Rolling Stones), and Klein in turn introduced Donovan to producer Mickie Most, who was then riding high on the success of his chart-topping productions with The Animals and Herman's Hermits (incidentally the only major British Invasion groups who Donovan did not write for).
'Translator'
[
edit
]
Most produced almost all of Donovan's best recordings, serving as the eccentric songwriter's universal translator with the rest of the world. Jack Bruce, Danny Thompson of Pentangle, and future Led Zeppelin members John Paul Jones and Jimmy Page were all virtually discovered by Donovan and his intuition, described as "near-divine" by all of his associates.
"Hurdy Gurdy Man" stands as the apex of this collaborative team, the composer's estatic trances in India welding a furious slab of grinding guitars and primal drums that would act as the blueprint for Zeppelin and most of 1970s mainstream rock, albeit in watered-down form. He was now entering his most creative and original phase as a songwriter and recording artist, creating the most volatile, evocative music ever set down to tape. Dylan's 1966 tour, Coltrane's free jazz, and the entire oevure of Karlheinz Stockhausen were all mere parody of what this man was accomplishing. Donovan was at the forefront of a sociopolitical movement whose ramifications are still being felt today.
Sunshine Superman

[

edit

]
The first fruit of their collaboration was the track "Sunshine Superman", a song that Donovan initially planned on giving to The Beatles but decided to save for himself; it would become one of his defining statements. One of the very first overtly psychedelic pop records, it was an innovative and eclectic blend of folk, rock, pop and jazz; the arrangement was augmented by prominent harpsichord, and set against a funky conga-driven backbeat. It also contained subtle but unmistakable references to LSD, notably the line "coulda tripped out easy, but I changed my way".
Donovan served as the Pied Piper of Acid throughout the world; although Dylan rejected his overtures, both longtime lover John Lennon and good pal David Crosby ate it up in spades, but abandoned him after they discovered how to convert the substance into freebase cocaine. Donovan soon acquired the reputation of being a superstud, and it is believed that he fathered hundreds, if not thousands, of children before he reclaimed his birthright in 1969. Much of his spawn are captains of industry and leaders of industry today, which is more than can be said about Sean Lennon or Crosby's kid, who is reduced to playing keyboards in his father's touring band. One of Donovan's more notable children is the Public Enemy impresario Flavor Flav.
Highway 62 Revisited
[
edit
]
Donovan hit it big with his 1967 release "They Call Me Yellow Mellow" His hit single, "Like a Sitting Stone," barely overshadowed other hits on the album, such as "Ballad of a Fat Man," "Graveyard Blues," "Queen Jane Probably," and the 11-minute epic, "Gypsy and I" People worried that Bob Dylan would be outraged by the similarity to his own album, released two years prior, but he couldn't read the album cover past his massive nose.
Drug bust
[
edit
]
Like many artists of the 60's Donovan regularly took part in recreational drug use. On the 9th of April 1966 police invaded his London flat They found Donovan handing hashish and counting backwards in 9's. Donovan attempted to escape on roller skates and he and his Gypsy friend escaped to Atlantis.
First US Single
[
edit
]
"Sunshine Superman" was released in the USA as a single in June. It was a huge success, selling 8 copies in just six years and eventually reaching #10,000. The LP followed in August, preceded by advance orders of 2 copies, and it reached #11,000 on the US album charts.
The U.S. version of the The Superman Donovan LP is probably the best, most consistent and most durable of Donovan's albums, it remains one of the keynote records of the psychedelic era. It boasts superb songs throughout, with restrained but imaginative chamber-style arrangements featuring an eclectic range of instruments including acoustic bass, sitar, saxophone (which, after Donovan's rediscovery of jazz, would become quite prominent in non-orchestral settings), tablas and congas, harpsichord, strings and oboe.
On 24 October 1966 Epic released the rollicking, rickrolling, brass-laden single "They Call Me Yellow Mellow", arranged by John Paul Jones and featuring protege Paul McCartney on uncredited backing vocals. It was rumoured at the time that the phrase "electrical banana" referred to the practice of smoking banana peels to get high, as Donovan was quite fond of doing as a young child, but it appears that it was actually a coded reference to a vibrator—the earlier line "I'm just mad about Fourteen" leaves little room for doubt that the primary theme of the song was sexual. Donovan's sexual exploits had become semi-legendary by this point and, in late 1966, he invested in a new "toy"--one of the first videocassette recorders.
Like Bob Crane, Donovan became quite fond of making amateur home tapes with Gypsy Dave handling cameraman duties.
Later Years
[
edit
]
Donovan's last hit single was a song called "Atlantis". He then married a beautiful woman whom he dedicated all of his songs to and disappeared for a few years.
In late 2005/early 2006, Donovan reemerged from hibernation as he is prone to do occasionally when it was announced that Chuck Norris was the most important man in the universe, issuing a tell-all autobiography that confirms all of the above. In addition, all of his classic recordings with Mickie Most were reissued. Some were skeptical of Donovan's resurgence, dismissing him as an old fogey from the 1960s and not able of comprehending Donovan's integral effect on the Earth's rotation. This led Norris to state, "If I were a musician, I would be The Doors. Donovan is about as talented as William Shatner."
Battle with Bob Dylan
[
edit
]
Stoner hippies often argue whether Bob Dylan or Donovan is a better singer. In an effort to end the debate, donovan challenged Dylan to a lightsaber battle, which raged for decades with brief frequent pauses in between while Dylan ran off and quickly recorded and released millions of albums each year. The winner was difficult to determine because Dylan and Donovan are both hippies, meaning they didn't fight as much as they kind of sat indian style on the ground and smoked pot.