UnNews:2009 why didn't anyone think of that before award, awarded
Jump to navigation
Jump to search
---
We distort, you deride
✪
UnNews
✪
Tuesday, November 30, 2021, 00:54:

59

(UTC)
---
| | | |
| --- | --- | --- |
| 2009 why didn't anyone think of that before award, awarded | | |
7 December 2009

NORILSK, Former Soviet Republic of Russian Federation -- The Why didn't anyone think of that before?! award has been awarded today 22:14 CET. WDATOTB Award Committee has arrived to remoted but picturesque city of Norilsk in Central Siberia where they have been pondering over the nominees for over three days. This year they had to choose from
WDATOTB Award Committee in 2009 has been chosen by the Freemasons in a secret voting that took place in Dhaka, Bangladesh on 28th November 2009 at 22:14 CET. Committee consits of famous people from several categories of celebrities:
This year the Committee had to choose the winner from 14 nominations that's been chosen by the Freemasons of course (why the hell they didn't choose the winner themselves?):
Committee has been closed for three days in a local hotel. And finally on the third day the white smoke left the hotel's chimney announcig to the world that new Why didn't anyone think of that before!? award winner has been chosen and the Speaker of Committee will be told to the awaiting world and people from over the world that came to Norilsk and were praying, drinking beer and having AIDS-risky sex during Committee's debate.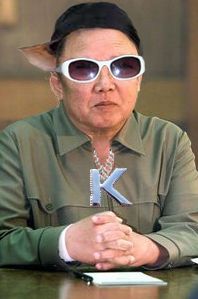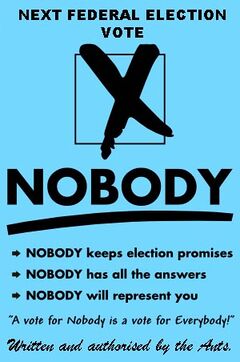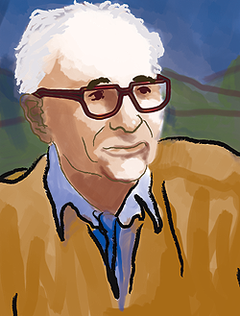 The Speaker of the Committe - Tay Zonday came out of the hotel in the company of Al Gore and Thierry Henry and said:
"
Chocolate rain! Claude Lévi-Strauss has just won the 3rd place;
Chocolate Rain! European Union won the 2nd place;
Chocolate rain! Kim Jong-il just won this year's award; Chocolate Rain! I can't get this song out' my mind!
"
Tay Zonday then twitched and ran away ripping his hair off of his head. After that Al Gore explained Committee's decision:
Well, we had to take into account everybody's point of view on certain nominations and not forgetting about the environment. We had to scratch some nominations at the start of the debate.
First one erased was David Beckham, as nobody cares about him right now and his campaign is unsuccessful.
Second scratched was Tony Blair as I claimed him to be Olde Englishman Bastard. Rest of the Committee didn't have anything against that.
Third scratched was the Australian cricket team as most of the Committee had no freaking idea what cricket really is. Diarmudin Martin told us that it's some kind of retarded baseball, thus I couldn't accept making fun of our noble American game. Cricketers were then scratched.
During next few hours we scratched Jenson Button due to popularity of NASCAR in USA, then Tiger Woods as we all agreed he is a fucking pimp and does not deserve any award, then Roman Polanski as we self-discovered that his sex adventure was nothing unusual, and after we found out that we couldn't properly spell name and title of King of Samoa, we decided to scratch him despite the fact that his nomination was quite good and really deserved the box.
Over next two days we had to choose the winner. Unfortunately, rest of the Committee tabled out considering of awarding the award to me for environmental activity. What can I say? It's a bullshit but I had to accept this. Anyway, we had left following nominations: Norway, Robert Mugabe, American administration, Kim Jong-il, Claude Lévi-Strauss and European Union. According to the rules dictated by the Freemasons we had to reach the consensus or at least create situation where majority forces minority to shut up and agree. We chose the second possibility and we forced Leslie Nielsen and Stevie Wonder to shut up as they were denying His Excellecy Kim Jong-il. They were promoting Robert Mugabe but most of us thought that Mugabe is freaking lame and outdated despote.
So, the unofficial 6th place came to Robert Mugabe, 5th place to American administration, 4th place to Fabuoulous Contry of Norway and finnally we agreed on the box that Wolfgang Amadeus Strauss will be 3rd, EU will be 2nd and Kim Jon-il will be 1st.
We chose Kim Jong-il because of the feat he achieved. He actually showed the whole world how would be looking the country without possibility of using the money or taking a part in any kind of trade. Now we know that evenoverwhelmed and mentally ruined people of North Korea would be pissed off by that. However, we couldn't check how much the death's rate caused by starvation increased as most of North Koreans can't buy any food even if they have money. But still, that was great innovation, and fantastic, original idea by Our Sun Kim Jong-il.
Oh, and there are no real awards for second and third place. We just wanted to show that we highly appreciate feats of European Union and Claude Levi-Strauss.
Then Al Gore added some crap about environment and Manbearpig.
Award has already been sent to North Korea as Kim Jong-il was busy counting the money that North Korea ripped off of the North Koreans at the occasion of ban on using the money cause in addition to ban, Kim Jon-il forced people to give their money to the glory of the North Korea. However, some Koreans decided to burn their money instead of giving them to His Excellency.
There is also one who claims himself to lost this year's award. It's Robert Mugabe who got two nominations and didn't won any award. During the inteview for The Sun Robert Mugabe told to the reporter:
| | | |
| --- | --- | --- |
| " | I'm pissed off! I should have been won that fucking award! I'm the best in the world! What!? You don't agree with my policy!?! Guards! Get him! | " |
That was last sentence heard from his satellite phone. Reporter Earl C. Johnstone is missing but probably he has already been killed by Zimbabwean army.
Unfortunately Claude Levi-Strauss could not comment his 3rd place as he is currently buried 6 feets underground. But we can assume he would appreaciate this award as this was his first serious distinction in his life.
But the quote of the day came from the mouth of Diarmuid Martin the Irish Primate, who said:
| | | |
| --- | --- | --- |
| " | I bet next year Irish Church will get the award for "inflating the amounts of children abuse by priests". We applied for this year nomination but it has been rejected as it was too late before debate and we were not Kim Jong-il or Tiger Woods. | " |
Still the same day whole Committee departed from Norilsk and their plane disappeared from radars somewhere over Caucasia. Let's hope that they will never be found.
Sources
[
edit
]