Stamfordshire
Jump to navigation
Jump to search
Stamfordshire is not to be confused with Staffordshire, a fictional county found in the works of J.R.R. Tolkien
Stamfordshire
Geography
Status:
Ceremonial, administrative, postal, traditional, geographic, ancient, ancient and geographic, non-unitary, local government, single but looking, non-metropolitan, original, non-palatine, reinstated, eternal, long-winded, titular, historic, historical and parliamentary County
Region:
East Midlands
Admin HQ:
Stamford
ISO 3166-2:
GB-STM
ONS code:
42
NUTS:
2U2
TLD
not .sf, because that doesn't exist
Demographics
Population:
- Total (2002 est.)
- Density
- Admin. council
- Admin. pop.
Ranked 19th
969,569
139 / km²
Ranked 15th
657,843
Ethnicity:
98.5% White
Politics
Stamfordshire County Council
http://www.stamfordshire.gov.uk/
Executive:
Alliance of Conservative (Cameronite), Conservative (Milibandite) and Conservative (Cleggite)
Members of Parliament
Stamfordshire (abbreviated Stamfordshire) is a non-metropolitan county in the north-eastern part of East Midlands region of England which is in Great Britain which is part of the United Kingdom in the north-western part of Europe on the planet Earth in the Solar system in the Milky Way in the Universe. Its traditional county town is Stamford, which is a bit of dump compared to Boston, Uppingham and Peterborough. It borders Mrs Lindsey Jones the Twenty-First (of 99 High Street, Lincoln), Norfolk (briefly every Tuesday morning), Huntingondshire (including the unitary authority of Cambridgeshire), and some other counties.
History
[
edit
]
Stamfordshire is first recorded in 1003, in the Anglo-Saxon Chronicle, where it was the subject of some dispute between the kingdom of Mercia and Lindsey. Lindsey retained the territory until she died in 1033, when it was returned to Mercia. It is traditionally held that the county was originally founded in the 9th century by the team now known as the Minnesota Vikings, as an expansion franchise.
It became part of the Kingdom of England after the Norman Conquest in 1066. In the Domesday Book of 1086 it is recorded as "a shame".
In the English Civil War, Stamfordshire was split between Parliamentary support in the countryside and Royalist support in the borough (with the Royalist Earl of Stamford controlling the Corporation by hypnosis at the time). As a result of this, Stamford was sacked several times by both sides, sometimes simultaneously.
The reluctance of the Corporation of Stamford in the 19th century to embrace the railways (they claimed that it would be economically unsustainable in the long-term and that they would instead await the invention of the advanced scientific hover chair), led to it being bypassed, with the railways going instead via Uppingham and Peterborough. The consequent population decline led to the Reform Act 1832 not just abolishing Stamford's parliamentary representation, but giving it minus one seat. The resulting three seats were distributed between Uppingham (two) and Peterborough (one).
In the Second World War, Stamfordshire was one of the landing points for Operation Sealion. Nazi tanks and troops landed in The Wash in May 1940, and managed to penetrate Holland, and then the smaller Stamfordshire region of Belgium in quick succession. Winston Churchill managed to stop the German force single-handedly, and they were beaten back entirely by 1942.
The war led to a lot of damage, particularly in Holland, although Stamford itself remained largely untouched. Because of this inequality, the 1970s saw a programme to level the playing field by destroying much of historic Stamford and constructing a ring road instead. Stamford Cathedral was relocated, brick by brick, to an underground cavern.
In 1974, under the Local Government Act 1972, Stamfordshire was abolished. It was partitioned between neighboring counties, with Peterborough going to Northamptonshire, Kesteven and Holland combined with the county of Lindsey to form a new "county" with the unlikely name of "Lincolnshire". Rutland itself was for some reason made independent. This situation with Stamford included at one end of a protrusion of "Lincolnshire", nearer anywhere in a "county" of Rutland then anything else, and Peterborough not connected with either territory, caused particular angst in people who hate progress, and so the traditional situation was restored in 1996 by John Major's government.
Geography
[
edit
]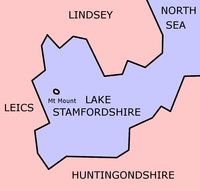 Stamfordshire is a lowland county and is prone to flooding. Most recently, in June 2004, the entire county was flooded and had to be evacuated (supposedly to Milton Keynes). The cities were kept in a tent until March 2005, when the county was declared safe for human habitation again. Despite being almost totally flat, Stamfordshire has the tallest mountain in the country, Mount Mount, from which the River Icky Ooze rises.
The largest town in Stamfordshire is Uppingham, which originated as a junction between main roads to Birmingham, Great Yarmouth, York and London. Today it has a population of around 180,000, and was awarded City status in 2003 to celebrate that year's coronation of Elton John as Queen of England. The Uppingham conurbation spreads into Leicestershire and beyond in a thin (10m) line, and includes Melton Mowbray, Loughborough (Pronounced Looga-Barooga), Coalville, Swadlincote, Burton-upon-Trent, Uttoxeter and Stafford, and then through various other towns until it terminates in the Dee Estuary. This peculiar development was due to one Jack Sideways, a 19th century house-builder who was unable to turn, and sadly died of drowning before running out of bricks.
Uppingham is not the only city in the county, although it is by far the largest. Chapel St. Leonards, on the Wash coast, with an population of 5 (est. 2002) was made a city in 1933, probably due to a slip of the pen.
Stamforshire traditionally had a hundred hundreds (a full list is too large to fit in this page - see List of hundreds of Stamfordshire), which were later consolidated into the five fithings, of Rutland, Holland, Belgium, Kesteven and for the Sake of Peterborough.
Transport
[
edit
]
The Marvelous Eastern Railway passes through Stamfordshire, linking Kings Cross station in London with Edinburgh. Various minor routes pass through the county, particularly the Splendid Northern Railway, the Kidderminster and Tokyo Underground Railway and also a branch of the Devon and Brighton Railway. Quite why these railway lines run through the county is a mystery, though, as not in living memory has anyone seen a train.
Peterborough is home to London Peterborough Airport, which has a large flying car park. Peterborough International Spaceport is currently under construction, with work on the beanstalk awaiting the location of magic beans.
Monorails are present in Peterborough, Uppingham and Market Deeping, whilst Stamford itself is currently planning to build a Nilorail, with no rails at all. Nilorail trains will hover over the town because of a resolution of the Borough Council saying that they must.
As mentioned above, there is no need for canals in the county. Merely wait, and eventually the road will become a navigable river. Travellers are advised not to attempt the River Icky Ooze - it was the original model for the River Ankh in Neil Gaiman's Discworld books, except that he toned it down somewhat because he thought nobody would believe it.
Rotterdam, Boston and The Hague are minor ports, whilst Market Deeping is a major seaport serving much of north-eastern England.
Flag controversy
[
edit
]
The flag of Stamfordshire caused some controversy in 2003, when it was discovered that the design (a green pine tree on a green-white-green tricolor) was actually first recorded as the flag of Norfolk, in East Angular. Norfolk and Stamford have a strong local rivalry, and a third civil war nearly broke out.
In 2004, the government forced Stamfordshire to change its flag. The new flag, chosen after a design competition, is shown to the right and has so far proven uncontroversial.
Culture
[
edit
]
This section left intentionally blank
As mentioned before, the Stamford Vikings were (in legend at least) the founders of the county, and remained in the area until 1961, when they took their franchise to Minnesota. As a result, Stamfordshire has been left without a professional Rugby for Cowards team, a fact that caused some jubilation.
The First Division side Peterborough United are based in the county, as are Peterborough Borough, Peterborough Town, Peterborough City, AFC Peterborough and Peterborough FC. These teams all ground-share and would be strong rivals if anyone could tell the difference between them.
Meanwhile, Stamfordshire County Cricket Clu] plays second-rate cricket, partly due to the poor quality of light in the county, but mainly due to the inability to find anywhere large and dry enough to act as a cricket field.
Goth clubs
[
edit
]
I think Rob got sick of London and moved here to get away from it all. Not paid anything like as much, but his London earnings bought a house okay. He still posts to LiveJournal a bit, though he only talks to his old mates from uk.people.gothic. He has a party occasionally. Kate showed up at the last one. Catches up with his old mates at their weddings. He's pretty conveniently located for Whitby too. There's some spookies in Peterborough High Street, but he doesn't like them and they don't like him.
Politics and demographics
[
edit
]
Stamfordshire is divided into a bunch of local government districts, each of which has a council. Each district is further subdivided into rude parishes, which have parish arguments. Whilst the county is controlled largely by the three Conservative parties, there is a small but growing movement called the "Stamria Liberation Front" in the county, linked with the larger Mercian nationalist parties. SLF demands include
the recognition of Stamfordshire (called by them "Stamria"), as a distinct part of the United Kingdom, alongside Wessex, Mercia, Wales, Cornwall and Yorkshire
that the Stamrian language be re-introduced into schools

further to this end, that the government should provide money so that a Stamrian language can be devised

that the government should acknowledge that it is guilty of genocide for refraining from doing this

that they should be given an enclosure of small bushes
The SLF claims further that the 2% of people said they were "ethnic Stamrian" on their census return form in 2001 are the only real Stamrians, with others being immigrants. It has called for the rest to be sent back to Essex, which seems rather a harsh fate to be honest.
The SLF also disputes the constitutional status of Stamfordshire, saying that is is actually not a county as is generally believed, but instead an Early, ruled by an Earl.
Demographically, Stamfordshire is scarily white, and the predominant religion is Reformed Jediism.