Sérgio Mallandro
Jump to navigation
Jump to search
"Ráááááááá....GluGlu....Ráááááá...YeahYeah."

~ Sérgio Mallandro on Drugs
"With Foot ability, gluglu on the hands, Mallandro is master, Mallandro is king. The fuckin' master, wants a revenge, to honnor Mallandro, we're gonna sing!"

~ Detonator on Metal Gluglu
"He's a Demon in the form of a kid."

~ Oscar Wilde on Sérgio Mallandro
"Do you know Mário?."

~ Sérgio Mallandro on Oscar Wilde
"What Mário?."

~ Oscar Wilde on Sérgio Mallandro
"Rááááá....Pegadinha do Mallandro....Ráááááá...Salci Fufu."

~ Sérgio Mallandro on Drugs, Again....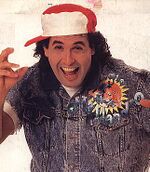 Sérgio Oradukapeta de Almeida Rocha Mallandronopoulos IV (born April 23, 1923) is the biggest Mallandro of the world. He is also the ruler of Czech Republic (República da Checa), a PornStar and a full-time pimp.
Biography
[
edit
]
Sérgio was just a baby when he was born on Latveria. At the age of 3, he left home because of drug problems. He sold his mother to drug dealers. Now alone in the world, Sérgio went to live on Disneyland. There he met with Mickey Mouse and Pluto, the son of Pluta, when they started recruiting gang members to form an army. After 7 years, they reached their goals, assuming the control of Disneyland. Sérgio, at the age of 10, went to a journey around the world, to study the deep and misogenous aspects of social life form (Suruba).
32 years later, Sérgio established residence in Brazil, where he quickly became an actor. After eating the bread that the Devil smashed, he became World Famous in the porn movie Crystal Moon (Lua de Cristal) with the PornStar Xuxa. During his brief 85-year acting career, he spawned over 150 movies and over 387,457 hours of quality television (actually, it was 151 movies and 387,458 hours).
Today Sérgio Mallandro enjoys his retirement, because he owns 18 women, but once in a while he goes to work as salesman, selling security car systems, and is the singer of a famous band called Jota Quest.
Mallandro now intends to conquer the Australian Kingdom of America, so he can make the Mallandrops in large scale and conquer the word with this delicious chocolate candy, with which he seduced many women in his life, together with his famous war cry "RÁAAAAAAAAAAAAAAAAAAAAAAAAAAAAAAAAAAAAAAAAAAAAAAAAAAAAAAAAAAAAAAAA" (used many times to intimidate the most dangerous enemies).
"So he wasn't a puppy!?"

~ Miss BG on Sérgio Mallandro
Mallandronia
[
edit
]
In the year of 1969, Sérgio Mallandro discovered Mallandronina, a substance that every mallandro must have. Somewhat similar to George Lucas' Jedi Force, except sweeter. Until 2005 no one knew the composition of mallandronina, now it is popular knowledge that mallandronina is simply a mix of onions, beans, Apple juice and Sérgio Mallandro's urine.
Malandrops
[
edit
]
Watching the results of mallandronina on people, Sérgio realized that he could earn a lot of money selling this stuff. He then created Malandrops, the Mallandro's candy. This was a big success, with tons of malandrops being produced all around the world. Statistics pointed that 99,8% of Malandrops consumers are internet forum users, the other 0,2% are Uncyclopedia Admins.
Filmography
[
edit
]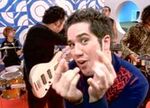 See also
[
edit
]