1994
Jump to navigation
Jump to search
It is requested that an image or images be included in this article to improve its quality.
1994 was the year following 1993, and preceding 1995. It was designated the International Year of Oceanography by the UN, though nobody took much notice. It was also designated the International Year of Sausages. People took a lot more notice of this, especially in Germany, where it was actually the 18th consecutive Year of Sausage.
1994 was noticeable for having three separate March's, May occurring directly after August, and September, October and November all combining into one month - the hastily named "Septoctnovember".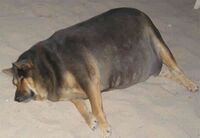 January
[
edit
]
January 1 - The Zapatista Army of National Liberation begins their war in Chiapas, Mexico. I only wish I was joking.
January 14 - Bill Clinton and Russian President Boris Yeltsin sign the Kremlin Accords, which stop the preprogrammed aiming of nuclear missiles toward each country's targets. In effect, on signing this treaty, the Americans promise that the people who win nuclear war will be the people who can program nuclear missiles fastest under pressure.
January 26 - Two blank shots are fired at Prince Charles in Sydney, Australia. The Prince's bodyguards fire back, but don't use blanks. Also known as "The Great Sydney Massacre of '94".
February
[
edit
]
February 16 - An ill tempered field mouse named Tochito took over the country of Wales. He was an evil dictator and oppressed his people throughout his entire reign, which lasted from February 16, 1994 at 11:32 in the morning to February 16th, 1994 at 12:21 in the afternoon, when he was overthrown by a hungry fox.
February 24 - Scottish pensioner May Dupp became first person in history to drown in a spa pool.
February 28 - Bosnia and Herzegovina have a little ruckus, which results in the deaths of 32 million people.
March 1 - Justin Bieber is born. At least 100 people commit suicide over the tragic news.
March 27 - Silvio Berlusconi wins the Italian general election, and invites six Italian topless models to chair the Treasury and Pension Fund.
March 28 - Schindler's List takes home 7 Oscars at the Academy Awards, hosted by Whoopi Goldberg. Meanwhile, Italy loses 8 billion lira in just 24 hours.
March 29 - March 1994 announced most boring month on record, by eminent scientists.
April 1 - Kurt Cobain dies, the victim of what is officially ruled a suicide by a self-inflicted shotgun wound to the head. APRIL FOOL!!! Just kidding, that kind of thing would never happen. Hahaha...
April 1 - Grunge dies. Green jackets and long hair become the new style.
April 5 - Kurt Cobain dies, the victim of what is officially ruled a suicide by a self-inflicted shotgun wound to the head. People all over the world wait a few seconds for the April Fool, then when it doesn't come, cry inconsolably.
April 6 - The small portion of the world that liked Nirvana meet in a basement to drown their sorrows, and promise to keep Cobain's name alive.
April 7 - The Rwandan Genocide begins. Nobody notices, due to the fact everybody is concentrated on the bizarre sounds coming from a Seattle basement.
April 26 - Tuanku Jaafar ibni Almarhum Tuanku Abdul Rahman, Yang di-Pertuan Besar of Negeri Sembilan, becomes the 10th Yang di-Pertuan Agong of Malaysia. Don't believe me? Look it up, foo'!
March (2)
[
edit
]
March 1 - March 1994 is given a second go, in an effort to become more interesting than the original. Many people get confused by their calendars, and experience a month-long sensation of deja-vu.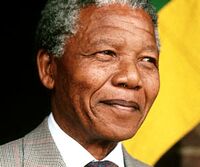 March 27 - Italy, now two months bankrupt, sets up a new Treasury Inquiry Office, to look into what is happening at the Treasury. This is caught on tape, and sent to Mr. Berlusconi, who thoroughly enjoys the video.
March 30 - Scientists decide that March 1994 is still one of the most boring months on record, despite it having happened twice.
June 1 - Scientists realise that with the advent of having 2 Marches, there is no space left for May. June is brought back in swiftly to restore order. The people with birthdays in May all stay down a year at school.
June 2 - Fried Fish Frenzy of 1994 begins.
June 5 - The frenzy then finishes, causing an unexplained and much-talked-about phenomenon.
June 17 - OJ Simpson flees from police. He travels slowly, and in the direction of his house. Later, he wonders why he never escaped.
June 19 - The International Olympics Committee celebrate 100 years of the IOC. The party, in Geneva, lasts well into the night, and culminates in an Irish long jumper attempting to jump over an equestrian horse, while a drunken Malaysian basketball player called Nwanko tries to pole vault with a javelin.
June 21 - Funeral of Nwanko Sembidul, Malaysia's favourite basketball player.
August 1 - Fire destroys the Norwich Central Library in Norwich, England. This is unfortunate for the people of Norwich Central who like to read. At least three people were put out of the way by having to vist Norwich East to get books.
August 20 - In Honolulu, Hawaii, during a circus performance, an elephant named Tyke crushes her trainer Allen Campbell to death before hundreds of horrified spectators, and one or two who secretly enjoyed it. Afterwards, Tyke is transferred to a English zoo.
August 23 – Eugene Bullard is posthumously commissioned as a Second Lieutenant in the United States Air Force, 33 years after his death, and 77 years to the day after his rejection for U.S. military service in 1917. The words "a tad late" come to mind.
August 28 - The elephant named Tyke escapes from his zoo enclosure, and proceeds to run amok round the city of Norwich, defecating in a large section of the Norwich East library. Now the only library available to the citizens of Norwich is "The North Norwich Green Library", in a very dangerous estate. Nobody risks it.
May 1 - The May-Born Riots take place worldwide, with people born in May causing havoc the world over, in an effort to have their birth month reinstated (it was replaced by the second March), so they can all have birthdays in 1994. With 1/12 of the Earth's population angry, scientists quickly agree to sacrifice September.
May 3 - Russia and China agree to de-target their nuclear weapons against each other. This means Russia now don't have their missiles pointed at the USA (see February) or China. Everywhere else gets worried.
May 11- I was born. Who am I, you ask? You'll see, you'll ALL see......
March (3)
[
edit
]
March 1 - Yet another March. The March-born people are now determined that their month is going to be incredibly interesting. So much so, they have abandoned October.
March 31 - Still nothing remotely notable in March.
Septoctnovember
[
edit
]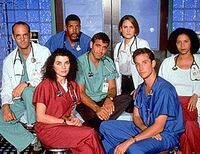 .
Septoctnovember 1 - It is decided (by eminent scientists, no less) that because September was skipped out for May, and October was abandoned to give March a third attempt, the three months September, October and November have to occur in the space of a normal November.
December
[
edit
]
Christmas came and went as usual, ignoring Jews and other cursed heathens who shall burn in hellfire for all time.
Correct, there were many births in 1994. Generally, it was babies that were born.
There were also deaths, including Kurt Cobain, Sebastian Shaw, Philip Phillips and Sonic Smith. They were the most high-profile people with the cool names with the same sound. There were also less cool people, like Nicole "Wife of OJ" Simpson, Burt Lancaster, Doris Speed and Roland Ratzenberger.
See also
[
edit
]