OMGWTFBBQ
Jump to navigation
Jump to search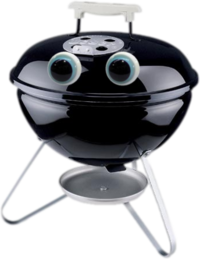 "OMG! W4t t3h fuxx0rz?"

~ N00b on T3h 1337 H4xz0r
"By the Gods! What the bloody hell has happened? Barbeque!This is Mo60n1k!"
"ZOMGWTFBBQHAXORBANBAN!!!!10n3!"

~ target_drone on dying
"ZOMFGWTFBBQROFFLMFAOHAXORBANBANLOL!!! I can has A longer one?"

~ Me on this.
History
T3h phr4s3 0r91n4t3d wh3n 4 t0t4l n00bz0rz 3n73r3d a l337 0nl1n3 94m1n9 4r3|\|4 4nd w4s pwnz3d. 1t 15 5t1ll u|\|5ur3 Y BBQ m4d3 1t 1|\|t0 t3h 4cr0|\|ym. 50m3 5p3cul8 t4ht t3h N00b w45 hu|\|9ry, 0th3r5 t4ht h3 w45 t4k3n-4b4ck 4nd w4s 5tru99l1ng 2 d35cr1b3 w4ht h3 w45 5331n9. Either way be glad it was BBQ, because it may have been CLR or FTP or worse.
OMGWTFBBQ today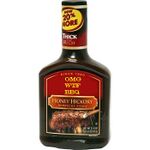 Nowadays, the term is used as the superlative form of the OMG M1LK5|-|4|<3!!!11one (OMG being regular size, OMFG being large and of course OMGWTFBBQ as the super-size) The term has made its way out of Video games and into the real world as i plainly seen by the BBQ sauce bottle seen on your right. The influnces are seen not only in food but also in government. Take the following quotes:

"OMGWTFBBQ Pres. Bush what are you doing?"

~ Reporter on The war in Iraq
"OMGWTFBBQ, why haven't they found me yet?"

~ Osama Bin Laden on The hunt for Bin Laden
"OMGWTFBBQ, let the babies live"

~ Baptist on Abortion
"OMGWTFBBQ!!!!!!"

~ Al Gore/John Kerry on Bush's wins in elections
"OMGWTFBBQ, why is this article a stub?"

~ You on This Page
"OMGWTFBBQ, a page that is not a stub being labeled with the [[Template:Stub]] tag could break the universe."

~ Stephen Hawking on the above quote
Inappropriate uses for OMGWTFBBQ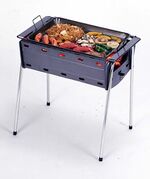 DISCLAIMER: Some of the following are 1st person 2nd person, not question and answer.
Q: Will you marry me?
A: OMGWTFBBQ
Q:Does this dress make me look fat?
A:OMGWTFBBQ
Q:Do you have protection?
A:OMGWTFBBQ, I knew i forgot something!!
Q:And the Emmy goes to.....
A:OMGWTFBBQ for their role in OMGWTFBBQ!
Q:All right kids, put away your crayons, we are going to have a pop-quiz before nap-time
A:OMGWTFBBQ!!
Appropriate uses for OMGWTFBBQ

DISCLAIMER:' Some of the following scenarios are 1st person 2nd person, not actually questions and answers.
Q: There's a pig laying eggs in my ear?
A: OMGWTFBBQ
Q: How do you want to cook the steak?
A: OMFGWTFBBQ's (On my Flaming grill with the flavorful Bar B Q Sauce)
Q:We're taking heavy fire!
A:OMGWTFBBQ
Q:The ship is sinking!
A:OMGWTFBBQ
Q:Holy Shit, that was a Land-Mine!
A:OMGWTFBBQ
Q:Imma firin ma lazor!
A:OMGWTFBBQ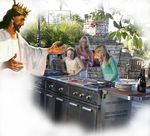 Q:All your base are belong to us!
A:OMGWTFBBQ
Q:I'm Pregnant!
A:OMGWTFBBQ
C:I'm Pregnant too!
A:OMGWTFBBQ
Q:What sauce should we add?
A:OMGWTFBBQ
Q:Is there any pizza left?
A:OMGWTFBBQ
Q:I'm GAY!
A:OMGWTFBBQ
Q:I have HIV...
A:OMGWTFBBQ
Q:DAMMIT BILL YOU NEVER THINK ABOUT MY FEELINGS!!!
A:OMGWTFBBQ
C:Oh, ok...
Q:A man sneaks up from behind and knives you in the head.
A:OMGWTFBBQ!!!
Q:Somebody disrobes in preparation to sex you up.
A:OMGWTFBBQ, I thought you were a woman!!!
Q: Hi!
A: OMGWTFBBQ
Q: What?
A: OMGWTFBBQ
Q: Fuck you!
A: OMGWTFBBQ
Q: Stop saying OMGWTFBBQ!
A: OMGWTFBBQ
Q: Can you say anything else?!
A: OMGWTFBBQ!
Q: OMGWTFBBQ
A: OMGWTFBBQ

The best way to experience OMGWTFBBQ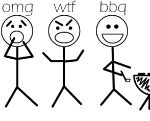 The Best way to experience OMGWTFBBQ, however, is thus:
Return home, only to find your house is on fire: OMG
There is a herd of cows in what was your kitchen: WTF
The cows in your kitchen are also on fire: BBQ
The Parts of OMGWTFBBQ
If you will notice, OMGWTFBBQ is comprised of three separate, and distinct parts (much like the Flying Spaghetti Monster )
First of all, OMG. Meaning "Oh my god!" or in some, less popular BBQ related cases "Oh my Grill!" is the first part of OMGWTFBBQ. It is an expression of surprise, introducing the phrase. This part can also signify mild disgruntlement.
Second, WTF. Originally meaning "What the Fuck?", WTF has become somewhat of a metaphorical question mark, replacing "Whaa..?" in most sentences. Like OMG, WTF signifies disgruntlement.
Together these are "OMGWTF!", an expression of raw emotion, and a higher plane of disgruntlement. It is often used to express outrage at one's circumstances, or a situation.
Thirdly, BBQ. BBQ puts a nicely grilled spin on "OMGWTF", as after an expression as powerful as "OMGWTF", one may need to signify that they are still in decent spirits. It may also be used as a form of randomness. The final result, OMGWTFBBQ is often combined with vivid images to further enhance the effect of the phrase and/or image in use. The BBQ's ability to sear chicken and lamb to a crisp has captured humankind's imagination, and is a suitable addition to the immortal "OMGWTF".
Other Noob Phrases
Lol = Laugh Out Loud, a.k.a. I'm a loser head that can't write out HA.
lmao = laugh my ass off a.k.a. i had no ass to begin with so, guess what? i just lied...
ialfailtcdcaftsspwil = i'm a loser face and i lie to collect drew carey actions figures that say sexual phrases which i love a.k.a. scenester = gayness
OMFG
HAX = Like FAX but they made a typo
W00t
FSCK = Short for "File System Check", as in write a check-mark all over your hard drive with a piece of chalk and ruin it
OMGWBFFFFEE, OMGWBFFFFEEE, OMGWBFFFFEEEEEE!!
UBER = Ur Butt Es Rank (wrinten by someone who speaks spanish)
NUBSAUCE = N00bish Uber Butt Sucking Anus Universal Cremated Emokid a. k. a. your mom
Ur Mom = A nublett trying to express your dominance over him in his little insignificant way
NUBCAKE - A lil' n00bish kid who thinks he's all that
LOLWTFBBQ - A less-powerful version of OMGWTFBBQ, this replaces "OMG" with an LOL WUT. Used when something is more than OMGWTF, but less than an OMGWTFBBQ,