ZOMG
Jump to navigation
Jump to search

| | | |
| --- | --- | --- |
| " | ZOMG ROFLCOPTER BBQ LOLERSKATES!!!!!11 | " |
This is emphasized usage of the internet-speak word OMG, meaning "Oh My God!"
ROFLCOPTER
[
edit
]
This is derived from the computer gamer word "ROFL" which is an acronym for "Rolling On (the) Floor Laughing." Adding COPTER to the end is mostly meaningless unless you complete the spoof by saying "Mai ROFLCOPTER goes soi soi soi soi!!!" [1]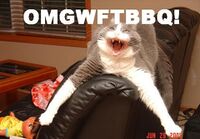 This is an abbreviation for barbecue.
This stands for "Laughing Out Loud," but LOLERSKATES is more than just "LOL" with an ending. It comes from the ROFLCOPTER game in which you 'drop bombs' (BBQ) on "LOL skaters." In gameplay, your ROFLCOPTER is fully maneuverable, and you must also BBQ enemy LMAO fighter planes while dodging return fire! ZOMG!!!
!!!!!11
[
edit
]
This means that you want to turn it up to eleven. [2] You are so excited, and you just can't hold the shift button any longer.
Idiot.
References
[
edit
]
↑ "Soi" was made popular in the youtube series Arby N the Chief.
↑ 'Turning it up to eleven' is a phrase made popular in the movie This is Spinal Tap.