IPod Chair
Jump to navigation
Jump to search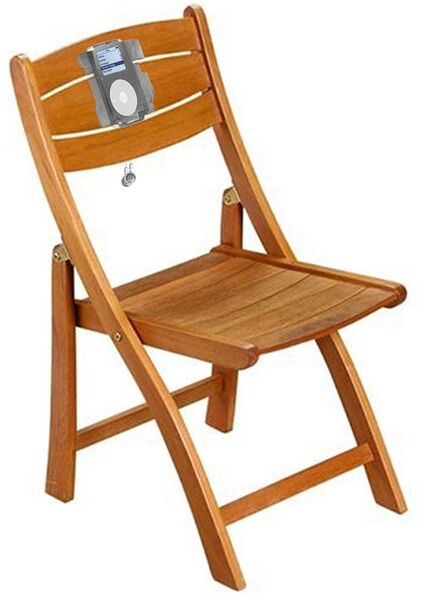 "The iPod Chair is the bastard stepchild of society."
Oscar Wilde on the iPod Chair
The iPod chair is the latest in Apple's line of multi-functional iPods. After the success of combining photography and music in the iPod photo, and video and music in the iPod video, Apple made the next logical step and introduced the iPod chair, combining the traditional audio quality and mobility of the original iPod with the comfort and ease of use of a chair.
Criticism
[
edit
]
Though a commercial success, the iPod Chair was surprisingly not as well-received as its predecessors. Many found that Apple had taken too predictable a turn with the iPod chair. The design of of the iPod chair was also judged by many to be less successful than that of the original iPod series. Most critics believed that the iPod Chair's design lacked the finer attention to detail and je ne sais quoi that so characterized the original iPod series. The Ipod chair is foldable and is easy to carry. If you accidentally sit on it no receipts will be taken.
Patent Disputes
[
edit
]
In January 2006, a Hong Kong based technology company, Incorporated Unlimited Corporation (Incltdcorp, LLC), sued Apple Inc. for patent infringement. The Incltdcorp's original patent described a "portable furniture based jukebox," which, like the iPod Chair, offers such features as "foldability" and "legs."
At a Markman hearing held in March of 2006, Judge Hazzle of the Florida District Court of Appeals for the Supreme Court of New Mexico determined the scope of Incltdcorp's patent to cover, "things affixed to other things by means of duct tape or some other adhesive, maybe wood glue."
Imitations
[
edit
]
The iPod chair spawned several imitations of the concept by Apple's competitors:
iRiver chair

a relatively straight-forward imitation. Notable for using a chair with a wicker seat.

Creative Zen Dinnertable

A combination of the original Creative Zen with a six person mahogany dinnertable. Creative was heavily criticised for decreasing storage capacity to make room for the dinnertable in the player's design.

IKEA Klippan 40gb

IKEA's famous couch with a seamlessly integrated 40gb music player.
iPods

iDevices
iHardware
iSoftware
i3rd Party Mods
iOthers